Found dog- What breed(s)???
---
FEEL FREE TO SKIP STRAIGHT TO PICS.
My mom found this guy on her way home from work Saturday. We've never seen him before, so before she came home she went to some of the houses in the area to see if he anyone owns him, knows whose he is ect. No one knows who's he is and told her he's been around the last couple days. She said he was really scared so she brought him home. He's a very sweet well mannered (sp?) guy. He's not aggressive with his food, I can pet him while he eats take toys away from him to play with him. He's okay around my outside cat though my cat doesn't like him... I didn't know his tail could fluff up so big lol.
Anyways the next day I put a found ad up on our local classified website and she put a flyer up at the gas station just down the road. She went to the rest of the houses she didn't go to that didn't have no tresspassin signs. So we are trying to find his real home. Still no one knows him. I can't quite figure out what breed(s) he is. Maybe part Staffordshire terrier? My knee is about 17" from the ground and he doesn't come to the bottom of it. What do you think?
I'm hoping if no one claims him I can have him. Mom already said if no one does she gusess's he's stuck with us. But I don't know if my dad will let us. He wasn't impressed at all when she brought him here. We already have 2 horses 2 rabbits 2 cats 3 dogs that are ours. All except the dogs are mine
. The dogs are the whole family. But I have something to tell dad when he gets back from work muah ha ha. I'd be perfectly happy if his real owners come back for him. I just don't want to give him to some one else.
I've already named him Alex... ya can't call him "that dog" forever can ya? And I am very attached to him. He likes bein with me [Jump] . As well as got him a couple toys. I even taught him to sit.
Both parents think he was an inside dog because of how well well groomed/healthy/quite he is. He has a collar but no tags. His pads on his paws were raw.
They think he ran away/ ventured off, but I think he might have been dumped. Yea he's a great dog well taken care of etc. but doesn't that happen all the time?? With all animals??
Here's his pics finally. He kept following me so it was hard to get good ones.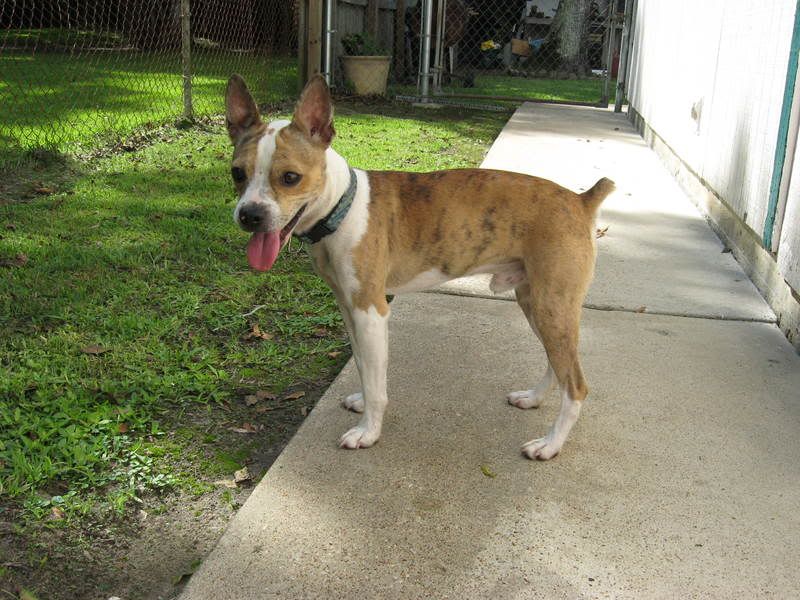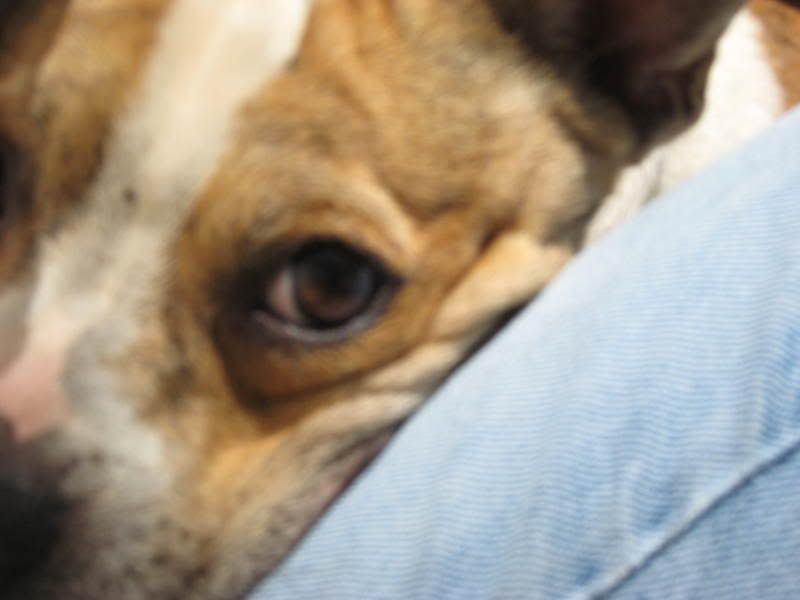 ---
Awesome Miss Take- Storm- 15 yr APHA PHBA Mare
SS Catalena Doll- Claire- 2010 AQHA Filly
I would guess a basenji/Boston Terrier mix.
---
Looks like a Staffordshire-Chihuahua mix to me. His tail looks to be bobed a little long so probably a home job. My guess is definitly Staffordshire. The ears and slight protruding of the eyes make me think Chihuahua.
He's really cute, hope you get to keep him.
---

"Until one has loved an animal, part of one's soul remains unawakened..."
- Anatole France
Quote:
Originally Posted by Moxie
I would guess a basenji/Boston Terrier mix.
SOMEONE ELSE KNOWS WHAT A BASENJI IS!!!!
i would agree with moxie or he looks like a Boston/Chihuahua
or maybe some pitbull but i doubt it.
ETA- hes definitely part Boston Terrier.
I had to look up boston terrier. From the neck back he looks just like this Boston Terrier
---

"Until one has loved an animal, part of one's soul remains unawakened..."
- Anatole France
Yup, I considered a Basenji at one time.

I wouldn't say pit bull or Staffordshire, he doesn't have the chest or the jaw. I would say he's a LOT Boston Terrier, his eyes, tail and even his hight would suggest it.
---
Quote:
Originally Posted by Moxie
Yup, I considered a Basenji at one time.
there amazing but some can be aggressive, i had to give mine to the rescue cuz he bit my mom
his head looks familiar but i cant seem to put my finger on what breed he is besides a Boston...
he dosent really look like the Basenji mixes that ive seen so i think im guna rule out a basenji mix.
sorry for the double post
this looks just like him and its a beagle/boston mix
this is another beagle/boston mix
i would say hes most likely a boston/beagle mix
He most definately has some boston terrier in him, and as for the other part, I'm unsure. Could be that it's beagle, like what Gingerrr said. Or it could be some other hound. The other part is most likely hound. :)

But the boston terrier I have to say is definate.
Maybe some french bulldog? Similar to a boston, but with a slightly longer muzzle. He's got some long legs on him though!
---
Stella - sweet, timid, elegant, lovely, lively, amazing
Luna - large, unattractive, naughty, adored