Gardens! here's some of mine.
---
Unlike most of the US, we have not been under drought conditions. I am not saying this to brag. I really feel for some of you all who are dealing with hot temps and a lack of rain. I know some folks will REALLY be hurting by the end of the summer.
But in the Pacific NW, we get a lot of rain, and it means even in July, things are lush and green. Forgive me if I want to show off my lush green suburban house garden. I no longer do veggies, just flowers. My lillies have yet to bloom, but when they do, I'll post some photos.
IMG_3035.jpg
IMG_3038.jpg
IMG_3039.jpg
IMG_3040.jpg
IMG_3079.jpg
IMG_3077.jpg
IMG_3041.jpg
.
Nice yard, Tiny
All I get lately is weeds, not even pretty weeds
.
---
May all your Trails be happy and safe ones
Kevin
Trained
Join Date: Sep 2011
Location: Hour and a Half from Town!
Posts: 6,324
• Horses:
2
So So Lovely! Love the piles of blooms by your driveway! So my style!
Do you have any canterbury bells?
I've lost everything I've planted for the past three seasons, getting ready to order some river stones and start a ROCK GARDEN! Ha!
Thanks for sharing, lovely!!
---
You can get a lot further with a ladder than you can with crutches!!
What do you mean what do I mean?
I do have Canterbury bells! lots of them, of different varieties. A lot of what is there is self seeding, such as the poppies . The rest are perrenials and some bulbs. the garden out front is the only one I really take good care of with fertilizing and weeding and watering if needed. It is packed to the max with plants and needs thinning.
In the back yard I am constantly thinning the trees with my pole pruner. they overhang the yard and cut out my precious sun.

We had two hours of intense rain last night. Wish I could have sent it to you all who really need it. Sorry.
Drought pictures
---
I'm glad you're getting enough rain. We hardly ever lack rain but now we ARE in a drought. Fortunately, I've learned to love and appreciate weeds bc my horses are keeping their weight up grazing on
them.
I just started getting hay this week, which is scarce but I found a supplier who bales on 300 acres, so I'll get my supply in my loft in the next month. Here's what my north pasture (about 3 acres) looks like~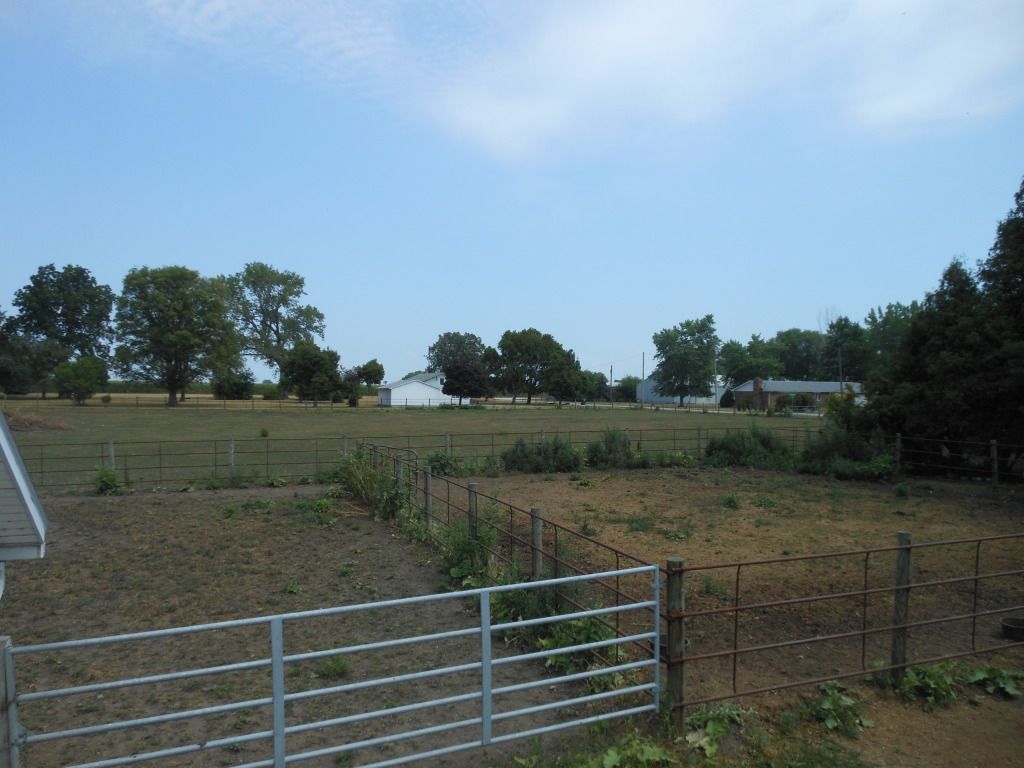 My 3 also clip around and in back of the barn. They chewed down my 1/2 acre south pasture so badly that I'm keeping them off until it recovers. This year's hay is straight alfalfa. Most of the grass in the fields dried up. However, I'm buying 50-60 lb bales, and the barn is smelling really heady bc the quality is really good, considering...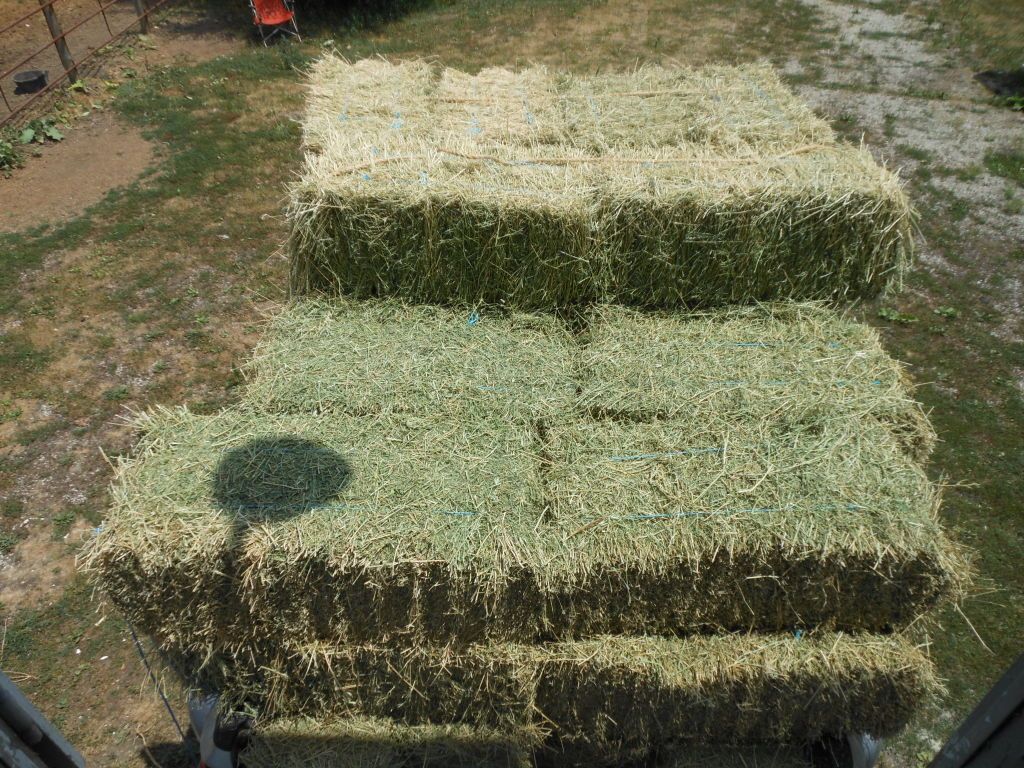 Wow Tiny. Great yard! You are very dedicated.

What are the big blue flowers? How pretty!
---
"The greatest pleasure of a dog is that you may make a fool of yourself with
him and not only will he not scold you, but he will make a fool of himself too."
-Samuel Butler
My garden is done, drought I fought with watering, but the downpours of the last three weeks have rotted it. As soon as I pull the last eggplants and bell peppers I will be tilling it under and planting fall crops. ALL of my cantaloupes and watermelon were ruined. GRRRRR
And Tiny, I LOVE your yard. I'm working on flowers for the back yard now that I have segregated the digging Shepherds play area from mine.
the blue flowers are hydrangeas. They are native to Japan. When I lived there, we used to see them growing wild in the countryside.


ClaPorte; that hay looks like very good quality. How much did it cost?
Oooooh, very pretty! Love the tree in the front yard, my monster is looking at your pictures with me and she says "Now that's a tree house tree mom!"
Corporal, that looks sadly familiar. Only thing that's pretty here right now is the hibiscus.
---
Life is like a camera. Focus on what's important, Capture the good times, Develop from the negatives and if things don't work out, Take another shot.