Happy belated birthday, Geewillikers!
---
I just noticed on the birthday thread so...
---
Stella - sweet, timid, elegant, lovely, lively, amazing
Luna - large, unattractive, naughty, adored

I leave it to everyone else to tell me when someone's birthday is, unless of course it's mine, then I demand that everyone throw me a party and give me lots of gifts!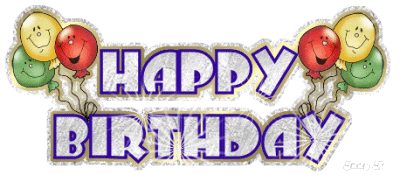 ---
It's not Willy, but it looks close :)
Weanling
Join Date: May 2008
Location: Jersey girl in Northern California
Posts: 508
• Horses:
1
Thanks! 28 babay.
My friends cleaned Willy's stall for me, Aaron took me out for sushi and got me a gift certificate to a horsey place
Oh, and my 7th graders sang to me
It was a good one!
You guys rock- thanks! Appy- yours is coming up, right? Virgo?
---
Horse whisperers don't whisper to the horse....they listen to the horses' whispers.
Ooo... There are a birthday hero among us...

Happy birthday!
---
"On hyviä vuosia, kauniita muistoja, mutta kuitenkaan, en saata unohtaa,
Että koskaan en ole yksin, varjo seuraa onneain.
Vaikka myrsky hetkeksi tyyntyykin, varjo seuraa onneain.
Ja pian taas uusin hönkäyksin, varjo seuraa onneain.
Hei tuu mun luo, pieneksi hetkeksi. Puhutaan, varjoni, valkoiseksi enkeliksi."
Pelle Miljoona - Varjo seuraa onneain

Happy birthday!
---
Ride more, worry less.
happy birthday to you, you live in a shoe, you look like a monkeyyyyyyyyyyyyyyyyyyyyyyyyy and smell like one too.