Happy Birthday, close2prfct, jlhorsechic!
---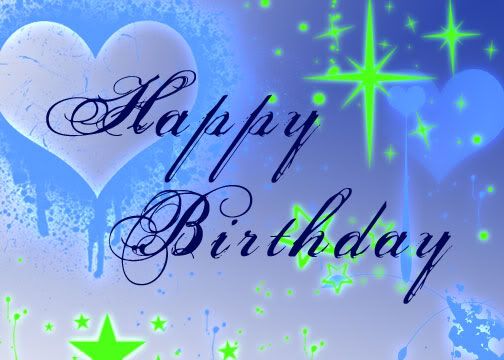 Have a fantastic day!
---
Stella - sweet, timid, elegant, lovely, lively, amazing
Luna - large, unattractive, naughty, adored

Happy Birthday!
Attachment 6011
---
"On hyviä vuosia, kauniita muistoja, mutta kuitenkaan, en saata unohtaa,
Että koskaan en ole yksin, varjo seuraa onneain.
Vaikka myrsky hetkeksi tyyntyykin, varjo seuraa onneain.
Ja pian taas uusin hönkäyksin, varjo seuraa onneain.
Hei tuu mun luo, pieneksi hetkeksi. Puhutaan, varjoni, valkoiseksi enkeliksi."
Pelle Miljoona - Varjo seuraa onneain

---
Last edited by TaMMa89; 01-26-2010 at

02:49 AM

.
......
---
I am concerned for the security of our great Nation; not so much because of any threat from without, but because of the insidious forces working from within.
Douglas MacArthur
---
Last edited by RegalCharm; 11-23-2009 at

12:02 PM

.
Happy Birthday's!!
Hope it was a great one 8)
Thanks everyone, I turned the big 40 today.. and I did exactly what I wanted NOTHING! lol well other than taking care of the horses but anyhow again thanks!!
---
Courage is being scared to death but saddling up anyway~~John Wayne
Similar Threads
Thread
Thread Starter
Forum
Replies
Last Post
Happy Birthday, LMW!

3neighs

General Off Topic Discussion

4

02-27-2009

02:06 PM

happy birthday.

Gingerrrrr

General Off Topic Discussion

5

12-25-2008

04:55 PM

HAPPY BIRTHDAY!

Pinto Pony

Horse Talk

0

07-31-2008

07:14 PM

Happy Birthday...

moomoo

Horse Talk

5

05-23-2008

01:11 PM

Happy Birthday

.Delete.

General Off Topic Discussion

7

04-01-2008

09:21 PM