Happy birthday, Heybird!
---
I know it's not until tomorrow, but I will be away the whole weekend to celebrate my hubby's b-day, which is Sun.
Sooooo...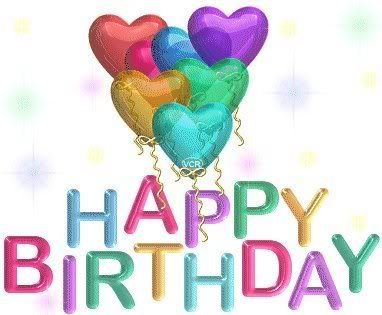 Hope it's the best one yet!
---
Stella - sweet, timid, elegant, lovely, lively, amazing
Luna - large, unattractive, naughty, adored

Green Broke
Join Date: Jun 2009
Location: Brokenheartsville, just north of Styxtown :)
Posts: 2,577
• Horses:
1
---
Most people are like Slinkies; they serve no real purpose, but they bring a smile to your face when you push them down the stairs.
When you come to the end of your rope, tie a knot and hang on for dear life.
Happy Birthday!!! I hope it is amazing!
---
TM Tardy's Chick "Hunter" - 13 yo Paint
Remmy - 18 yo Morgan/QH cross
Gunner 3/31/11, Heidi 7/2009 Miniature Sicilian donkey

Happy Birthday!
---
"On hyviä vuosia, kauniita muistoja, mutta kuitenkaan, en saata unohtaa,
Että koskaan en ole yksin, varjo seuraa onneain.
Vaikka myrsky hetkeksi tyyntyykin, varjo seuraa onneain.
Ja pian taas uusin hönkäyksin, varjo seuraa onneain.
Hei tuu mun luo, pieneksi hetkeksi. Puhutaan, varjoni, valkoiseksi enkeliksi."
Pelle Miljoona - Varjo seuraa onneain

Happy Birthday!
---
When God Made Horses, He Painted The Good Ones.
"All I pay my psychiatrist is the cost of feed and hay, and he'll listen to me any day."

Yay lol Thanks everyone :) I'm a Quarter of a Century old today and as a birthday present at 5am my husband and I got to chase down one of the new geldings at the barn, b/c he decided to escape. (and was trying very hard to get back in) LOL Then we fixed his fence haha :) So my Bday will start .....right....now :)

3neighs tell your husband I said Happy Bday (for sunday)!!!!
---
Freelance Graphic / Print / Photo / Web Designer -
Designalist
Stop by and say hey :)
Happy Birthday.

---
Clippety clop and such...
Quote:
Originally Posted by
Beloved Killer
View Post
Happy Birthday.

Thanks!!
---
Freelance Graphic / Print / Photo / Web Designer -
Designalist
Stop by and say hey :)