Happy birthday Jehanzeb!
---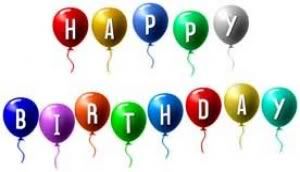 Have a fantastic day!
---
Stella - sweet, timid, elegant, lovely, lively, amazing
Luna - large, unattractive, naughty, adored

---
"On hyviä vuosia, kauniita muistoja, mutta kuitenkaan, en saata unohtaa,
Että koskaan en ole yksin, varjo seuraa onneain.
Vaikka myrsky hetkeksi tyyntyykin, varjo seuraa onneain.
Ja pian taas uusin hönkäyksin, varjo seuraa onneain.
Hei tuu mun luo, pieneksi hetkeksi. Puhutaan, varjoni, valkoiseksi enkeliksi."
Pelle Miljoona - Varjo seuraa onneain

maybe this should go in the tech section so he will be sure to see it
---

"Until one has loved an animal, part of one's soul remains unawakened..."
- Anatole France
Happy Birthday!
---
The lovely images above provided by CVLC Photography cvlphotography.com
Happy happy happy birthdaaaaay
Happy Birthday!!!
---
TM Tardy's Chick "Hunter" - 13 yo Paint
Remmy - 18 yo Morgan/QH cross
Gunner 3/31/11, Heidi 7/2009 Miniature Sicilian donkey

---
"Did I not just use the word 'puzzling'?"

Thanks everyone
.
I am having an evening tea and watching snooker on tele. It has been a very relaxing day for me - bet you don't get these type of days normally
.
Hope everyone is doing well too
.
Regards
---
2¢
-Jehanzeb-
2¢
If something's HARD to do, then its NOT worth doing!

Oh good. I'm so happy you had a good day and that you saw your good wishes for the day.
---

"Until one has loved an animal, part of one's soul remains unawakened..."
- Anatole France