Happy Birthday, Kansas Twister, Chausser and Nikelodeon79!
---
(Wow, are there a lot of December birthdays!)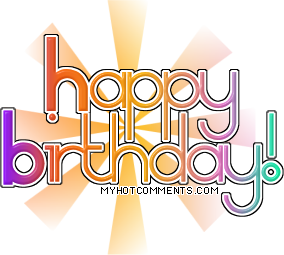 I hope you all have a fantastic day!
---
Stella - sweet, timid, elegant, lovely, lively, amazing
Luna - large, unattractive, naughty, adored

Happy birthday!
---
"On hyviä vuosia, kauniita muistoja, mutta kuitenkaan, en saata unohtaa,
Että koskaan en ole yksin, varjo seuraa onneain.
Vaikka myrsky hetkeksi tyyntyykin, varjo seuraa onneain.
Ja pian taas uusin hönkäyksin, varjo seuraa onneain.
Hei tuu mun luo, pieneksi hetkeksi. Puhutaan, varjoni, valkoiseksi enkeliksi."
Pelle Miljoona - Varjo seuraa onneain

Happy birthday to everyone!!

KT I hope you have a great day and I hope that the kids, hubby and FIL behave for you today and let you enjoy YOUR day! ((HUGS)) Have fun girl!!
OOOOOOOOOOOOooooo..LOTS of reasons to party today! Hope your day's the BEST!!
---
Happy birthday everyone!! Share some cake please :)
Happy Birthday Kansas, Chausser and Nikelodeon!
---
TM Tardy's Chick "Hunter" - 13 yo Paint
Remmy - 18 yo Morgan/QH cross
Gunner 3/31/11, Heidi 7/2009 Miniature Sicilian donkey

Happy Birthday!
---
3 barrels , 2 hearts & 1 passion
Happy birthday!!!!
---
Similar Threads
Thread
Thread Starter
Forum
Replies
Last Post
HAPPY BIRTHDAY!

Pinto Pony

Horse Talk

0

07-31-2008

07:14 PM

Happy Birthday

.Delete.

General Off Topic Discussion

7

04-01-2008

09:21 PM

HAPPY BIRTHDAY!!!!

BluMagic

Horse Talk

7

03-09-2008

02:49 PM