Happy Monday!
---
Hey everyone! Happy Monday :)

I'm back to school. Woot! Not too bad so far. Early classes again this semester though. Eww. Oh well, I'll get used to it! Makes the mornings when I have to get up at 5:30am for work a little less of a shock when I'm used to getting up at 7.

I don't have anything for lunch for us today. It's all back at the apartment. I had my left over 1/2 of sub from Subway for my lunch. It was yummy though.

It's chilly here. about 15*F. Supposed to get VERY cold though soon they say. Last week there was cool weather from Siberia on it's way here. It is supposed to hit anytime now. Makes for a real cold walk on campus as it tends to be quite windy between the buildings with the air funneling in from the canal.

I got to see my horses a lot last week as I got to go home since I had most of the week off of work. It was really nice. I'll have to go post some pictures in the picture section. As soon as I get the rest of them from home I will. I took a bunch off of my camera at home when I ran out of room so they are on the computer there. Grr!
---
TM Tardy's Chick "Hunter" - 13 yo Paint
Remmy - 18 yo Morgan/QH cross
Gunner 3/31/11, Heidi 7/2009 Miniature Sicilian donkey

Uhg, don't remind me of the cold temps that are coming. I'm not looking forward to that! The electricity still isn't fixed in our barn and I miss my tank heater. So do the horses, they don't like ice cold water. It's no fun chiseling away at frozen horse apples, either!

Well, I've done enough whining. Back to house cleaning...
---
Stella - sweet, timid, elegant, lovely, lively, amazing
Luna - large, unattractive, naughty, adored

HOWDEE All!! **waving**
T'wuz 24 when I went out his morning. Lady and Mr. Red were glad to see me....It's 28 now, but we're supposed to have that cold snap come through, too. It will be dropping into the single digits. B-r-r-r-r-r-r-r-r-r! I'm not looking forward to that, either. :(
COFFEE'S FRESH!!! Help yerself!
I've pulled an 'all nighter', so will be going to bed soon.
I did get all my phone calls made and balanced my checkbook this morning. WOOT! The really great thing about that is I got it to balance!!! (Wonders never cease.....)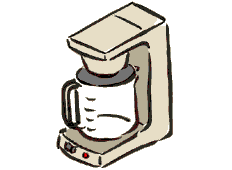 HEY! I got this coffeemaker to work!!!!
---
---
Last edited by PaintedLady; 01-12-2009 at

12:25 PM

. Reason: in a hurry
I like the winter I just don't like the cold cold. Yikes.
My boyfriend picked up a water heater for the horses tank over break from downstate and we just put it in last week. We will see how it works in this cold spell! It's been really nice so far. Less ice breaking for my poor dad lol. (My pets are at home while I'm in school)
---
TM Tardy's Chick "Hunter" - 13 yo Paint
Remmy - 18 yo Morgan/QH cross
Gunner 3/31/11, Heidi 7/2009 Miniature Sicilian donkey

We are suppose to get the -20 to -35 windchill tonight. it is snowing out right now (suppose to get 2-4 inches) and then the wind will be setting in (hence the wind chill)

I hope the wind doesnt really start till after I get home from work, otherwise it will be an interesting commute home... looks like side streets instead of the freeway (they tend to turn into parking lots when the weather is bad)

Hope everyone else is having a good day!!!
---

It's not the will to win, but the will to prepare to win that makes the difference.
- Paul "Bear" Bryant (Former college football coach)