Here's pics of my other pets
---
My dogs - Shilo is a Belgian Sheepdog and Jazzy is a Weim/Great Dane mix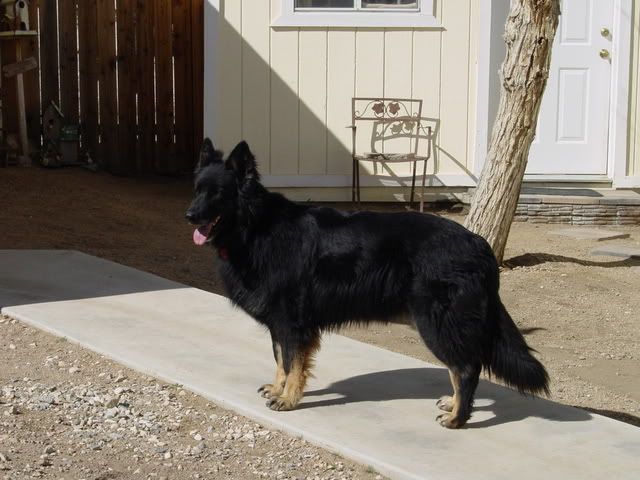 Here's one of Dolly and Jazzy... Jazzy thinks she's a cross between a dog/sheep/horse :roll: She saw Dolly eating the tree, so she had to try it too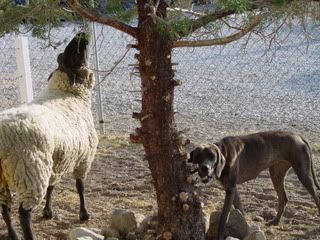 Another of Dolly - my mom and I built this shelter all by ourselves (I did most of it
)
This is Rosie - she's a European Starling
Shilo looks SO much like my dog Toby. Only Toby's ears and kinda floppy.

That's such a cute picture of Dolly and Jazzy. And that shelter looks professionally done!
Thanks! I was pretty impressed I did such a good job... pretty good for two women, huh?
It was so cool... all I had to buy was the wood, cement and screws... all the sheet metal was extra when we bought our horse shelter!
She loves it in there...
Do you have any pics of Toby? What breed is he?
Toby's a mutt. We have No idea what he is. My mom thinks German Shepherd/greyhound, but all of his siblings (11 of them) all look so different. His mom was found running loose with a pack of dogs. She's a mutt as well.
This is the best picture i have of Toby at the moment.
Awww very cute pets! :)
---
3 barrels , 2 hearts & 1 passion
Jazzy is gorgeous! Weimaraners are one of my fave. breeds. Gorgeous mix!
---
The lovely images above provided by CVLC Photography cvlphotography.com
Toby is beautiful!!! He does look like her a bit... it's possible there were several different daddy's and that's why the pups all looked different. I'm seeing either Rottie or Pitbull in his face and ears...

Jazzy is a sweetheart. I have never met a more friendly dog than her... her only bad trait... she is an escape artist. She just flies over our 6' chainlink fence. :roll:
Thanks! I didn't know there could be multiple fathers. That's very interesting. I'll have to get a side shot of him because they do look similar.

He's a great dog though, very loyal and smart.
Nevermind on the pitbull... I think Australian Shepherd and Rottie :) I love trying to guess mixes...
me too! He is taller than my female lab, so thats why we think shepherd, and my mom thinks greyhound because of his ears and his chest and how fast he can run.

There's this thing that came out that can tell you what breeds are in your mutt. I imagine it must be rather expensive. I believe it's called wisdom panel. Not sure though