The only things that I make are gift baskets of stuff. I'm not crafty, but I can make some nothing stuff look pretty, lol. I normally just buy gifts for people, but I have two couples that we exchange family gifts and it's fun to make a basket up. This year I did them each a "movie night" basket. They're the same thought, but different. I think they're cute so I'm sharing. Both have gift certificates to Redbox and I also have a throw blanket I'm including for snuggling :)
This one has wine and a craft beer because the adults drink, hot chocolate for the kids, and a bag of organic popcorn because they aren't into junk much.
securedownload (1).jpg
This has candy and microwave popcorn because they like to snack, and I put some holiday Coke bottles because I liked the look of them.
securedownload.jpg
Those are great gift baskets-very thoughtful & geared to the receivers.
I agree with cacowgirl... very nice and thoughtful baskets!
Thanks :) I like doing baskets, they're fun and I think people enjoy them.
.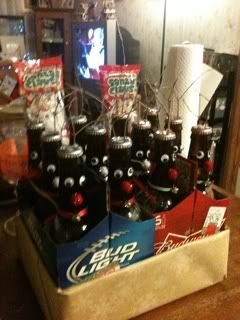 . Made these for my 2 brother in laws today
Posted via Mobile Device
I saw that on Pinterest and have been wanting to do that for my husband. I think they're cute!
Thank you :) I taped a Santa on back so it looks like a sleigh :)
Posted via Mobile Device
I crochet, so, scarfs, hand towles with the crocheted tops, dish cloths & blankets are a Christmas staple
---
Cowgirl up!
I love getting things that I can eat. Since I have so much "stuff" now, things that I can eat , or music to enjoy or a book to read and then pass on are the things I love the most. When you give something that took of your TIME, the one commodity that no amount of riches can buy, it speaks volumnes for how much you value the other person.

I give card that I make, and sometimes artwork, but this year, mostly store bought. I am too lazy, I guess. (shame on me!)
Foal
Join Date: Dec 2012
Location: In a pond somewhere Australia, Queensland
Posts: 124
• Horses: 0
I do! I make homemade fudge (YUMMY!) everyone loves that. I also take pictures and do up a photo album or scrap of friends or family and give it to them. I make these nobly pine cone horses sometimes. I decorate ball balls and make up a little hamper. One time i made soap. It turned out terrible but everyone had a super fun time picking on my work! I also make chilli sauce or oil and give it to my Ma because she LOVES chilli!
---
Gotta Gallop,
Cane Toad