View Poll Results

: What would you do or think of first?

Locate a Breeder
1
10.00%
Locate a Shelter
6
60.00%
Breed your Own
2
20.00%
Nothing
1
10.00%
Voters: 10. You may not vote on this poll
Household Pets: Breeders, Shelters, and Finding New Homes.
---
I have always agreed with checking the local shelter before trying to find a breeder if you want a dog, cat, or any other household animal.
I do have mixed feelings about paying more attention to shelters rather than breeders and I wonder what type of arguement would be pursued if one had. lol if that makes any sense.
I was wondering what you guys thought? Do you have any rescued pets? I want to see! lol.
What would you guys generally look for first: breed, color, size, availability????
Thanks guys...
---
WHATS REALITY?
my parents have rescued 2 dogs. We had my one dog, Dixie, and got a 2nd dog from my neighbor. That other dog didn't work out, so for my dad's birthday we went to a few kill shelters to find another dog. We found one gorgeous pit bull, but she wasn't good with other dogs so we sadly had to pass her up. The next shelter we went to, we brought Dixie with us. She was going to tell us what dog came home with us, and which ones didn't. We got Casey from there.

My dog, Toby wasn't really a 100% rescue dog, but he sort of was. My neighbor was fostering a female dog who wound up being pregnant. After 11 puppies later, i was determined to get a 3rd dog. Again, Dixie would decide what puppy, and she was tolerant of Toby.

I've found that mutts make the best dogs. Casey was absued badly as a puppy and was kicked out of his house. It took him a while to warm up to us, but he's a doll. Toby is my dog. He's wonderful off leash, tries his hardest to please. And Dixie? She's a big couch potatoe.

BTW, Dixie is a 12 year old female yellow lab
Casey is a 8? year old male golden/border collie mix (not sure on that)
Toby is a 6 year old male german shepard/ possible greyhound and everything else mix.
I totally agree with you that muts make the best dogs! lol.
In my point of view, the mixed your dog is the wider range of traits it has. For example: Theo is Rottweiler and Golden Retriever. He has the guarding, protective, loyal, lap-dog, and lovable side of a Rottie while he has the outgoing, water-loving, retrieving, happy, curious side of the Golden.
Kerra was rescued from our local dog pound. Sadly, she was taken from a drug bust, I believe. Although, she was pretty well taken care of with her past owners. We don't know much of her past but it must have been okay. She was spayed and had her dew-claws removed.
Theo was about 75% rescue. I got him from my twin and her family last year. They planned on taking the pups to the pound that week. I begged my mom to let me have him. He was and is so cute! He did end up being more that we bargained for at first! Theo also looked very similar to a black Sharpei puppy lol he had little rolls and he was a chubby boy. Hehe.
---
WHATS REALITY?
i think its better to rescue a dog, but sometimes when you rescue a dog it comes with extra baggage that wouldn't be there if it was a pup from a breeder.

I will not, however, ever buy from a pet store. All that does is just fuel the puppymills even more. I rather go to a private breeder and get to select whatever puppy. Not to mention they are less likely to have problems as they grew up the way puppies are supposed to as opposed to a plastic box.
Ya, some puppy mills are horrible. I watch AnimalPlanet's Animal Cops and such and some of the stuff is horrendous! Makes me feel bad for all the dogs that have to go through such abuse.
---
WHATS REALITY?
All my animals right now are rescues

My dog, Vikky, is a shelter rescue.. I'm her adoptive "mom," as she came with Rich haha.

My cat, Luna, is a barn cat rescue; the owners of the ranch I used to manage said I had to find homes for the 30+ some odd kittens all the momma cats had this past year "or else" so I took one, and successfully placed the rest - yeah, they were special people, which is the sole reason I don't work there anymore.

My horse, Maia, is a case of neglect - not the skinny-as-a-post neglect case, rather the untouched-in-the-field-for-4-years only being fed and getting her hooves done once a year type thing..

I completely support rescues, however my past 2 horses have come from breeders... I go either way.
---
The lovely images above provided by CVLC Photography cvlphotography.com
Depends on what I want. If I want a certain something, like a full breed dog, then I am going to go with a breeder. As these dogs are often more expensive, they have to be something I REALLY want and I am going to set guidelines for what I want and do my research. Like Ari, my Sheltie. She came from a breeder, and I had very specific requirements in what I wanted. Color other than Merle was important, and look(as I thought I might be interested in trying out showing) was VERY important to me. And since I was considering trying out showing registration was another of my requirements. As Ari is just over a year old, I am kind of sorry I spayed her, as she is turning out to be a GORGEOUS dog. A friend of ours who shows dogs says she has perfect ears(which I took care and time to glue and set). Her two major flaws are 1) she is kind of nervous around people and I don't think would set up well for a judge. 2) she toes out very slightly. Not noticeable unless you are looking for it, but she does it all the time.
If I am looking for a good "anything" dog, then I will hit the shelters. I know what "type" of dog I get along with and usually I can pick out the mutts that work best for me. Collie/Shepherd mixes have been the best dogs for us, and whenever we go to the shelters in search of a dog, we always keep an eye out for that kind of cross. We also set requirements for those dogs and often go to several shelters in the area before settling on one.
Basil is my rescue dog. I got him from the shelter as a six month old(my perfect age. I hate puppies. too much work). He was a black lab mix, which I don't really like labs, as all the full breed labs we'd had in the past have been hideously stupid and died in hideously stupid ways. No running in front of cars for those guys. But there was something about him(looked like border collie), and I had to have him. I went to two different shelters after seeing him and then went back and got him.
There are great things to be said about full breed dogs and shelter dogs. Right now my family(same area, different locations) have nine full breed, registered, dogs(five pugs, a sheltie, two dobermans, and a min pin) and three mixed farm dogs. Surprisingly the fullbreeds outweigh the mixed. It is usually the other way around.
If you are going to pay through the nose for a dogs from a breeder, set your standards high and get your money's worth. Get the best dog you can for the standard of the breed you are looking for, and have it registered through a reputable breed organization, like the AKC in the US. Even if you don't show or compete, take pride in the breed and make your dog into a good example of the breed. I paid WAY too much for Ari, but she hasn't let me down yet. She is just what I wanted.
If you are going to go through a shelter, set your standards high and get your hearts worth. Make the right choice for you, your family and the dog.
Under normal dog-searching circumstances, I go through the shelters. They are 'cheap', there is a great number of options, they are one of a kind(in jest I often call Basil my 'custom made' designer dog. made just for me), and generally, from all the ones we have adopted, they are extremely loyal. They know where they came from, and thank you in thier own way.
Here are Ari and Basil. My darlings.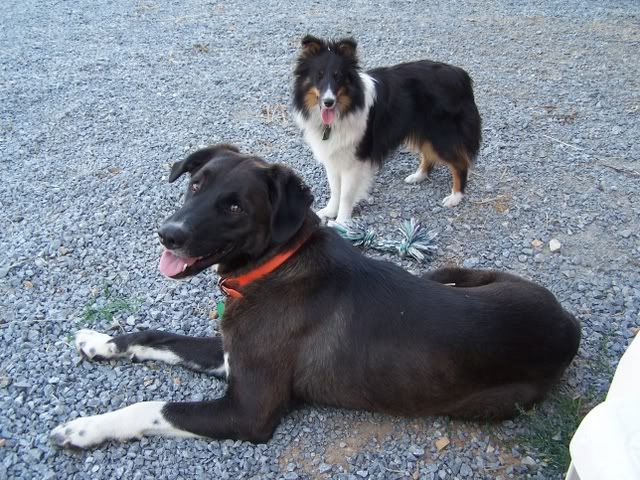 i much prefer rescues!! my little black lab that we just got is 3/4 lab and 1/4 golden ret...all though i didn't get him from a shelter i found him on freecycle. we just read a few nights ago that his mother was needing a home too. but due to just having a baby and what we have just been through with the baby that it wasn't the best time to take her.....my thoughts on breeders!!! no way will i ever buy one again from one, i bought blue (aussie shep) about 3 years ago for my daughter for 4-h and he turned out to be more lelated to him self then i wanted to know, my husband call's him helen keller on 4 paws, even our local sheriff is a fraid of blue ( blue is a sweety just has a big bark) and that's why i keep him around,
I was raised with shelter dogs. My parents were big believers in rescueing animals and still are. That being said I always wanted a pure bred dog as a kid. I guess thats why I started breeding Scottish Terriers. We purchased a male from a breeder. He is such a great little man that we wanted a puppy from him. Through our vet we met some people who wanted a pup from their female. They really liked Conner but after trying natural and AI with them she couldn't conceive. After searching for a female pup, waiting till she got old enough and breeding her to Conner we finally had a litter. We got 3 litters out of our pair preselling before breeding. Ivy had a hard time with the last litter so she is now spayed. I agree about the puppy mills, I don't concider myself a puppy mill breeder since all of our puppys stayed in my living room till they were weaned. They got lots of handling, loving and all went to great homes. We have 2 dogs that were strays, mixed breeds. I support my local and national humane societys monitarily, and have gotten pets from them in the past.
we have:
1 kelpie dog that we found on the side of the road a year ago. she was starved and had been shot in the head! (long story)
1 dingo x cattle dog, got from the RSPCA
1 cat from the RSPCA (my mum used to be the vice president of the RSPCA where we live, and we had a box of very young kittens dumped at our doorstep, so we kept 'pepper')
whilst mum was in the RSPCA we had lots of kittens and pups we looked after. people would just dump animals on our doorstep! once when we were not home some horrible person came in a threw a brick over the fence of the puppy pen, consequently the pup who was hit didn't survive
i fully support getting pets from shelters. it can be a little difficult to find horses in shelters around here though. they very rarely have them