How Brave R YOU??
---
OK... so we have a face thread...we all looked beautiful!
Who is brave enought to post a BAD pic of themselves???
I can't issue a challange without doing it first.... here goes...
This was me gettin woke up at like 4 am ....My husband thought it would be funny to take pictures...
I have the perfect picture for this one! I just need to find it! I will be brave...lol
Alright, here it is! LMAO!
Okay so I was at my heaviest and really didn't care about myself. But I still think I look pretty dang sexy...lMAO. I mean, come on! It's the fashion statement of the year, sneakers, ripped old sweat pants (that used to belong to my dad) and a dirty old stained jean jacket! I didn't even brush my hair! LMAO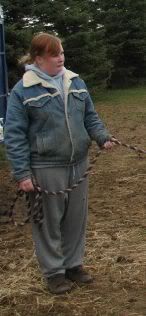 i have some on my phone.. i'll have to go through... and i'll be brave and post
I'm not afraid to show my bad side!!
Pretty dang unattractive for real though! Yuck!
**breathes in then out**
Ok by nature i'm not a photogenic person. And if i get a good picture, it's quite rare. So i have heaps of horrible pictures. I found 3 that i won't be 10000% embarrassed posting them.
Laugh if you must :)
It was hot and humid and we were out there for a while. But i caught a big fish!
This one is of me and my sister goofing off. (I'm the one in the glasses)
And this is my worst picture. What can I say, When my sister and I get together, we're total goof balls
well i figured if people saw my good side, and then see me working with Vega, why not show them what i look like at other times