I don't know?
---
So. Today, I was looking at my 1 year old mini palomino filly.
She's looking quite pregnant. I've had my 2 year old mini colt (who's now a gelding) running with her and some others, but in August he started acting like a stallion and jumping things -.-. So he got gelded ;).
So I'm wondering what are the pros and cons to this type of breeding?
They're NOT related in any way.
She is taller then him.
I'm sure she's to young for something like this, but then again I think of the horses in the wild, as soon as a mare comes into season the stallion is going to serve her, no matter what the age.
Here they are at the beach not that long ago.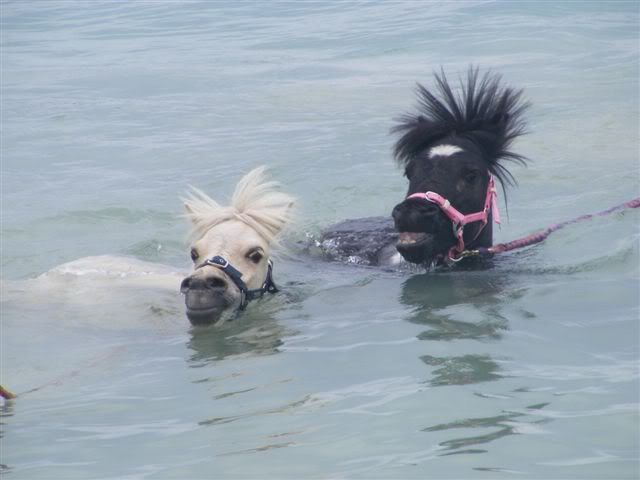 I don't know what to do. Help!
Started
Join Date: Jan 2009
Location: USDF Region 1, USEA Area 2, USEF Zone 3 - Maryland
Posts: 1,903
• Horses:
3
Call the vet. Have her checked to see if she really is pregnant.
---
-Melanie
Mom to 3 bays: Beau, Daisy & Cavalina
I would have her aborted if she is pg.
I agree, calling a vet and having a check would be a good start.

Cute ponies btw.
---
"On hyviä vuosia, kauniita muistoja, mutta kuitenkaan, en saata unohtaa,
Että koskaan en ole yksin, varjo seuraa onneain.
Vaikka myrsky hetkeksi tyyntyykin, varjo seuraa onneain.
Ja pian taas uusin hönkäyksin, varjo seuraa onneain.
Hei tuu mun luo, pieneksi hetkeksi. Puhutaan, varjoni, valkoiseksi enkeliksi."
Pelle Miljoona - Varjo seuraa onneain

Did I read that wrong, or is she pregnant at a year old?

Call the vet, have an abortion arranged
Agreed. If she is pregnant, then carrying a foal at just a year old is incredibly dangerous for her and it is a very real possibility that she could lose the foal, or even die herself during birth. Have the vet out, find out for sure, and get it aborted if she is.