Hey Tamma is it true that to pass your test in Finland you need to be able to power slide a car?
---
A good horse can never be a bad colour...
Iridehorses, I meant when it was my time my dad didn't allow me to drive his car. Well one big reason was that I hit his car more then twice. Once I hit to another car while at someone's wedding and second time I hit a lorry infront of a police station.
I was a very bad driver by then however learnt how to drive normally later
.
Regards
---
2¢
-Jehanzeb-
2¢
If something's HARD to do, then its NOT worth doing!

This is a 1975 Oldsmobile Cutlass Supreme. This car is not mine, I don't have any pics of my first car, but mine was just like this one, only light grey. It was a beast of a car that no 16yo should have been behind the wheel of. Also it only got like 15 MPG.
I learned to drive in my instructor's orange Suzuki Swift, which looks like this:
It's a nice little car. In the summers, I pay to go on my dad's insurance for his car - a P reg Peugeot 406 estate. When I passed and my dad surprised me by putting me on his car, all my friends were amazed that I was driving something so huge. It's a 2.1L turbo diesel too. Americans should understand that the norm for young people in the UK is a 1.2-1.5 L hatchback such as a Ford Ka, Ford Fiesta or Vauxhall Corsa. Small cars are far, far more common than SUVs.
---
If you believe everything you read, better not read.
Japanese Proverb

Quote:
Hey Tamma is it true that to pass your test in Finland you need to be able to power slide a car?
At first I can say that I didn't find a prompt Finnish translation for a term called "power slide" (Me and my language skills, I know). I still catch that it can mean "power oversteer" or "handbrake turn" and assume that you mean something like that?
On the one hand I would say that this is true but on the other hand I would say it isn't. Nobody asks you to do a powerslide when you're doing your test or at least I've never heard that. But you have to do "the slippy roads practice" before the test. It's a special track which has been slicked with oil and water or something and meant to give you a some kind of insight about it how a car works on slippy roads. When doing this practice you should induce your car to slide all kind of slidings (including an over-, and understeering) and also do brakes, speedups etc. When I was doing my practice it was intended to do a handbrake turn too. But this is only a practice so you can't pass or fail it like a test. Still, if you haven't do this practice you can't attend the final driving test.
So I could say that nobody demand you to do a power slide during the test but you have to do this practice before it. And often it includes a power slide too.
---
"On hyviä vuosia, kauniita muistoja, mutta kuitenkaan, en saata unohtaa,
Että koskaan en ole yksin, varjo seuraa onneain.
Vaikka myrsky hetkeksi tyyntyykin, varjo seuraa onneain.
Ja pian taas uusin hönkäyksin, varjo seuraa onneain.
Hei tuu mun luo, pieneksi hetkeksi. Puhutaan, varjoni, valkoiseksi enkeliksi."
Pelle Miljoona - Varjo seuraa onneain

---
Last edited by TaMMa89; 01-11-2009 at

02:12 PM

.
Top gear was right then
Its a good idea to do that, to prepare you and stuff
---
A good horse can never be a bad colour...
Quote:
Hahaha! this is the most famous car between new learners
.
Im getting 307 or BMW 3 series for my sister
who recently passed her exam
Regards
A
HEM
!! Jahanzeb...do you adopt??
---
This was mine - a '57 DeSoto (mine was blue and white) with pushbuttons to change gears ( I paid $45.00 for it ):
---
I'm not arguing with you, I'm just explaining why I'm right.

Nothing sucks more than that moment during an argument when you realize you're wrong.

It's not always what you say but what they hear.

My first car was horrible, a chevy lumina that the heater/air did not work and it was black with burgandy interior, i broke it going over a speed bumb at 30-40mph
. Then I got to drive my dads 1984 944 Porsche that i also hated because it was too small, i like big trucks
, then i got my truck when my dad saw it for sale near our house, but didnt tell me about it becuase he didnt think i could handle parking a long bed.....hmph i make my own arking spots
. I love my truck!!! She is amazing!!! 1995 Chevy Cheyanne and has all the towing equipment installed, shes a V8 i think 350 horse power? But i really really want one of those big Ford Disels (sp?) so I can get me a gooseneck trailer and so I can run stuff over
I call her truckie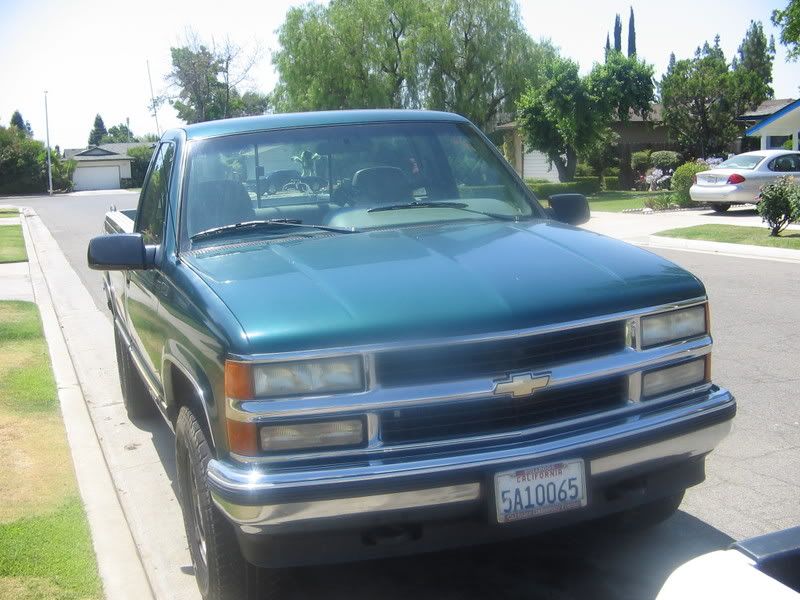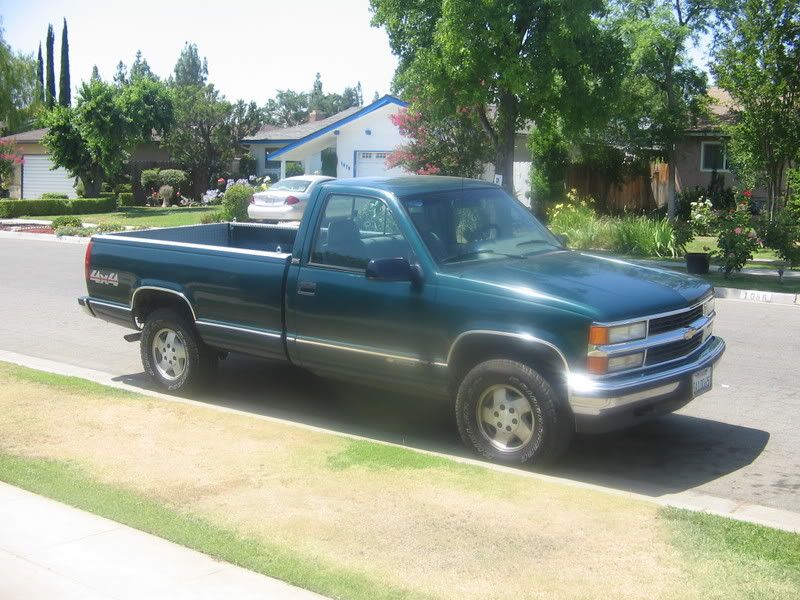 ---
The rider casts her heart over the fence, the horse jumps in pursuit of it.