Well, I want TWO -- the truck I have now but in 4WDand some options -- 98 GMC 6.5 Diesel extcab shortbox -- add 4WD, standard instead of auto, leather, heated seats and mirrors, sliding rear window, power everything, aftermarket sound system, hard tonneau cover easily removable and aftermarket rims. Then I want two trailers for it -- one for horses c/w living 1/4s and one for hauling stuff -- oh and a regular camper trailer too.

OK, I guess I don't want TWO -- just ONE with add-ons! :)
---
Last edited by NorthernMama; 01-14-2009 at

09:58 PM

. Reason: forgot last line
Daily driver...mazda3 sport...no need for a picture...its basically a 4 door normal car...although I would get it in red with the spoiler option
just for fun...an old Mini
Towing rig...Land Rover Range Rover Sport pulling a Brenderup
Just for being to da*n sexy...the Lotus Exige Sport.
the "little sister" of this car is the Lotus Elise...which I named my daughter after
I have two in mind (I am sure this question was asked before?)
1: Ferrari F430 F1
2: Audi Q7
Regards
---
2¢
-Jehanzeb-
2¢
If something's HARD to do, then its NOT worth doing!

Some kind of "yankee car" would be showy.

Also sports car or a well refurbished '60's or '70's car could be nice.
---
"On hyviä vuosia, kauniita muistoja, mutta kuitenkaan, en saata unohtaa,
Että koskaan en ole yksin, varjo seuraa onneain.
Vaikka myrsky hetkeksi tyyntyykin, varjo seuraa onneain.
Ja pian taas uusin hönkäyksin, varjo seuraa onneain.
Hei tuu mun luo, pieneksi hetkeksi. Puhutaan, varjoni, valkoiseksi enkeliksi."
Pelle Miljoona - Varjo seuraa onneain

I want a 2007 GMC Topkick C4500 truck with all the fixings like in the Transformers movie (Ironhide package). Gawd this baby is gorgeous!!! I want it sooooo bad!!! But it is for sale in TN for $119,000
.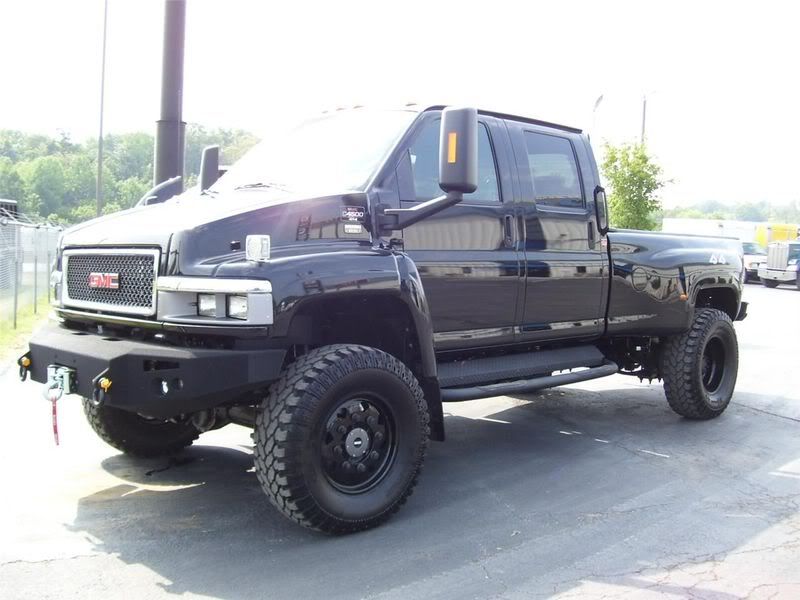 ---
The rider casts her heart over the fence, the horse jumps in pursuit of it.
OOoOoOoo... Can I change my answer????
I totally forgot how slick the Topkick was in that movie......And I didn't even THINK of classic cars.... One of my Favorites is the 1968 Yenko Camaro
Yearling
Join Date: Feb 2007
Location: In the Phantomof the Opera's lair beneath the Opera Garnier
Posts: 1,112
• Horses:
3
This is a car I would glady go into debt for without batting an eyelid. I absolutely adore Evo's. They are smart, beautiful and I could drive one where I live on the roads around here because its a rally car. And their relativly inexpensive unlike my second fav, Ferrari California
I've got the one I want. My Jeep Grand Cherokee :)

Would like a bigger truck though... (I also have a truck)
i would buy 3/4 ton Dodge 4 wheel drive quad cab with some of the works.
---
A good cowboy always has a better horse at the end of the ride, a poor cowboy will be afoot reguardless of the horse.

Mis Raices Estan Aqui (my roots are buried here)