I'm back from dad's funeral and meeting family
---
Wow, what a very long two weeks.
I feel so drained and out of it! Past two weeks feels like over a month long
First off. Thank you to everyone who sent me love, prayers and cyber hugs! Being able to talk on here makes things easier on a emotional level since none of my friends my age or even older who I spend time with have not gone through a loss of a parent yet it is very hard for them to relate or understand fully what I am going through. So thank you, you guys are amazing in strength
Since my last post before the funeral I was in a daze, didn't want to face reality...not much has changed since then but maybe I am at a little more peace? I am constantly on a roller coaster it seems of highs and lows. I a great at distracting myself but when my boyfriend gets off work he knows really I'm not doing that great.
I don't know what I would do without this guy in my life right now. He is the one who has gotten me through all of this so amazingly. He gives me the strength I never thought I would have. He see's through my fake smiles and the "I'm good & I'm great" BS he took me to the funeral, to my dads the day after he passed to be with family, before he passed and we got the emergency phone call we where at my brothers (moms best friend's kid who I grew up with since being adopted) and I told him about my dad....he took my hand got me in car and drove straight to the hospital with no questions or judgements or hesitation...after the funeral he was by my side all day. During the reception he let me do my own thing, met my new family and played with my nieces who now call him uncle. After the reception he took me out to a nice low key dinner and a fun move (Iron man3)
I can't thank him enough, he is the one who has gotten me through this....says something about a guy who takes time off work to be there for me, who without any hesitation does what needs to be done. Who gives me space during the day but the moment he is off work I'm getting a phone call from him making sure I am doing okay. He jumped into the head first with no crash course and no idea to what either of us where truly getting into.
Here is a cute picture of Chris and I holding my great niece for the first time...don't mind Chris he doesn't photograph all to well lol this was the day after my dads passing.
My head is still a mess, like a very tangled yarn ball...
Friday at the funeral I met the last of my siblings of who I had not met yet, Ken and David. Awkward does not even begin to explain it... David was my father's youngest son...he is 31/32? So after shaking my hand (in front of everyone) he blurted out "you mean I am not the baby of the family anymore?!?!" That got everyone to crackup laughing.
So it goes: Ricky, Tania, Donald, Ken, David and me from oldest to youngest of my father's kids.
The picture that was snapped for everyone to see... I am on the far right in the white sweatshirt...long story about my clothing that day that is for another day, ill leave it at I was supposed to be in a very nice black dress...thank goodness I for backup clothes!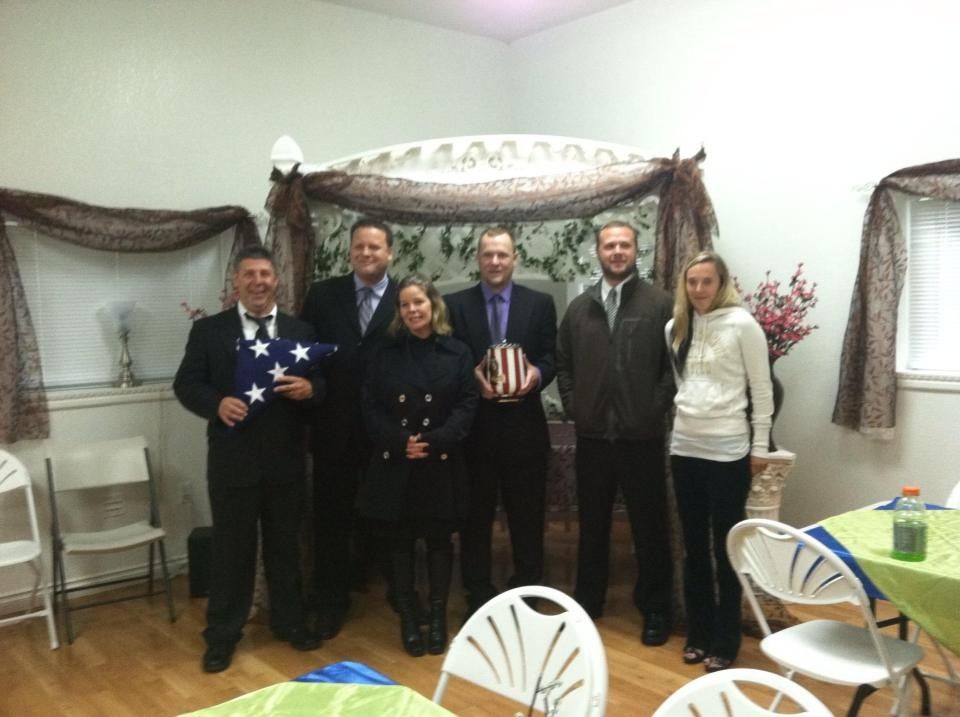 At the funeral reception we did an all out Seahawks theme....my dad a HUGE fan. We had a very cool slide show and I got to listen to some very funny stories about my dad.
Along with meeting my brothers I met all of the in laws...beautiful ladies with gorgeous children! No pressure for me and Chris right? Lol kidding!! They welcomed me in with warm open arms wanting to get together soon! Oh boy
Sunday I got to go on my first road trip with my new family to meet my 94 year old grandfather... Boy is that man amazing! Sure he has a 94 year old lady but 45 year old mind and spirit!! All the kids got to have rides on his scooter, too cute!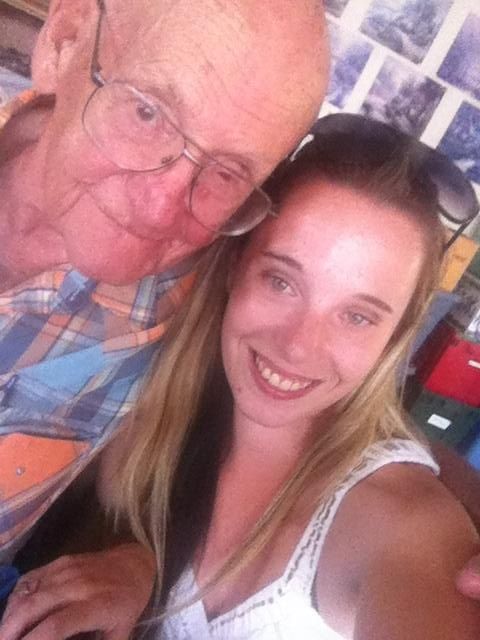 On with the rest of the photos, too tired to write much more!
All most all the grand kids, minus about four. The two little girls in the blue and tie die dresses are my oldest brother's who we have fallen in love with! The gal in the back (red dress) is my 18 year old niece) let me tell you how strange that is for metro say...I'm only 21...
Me and my favorite niece, Cailen...ssshhh don't tell her baby sister!
My father's urn.
Siblings with our grandfather. Ken is behind Tania and I. Ricky is picking on David and Donald couldn't be there that day.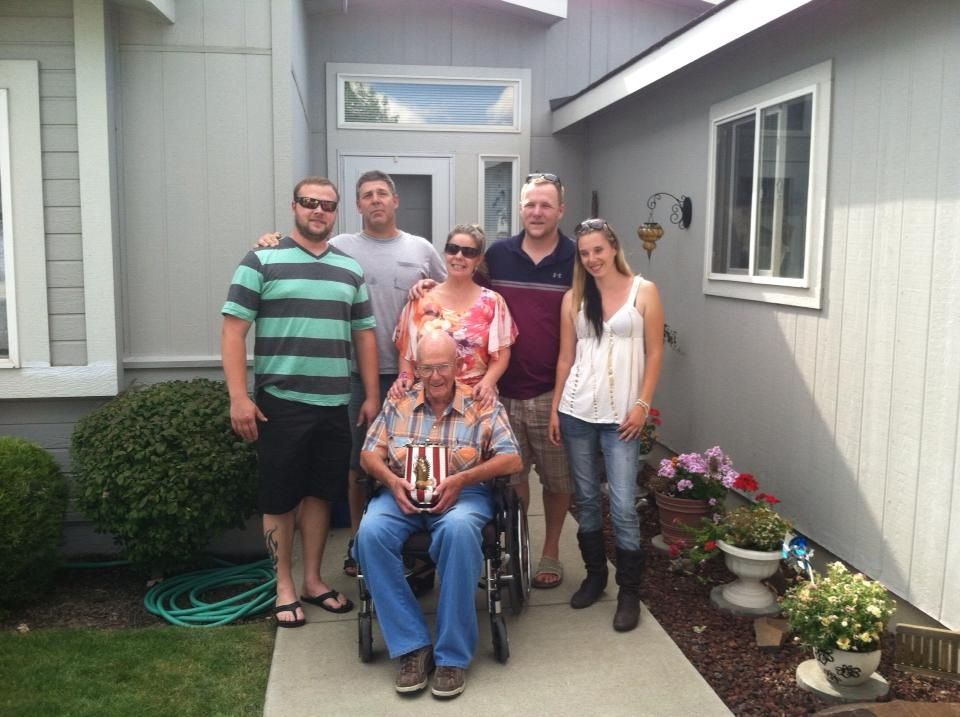 My brother Ricky's family with with grandpa and dad
That is all for now.
Thank you guys again!
Felt like I owed into you guys to share the good that came out of my father's passing...being excepted into this huge family!
---
http://www.horseforum.com/member-jou...aining-497281/
I'm happy for you. I lost my dad 3 years ago and it was very very difficult. I'm glad you have lots of support to help you through your loss. Thanks for sharing
Oh my goodness. What a trial you've been through. My heart breaks for you.
I giggled at your grandfather giving scooter rides - how cute and cool is that?!
Stay strong girlie. Give me a shout if you need an ear.
Posted via Mobile Device
Glad to hear it.
---
Always remember that feeling of looking at a big, open country over the ears of a good horse, seeing a new trail unwind ahead of you, and that ever-spectacular view from the top of the ridge!!! Follow my training blog:
http://robertsontraining.blogspot.com/
Thanks guys!!

Yeah the scooter rides where a lot of fun, the bigger kids got to give the little ones rides on turtle mode hehe

JDI- thank you

In all honesty I'm so out of it and meh/blah feeling that I just canceled my lesson for the day. I have only ridden twice since all of this but really want to be alone and chill out from everything.
---
http://www.horseforum.com/member-jou...aining-497281/
You might have lost your father but you sure have gained a heck of a lot of relatives!

My father passed three years ago and I have just returned to the town where I grew up having worked away for nearly 35 years. I have been back for holidays. I cannot tell you the number of people who have stopped me in the street to say how they were having a laugh about Dad and want to stop and talk about him. Great to know he is not forgotten.

Good luck to you in the future, you certainly have a great bunch of people Round you.