View Poll Results

: Do you like the Jonas Brothers?

Yes
5
27.78%
No
13
72.22%
Voters: 18. You may not vote on this poll
Jonas Brothers
---
Who loves them as much as me??
Nick:
Kevin: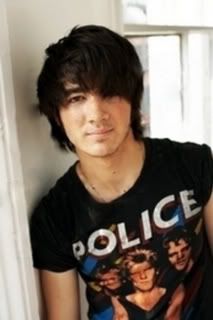 Joe:
looove them!!

Especially Nick and Joe!!
but I love their music as well!! haha
hehe
Nick is my fav! XD But I love Joe and Kevin too!Did you get the new CD?
i KNEW somebody was guna make a post about this sooner or later XD
hehe, were half and half! XD
---
-Horse racing is my passion-
Athena:15y Palomino QH & Shirley's Brittney:8y Bay OTTB
I probably don't like them as much as you do. xD I don't think I like them, but I certainly don't hate them. I have a few songs by them and I really love Burning Up. :) The music video is so funny. Other than those, I haven't heard a lot of their music, so I can't really be a judge of them. ;)
okay sorry but...
i dont love them. i dont like them. i dont strongly dislike them. but i HATEEE THEMMMMMM!!!!!!!!! grr!!! they are soooooooo overated!!!!!!!! and like when you think of it, is their music even THAT good????? i mean look at the lyrics. "im burnin up for you baby" "when you look me in the eyes." and blah blah blah. does it have any good meaning??? at all????? i find its usually i find its usually if not all of it is about some girl. and thats not a good message!!!!!!!!!!!!!!!! we already hear enough music like that!!!!!!! someone whos looking on givivng up on someting or is just looking for answers probably isnt going to find it in those lyrics. unlike some bands that are out there today. plus i dont think guys in that band are that cute at all!!! like......wtf???? some girls who love nick are like 200 years old then him!!!!!!! hes only like 15.
sorry about my little rant. but me and my friends have all agreed that alot of its the truth. sorry!!!
its my opinion tho. hehe. bye now!
plus idk about you but i rly dont wanna like the same band that my 6 year old cousin and her friends love.
I dont like them
---
3 barrels , 2 hearts & 1 passion
there like one of the bands you love to hate. personally i dont really like them. there realllllllllyyyyyyyyyyyyyyyy over rated.
Foal
Join Date: Aug 2008
Location: in the middle of the woods (maine)
Posts: 66
• Horses: 0
I hate them, I don't think they can sing very well either.