I did not see a new thread, so I'll post this here.
In addition to fallen men and women we all remember, I wanted to also remember the equines who served and fell in the great war.
Chip and Nick remembers too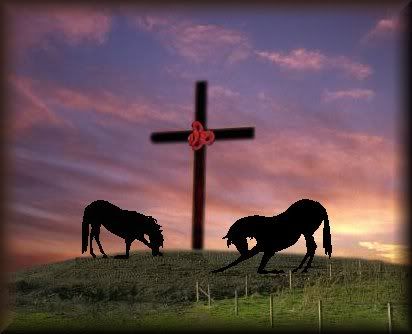 In World War I, such was the use of horses on the Western Front, that over 8 million died on all sides fighting in the war. Two and a half million horses were treated in veterinary hospitals with about two million being sufficiently cured that they could return to duty.
A cavalry charge was essentially from a bygone military era and machine guns, trench complexes and barbed wire made such charges all but impossible. However, some cavalry charges did occur despite the obvious reasons as to why they should not. In March 1918, the British launched a cavalry charge at the Germans. By the Spring of 1918, the war had become more fluid but despite this, out of 150 horses used in the charge only 4 survived. The rest were cut down by German machine gun fire.
One story I found on the internet (there are many)
He (Sailor) would work for 24 hours a day without winking. He was quiet as a lamb and as clever as a thoroughbred, but he looked like nothing on earth, so we lost him. The whole artillery battery kissed him goodbye and the drivers and gunners who fed him nearly cried.
At the outbreak of the First World War, Chevalier Fortunino Matania became a war artist and was acclaimed for his graphic and realistic images of trench warfare. His painting for the Blue Cross entitled
Goodbye, Old Man
, showing a British soldier saying farewell to his dying horse, is a fine example of his emotive work.
---
Sometimes I wrestle with my demons.
Sometimes we just snuggle.
Green Broke
Join Date: Aug 2010
Location: Southwestern Ontario, Canada
Posts: 3,324
• Horses: 0
---
It is impossible for a man to learn what he thinks he already knows. --Epictetus

Lovely post, RGF. The painting gave me tears.
Posted via Mobile Device
Never knew that they used horses in WWI, but its horrible that out of 150 horses only 4 made it! What were the germans thinking, yes you take the horses out, the allies cant more stuff as well. But still the horse is not what your objective.
---
They shall grow not old, as we that are left grow old:
Age shall not weary them, nor the years condemn.
At the going down of the sun and in the morning,
We will remember them.