Quote:
Originally Posted by Solon
I had something else in mind but that also works! Cross dresser are cool, nothing wrong with them. He just not at all what I would consider remotely good looking!
hmmm something that starts with a T and ends with an E? lmao and i agree hes not hott at all. ick sorry liv!
---
I liked the song a lot just not the video. She had really weird expressions and I don't get all the girls pretending to cry. The song was probably about Nick Jonas. You know they went out again and he dumped her. Or that's what I heard......
Thank god some people who feel the same as I do!
I don't like anything off the "new preteenie crap. "
that high school musical crap, Jonas brothers, miley cyrus etc.. Just stupid.
I must be one weird kid I'm 16 and have extremly different taste in music etc. As for the girls brother. I don't think hes as bad as some of you are saying,..
..Some of you would
HATE
the kind of guys I think look good.
Yep give me some Calabria, Gazzette, or Miyavi any day over that mess.
haha what kind of guys do u think looks goood
Shou, Miyavi, Ruki
Kanon
Kana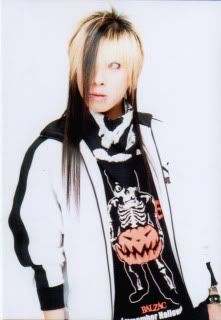 Aoi, Reita, Ruki, Kai, Uruha
Theres plenty more..
Kill me
..
are those girls or boys
haha just kidding
Quote:
Originally Posted by xoLivxo
are those girls or boys
haha just kidding
im wondering the same thing only im not kidding
lol
---
Haha there all guys, they are part of the visual kei movement.
There all in j-rock bands, thats just my taste..
I think there gorgeous!