Quote:
We've got an Alberta clipper blowing throw here today, wind chills are -15 in Michigan. I'll thank you canucks to keep yer clippers to yerselves! ;)
Be happy to lol, as long as you guys keep those Colorado lows out of canada
Posted via Mobile Device
Itsa deal! You guys keep warm up there!
---
We grow too soon old, and too late smart.

Quote:
Not so cold where I am, SW UK, only -2 but it is a horrid damp cold.
Snow is falling so the whole country will be at a standstill tomorrow!
That one is still hard to explain to some people, the difference between my hairy happy monsters here at -40*C, who are comfortable, hang on, the view from my bedroom window yesterday morning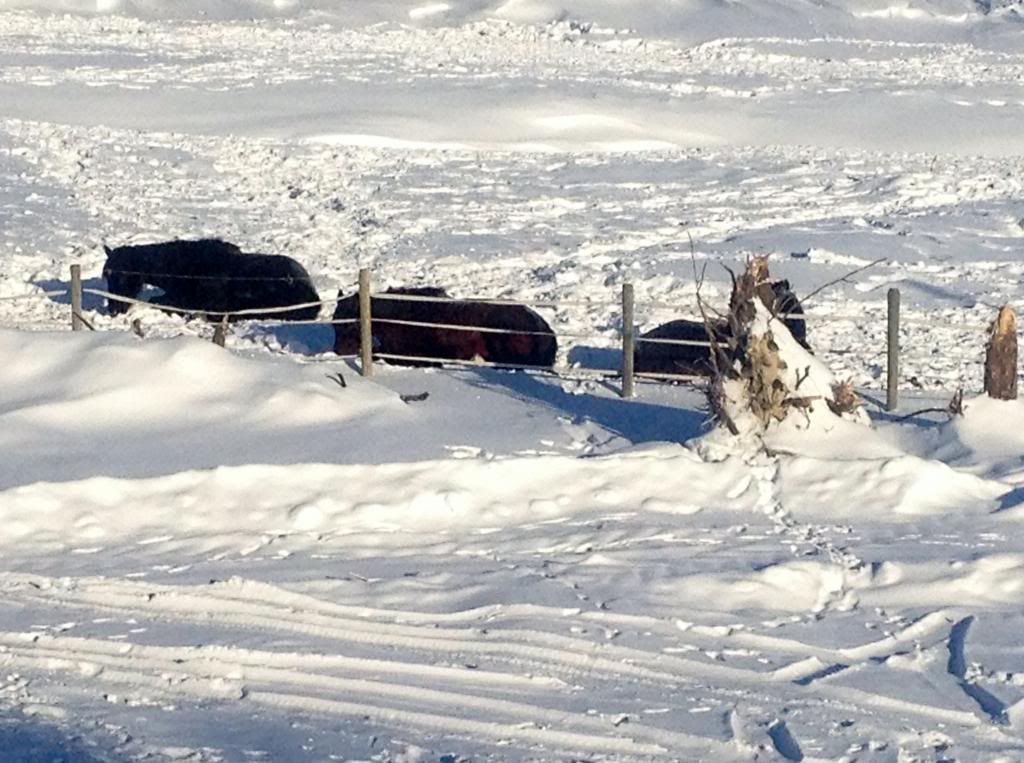 They were all lying down sunbathing, that is a nice little sun trap area, that seems to miss the wind, and they often hang about there.
At -2 and snowy in the UK mine would have been rugged up and preferably inside.
Have to laugh about the Americans complaining that the cold fronts come from Canada. Growing up in MT, anytime it was going to get cold it was 'That cold Canadian front'... Now living in SK, I realize, first off, Western MT doesn't know what cold is, secondly, we got a snow storm two weeks ago that came up from the States. LOL!
This last weekend was incredibly cold. From Saturday to Monday we were at or below -40*C with wind chill. On Monday we had a wind chill warning, it was -45* with wind, and any exposed skin could get frostbit within 10 minutes.
Today, it's a balmy -16. Everyone is out and about and saying how warm it is. No wind. That's what makes the difference. I have noticed that at -32* add wind and snow (making it feel like -50*) it's a lot colder than -42* dead still with the sun shining. This happened once (the windy day and then the calm one) with those temps, on the minus -42* day, I was actually sweating under my bunny hug, scarf, ear warmer, and heavy coat, while walking out the 1/4 mile to get the cows. Wind is everything!
---
I figure if a girl wants to be a LEGEND, she should just go ahead and be one. ~Calamity Jane
Wow, stay inside and keep warm!

I'm shivering right now and it is 11°F (-11°C)! Went outside to get the mail and I couldn't get in the house fast enough. It's very blustery and windy today, I believe they said wind chill was -6°F (-21°C)
Good grief!! I am incredibly glad I live in the south! We have been complaining about it getting into the 30s at night because we're all wimps when it comes to actual cold weather. Tonight's the coldest night in a while, and the low is 34*F. Our days have been upper 50s-mid 60s. I really feel for you guys in the negatives! I shiver just thinking about it....
It will be -34 here tonight as well. Who else is ready for summer? =]
Was a whopping 5*f here this morning and same tonight. But no snow and windy. All kinds of fun since the water spigot froze. Tubs and coolers to fill water troughs. God I love my wife , she did most of it while I worked.
Posted via Mobile Device
Best part is, that's if its -25C outside its -30C in the indoor riding arena cause its not insulated and the sun never shines in to warm any of the air up. I remember playing a hockey game a couple years ago and the registered temperature in the arena was -46C and there was no wind lol,
Posted via Mobile Device