My Christmas present from Rich (picture heavy!)
---
Sorry, Liz - I finally got around to doing this!!
So Rich gave me the best present of all - lots of quality time spent together. Let me explain... Rich is a 4th year university student; most of his time (not to mention funds!) are tied up with finishing school with the best grades he can get. Anyways, most of December was spent away from each other, with the odd quick hello and coffee break... so for Christmas, he did something truly special for me.
I am BIG into Christmas. On December 1, I set my car's radio station to the station that plays Christmas carols for the entirety of December. I watch as many corny Christmas specials as possible. My house is practically barfing Christmas by December 15.
Each year, I decorate a pre-made Gingerbread house. I lack the skill to actually bake myself a house, or I would do that. Rich and I decorated a little house in early December, and I remember mentioning that I would love to be able to hand-bake a gingerbread santa sleigh, complete with reindeer.
Rich made that wish come true. On Christmas day, he handed me two big boxes. One box contained hand-cut out pieces to make an entire diorama of Gingerbread, icing included. Each bag had instructions as to what went where, and it was all done with very clever hints, as you'll see. The other big box contained sorted candies of all shapes and sizes. He told me to look closely at the twist-ties .. they were all tied up into little hearts!
I got the best Christmas present a girl could ask for - a handmade gift that has given us some very quality time together.
Pics!!
Instructions: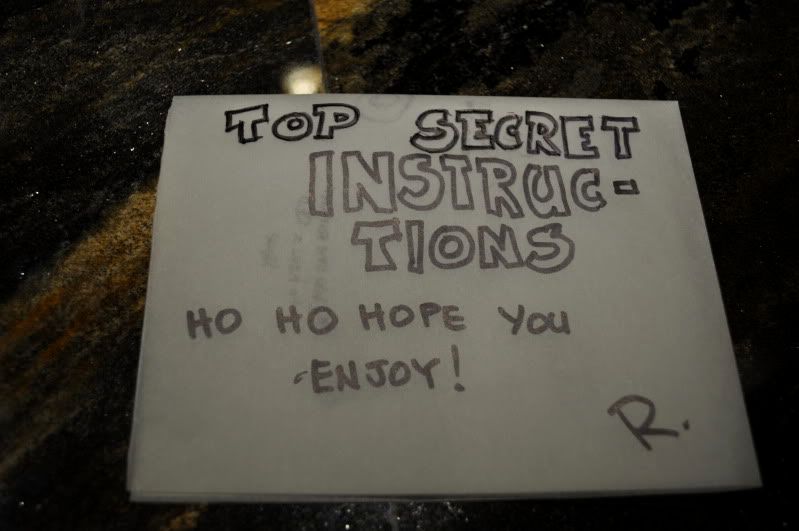 Some of the Gingerbread pieces:
Special instructions: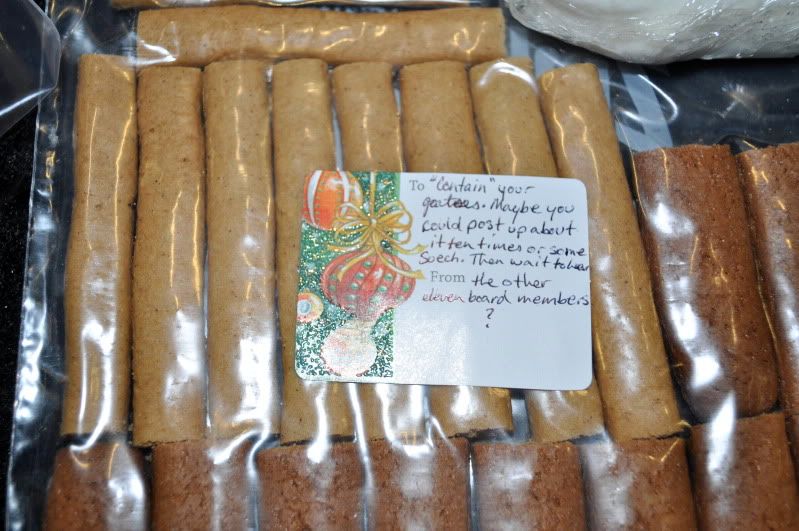 All the candy!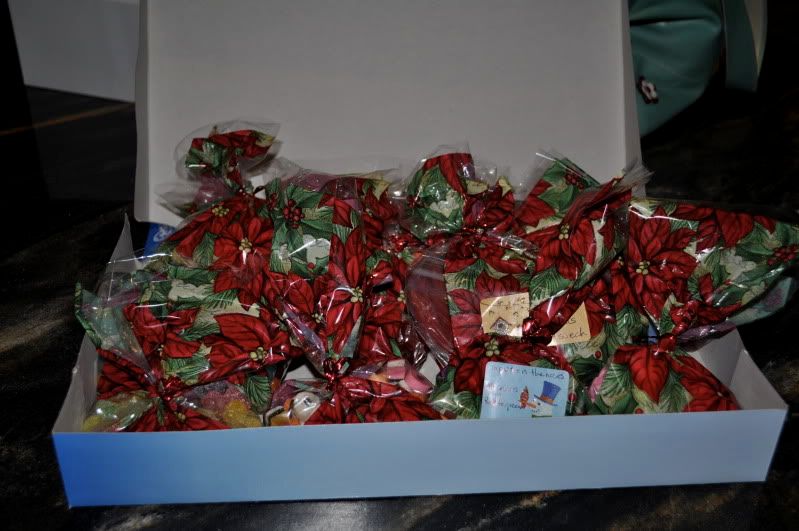 Notice how the bags are tied: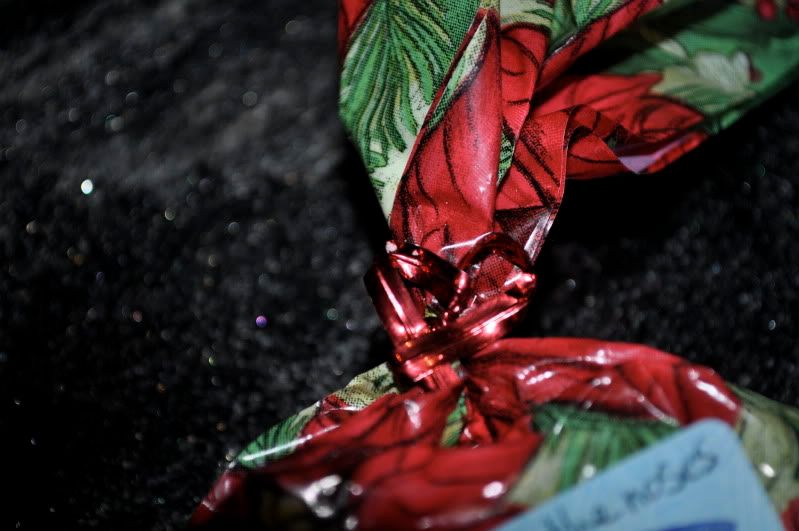 We're currently about halfway done: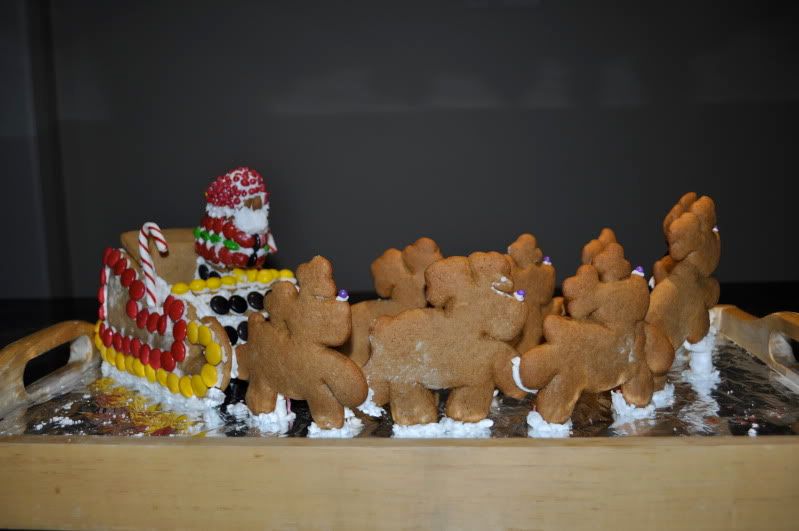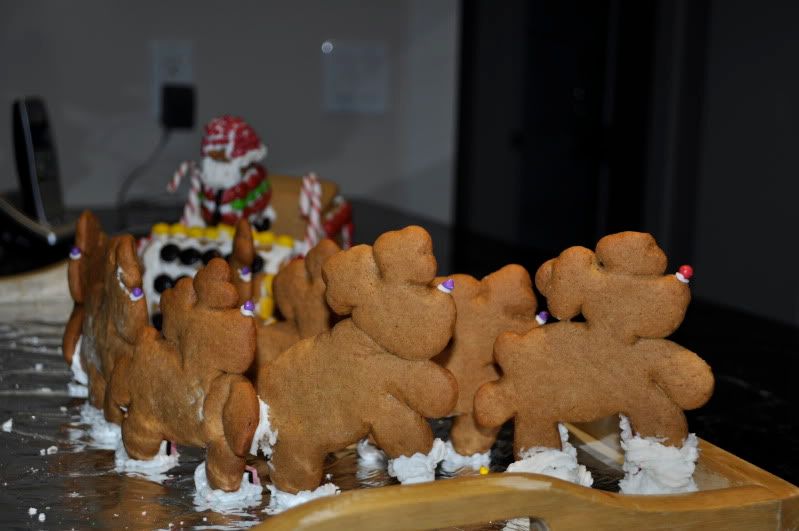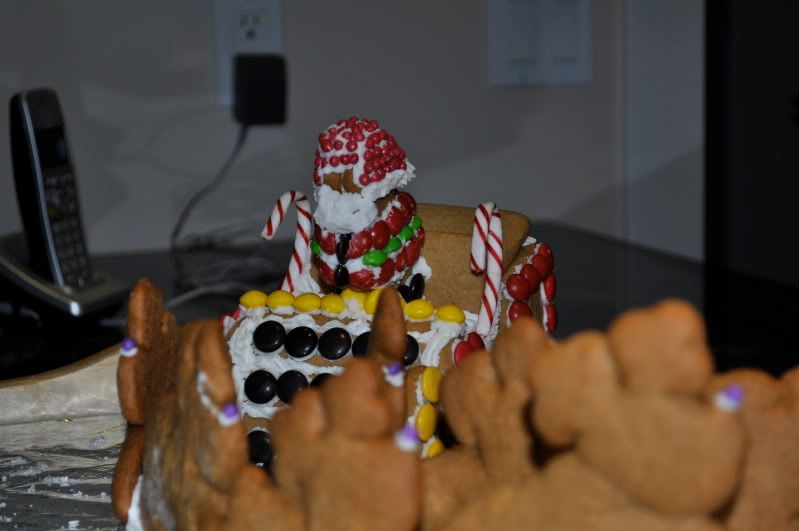 as per the instructions... Rudolph has a red nose.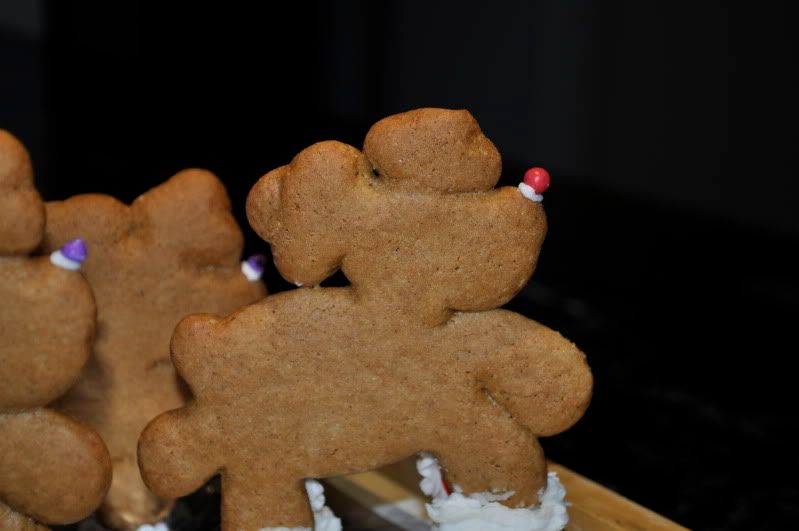 Us, after day 1 of building... please excuse my tired expression.. this is post 3 Turkey dinners... yes, 3 - Rich's parents, my parents, and my Godparents dinners... within 30 hours. UGH. SO good, but I was SO full...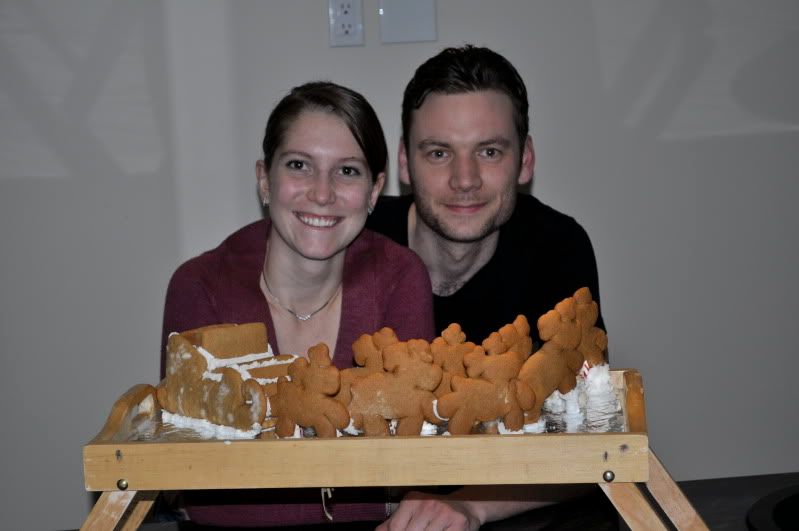 ---
The lovely images above provided by CVLC Photography cvlphotography.com
Too cute! He seems like a special one.
That's an awesome present!
You've obviously found very inventive man
---
"On hyviä vuosia, kauniita muistoja, mutta kuitenkaan, en saata unohtaa,
Että koskaan en ole yksin, varjo seuraa onneain.
Vaikka myrsky hetkeksi tyyntyykin, varjo seuraa onneain.
Ja pian taas uusin hönkäyksin, varjo seuraa onneain.
Hei tuu mun luo, pieneksi hetkeksi. Puhutaan, varjoni, valkoiseksi enkeliksi."
Pelle Miljoona - Varjo seuraa onneain

Ooh my gosh! That is just so adorable! Those type of presents are the best. You have yourself a very sweet man :)

Very nice work!
---
TM Tardy's Chick "Hunter" - 13 yo Paint
Remmy - 18 yo Morgan/QH cross
Gunner 3/31/11, Heidi 7/2009 Miniature Sicilian donkey

Its about dang time!!!!
That is SO awesome Allie!!!
AWww what a super sweet gift! It appears he loves you dearly :) And a super cute santa sleigh! did he make the cookies?
Oh barf thats just too sweet
Actually I think you have yourself a keeper with that fellow
Is he an engineering major?
---

"Until one has loved an animal, part of one's soul remains unawakened..."
- Anatole France
FUN!! How sweet, we got the kids there first gingerbread house
They loved creating it but did
NOT
love eating it
---
Freelance Graphic / Print / Photo / Web Designer -
Designalist
Stop by and say hey :)
Oh my goodness, what a wonderful present!
Seems big enough to share a piece ;)
Thanks guys!! I absolutely adore Rich, and it's so sweet of him to put the time and effort into this gift, and it's been a ton of fun to create with him.
Yes, he hand baked all of the parts :) they're edible!! We usually decorate a pre-made, pre-boxed house, which is not terribly edible - it's quite ... card-board...ish. haha.
Vida - no, he's in Zoology, to eventually become a vet. His dad is a world-renowned engineer though! (he has a LOT of letters behind his name!!)
---
The lovely images above provided by CVLC Photography cvlphotography.com