My dog Taz...
---
I didn't want to become a member of that dog forum as I no longer own a dog... just wanted to share that today was a horrible day for us.. me especially. It was my birthday and it also happens to be the day I had to make the hard decision to put my dog Taz to sleep.
We had her for 11 years and although she's still young for her breed she had mammary tumors that broke through the skin and even though I tried everything I know to treat it and I also took her to the vet as soon as I noticed the open wound it didn't heal.... I'm guess that there was a whole series of problems that led up to her finally being so sick and in so much pain that she let me know it was time to let her go.... it hurt so much and I cried and cried.... and I'm still in tears now...
Anyways, she's no longer in pain or suffering so hopefully she's better off. here's a photo of her as I want to remember her.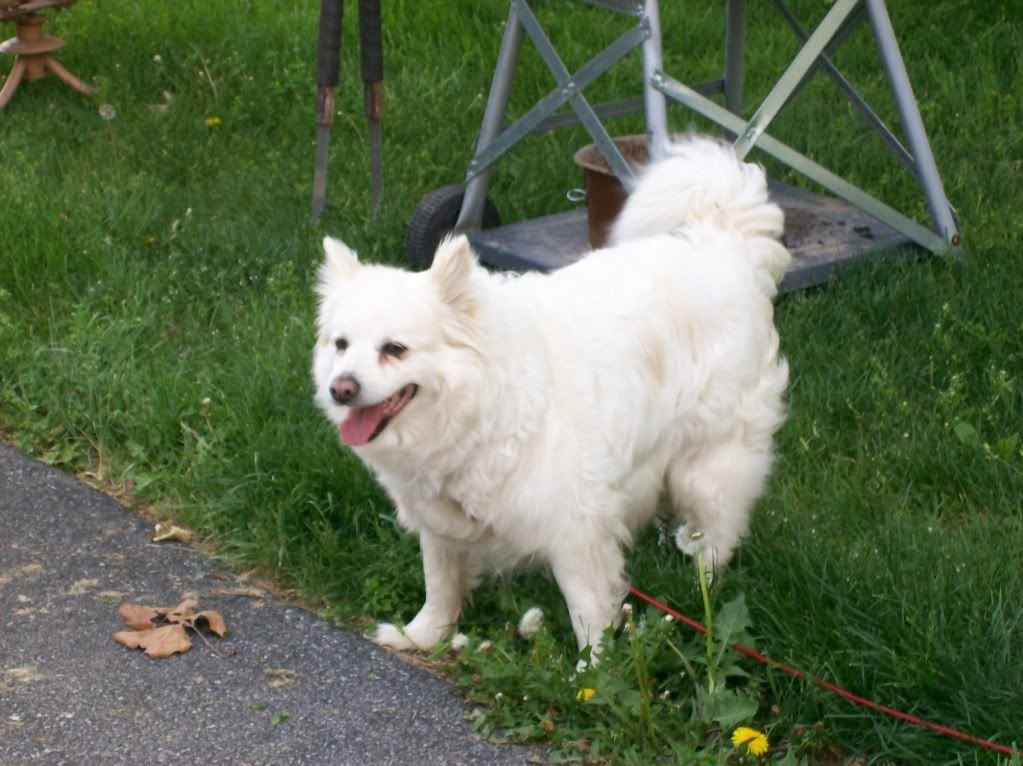 RIP Taz... you will be missed my little baby!
---
Show me your horse and I will tell you what you are. - English Proverb
I'm so sorry for your loss. Big hugs, hun.
---
"Great spirits have always encountered violent opposition from mediocre minds."

Thanks so much for that... I needed a hug.
---
Show me your horse and I will tell you what you are. - English Proverb
I was the same when my parents had to put our old dog to sleep.. we had him since I was three... he was 15 when he was put down.

I think this was harder on my hubby than it was on me as she was his dog. She tolerated me I think... although I still was very attached to her as we had her since she was 10 weeks old.

But she let me know in no uncertain terms that it was time... no matter what day it was. To be honest, I didn't think about what day it was until after I was home from the vet and my hubby and I were talking about her.

I held her in my arms as she passed and I felt her relax and felt the pain leave her.... she's not suffering anymore though so that's what I keep telling myself to relieve my sadness.... although it doesn't work too well. *sighs*
---
Show me your horse and I will tell you what you are. - English Proverb
She's not gone, she's just crossed over to another life, and waiting for you while having some fun of her own.
It's pretty neat to think that you had such an influencial animal in your life. It's absolutely amazing to know that you were able to have such an incredible member of your family for so many years, and she sounds like she was very well cared for and spoiled along the way. Animals have this way of touching people's lives along the way. She is very lucky she was able to have a single set of owners who loved over so much for so many years.
I'm sorry...
. Happy birthday tho.
---
"On hyviä vuosia, kauniita muistoja, mutta kuitenkaan, en saata unohtaa,
Että koskaan en ole yksin, varjo seuraa onneain.
Vaikka myrsky hetkeksi tyyntyykin, varjo seuraa onneain.
Ja pian taas uusin hönkäyksin, varjo seuraa onneain.
Hei tuu mun luo, pieneksi hetkeksi. Puhutaan, varjoni, valkoiseksi enkeliksi."
Pelle Miljoona - Varjo seuraa onneain