I GO TO COSMETOLOGY SCHOOL
-- DO
NOT
USE INEXPENSIVE SHAMPOOS FROM THE GROCERY STORE. Some people can get away with it. Mainly those of us who have medium strait hair.
Pert, Suave, Pantene, Dove, Garnier, etc are all BAD. The surfactants (cleansing agents) are too strong!!!
If you can't bathe in it, don't put it on your head! I get rashes from many of those brands, and all of them make my scalp dry and itchy because they DRY out your hair follicles.
OP, how thick is your hair (Is there a lot of it on your head)? Do you have fine, medium, thick hair? IS it wavy, curly?
If you can, at least invest in a good
shampoo
-- I recommend the 'It's a 10' brand or various 'Redken' products.
I use this product: It has IMPROVED the health of my hair. My split ends feel much better!
http://www.cdn.fashionandbeautystore...eratin-set.jpg
Also, I recommend these products:
http://lovethatred.files.wordpress.c...pg?w=600&h=480
http://1.bp.blogspot.com/_Rn-M9uhp68...ANTI+SNAP2.JPG
http://blog.nirvanahairstudiospa.ca/...SmoothLock.gif
My school is endorsed by Redken so I use their products ALL THE TIME so I know which ones are good!
Also, if your scalp is itchy, that is normally due to a Ph imbalance that your current shampoo could be making worse. Many Redken products AND other salon grade ARE Ph balanced (4.5-4.7). So, Head and Shoulders, T-Gell, and various other Dandruff shampoos can make it worse (they did for me until I switched to higher quality shampoo).
I color my hair, so I will only use Redken shampoo and conditioner to help keep the color around longer.
And I love
It's A Ten
products, especially their deep conditioning mask. I can tell how much silkier and shinier it makes my hair after I use it! I use it about once per week.
I also swear by It's A Ten leave in miracle product. I use it every single day, and it controls static and frizz like no other!
And in general, I try to wash my hair every other day ... and not every day.
---
∞•*˚ Βгįťţαňγ ˚*•∞
It is not enough to know how to ride; one must know how to fall.
I used Its a 10 as well as tea tree oil a long time ago and I remember really liking both. The tea tree a little more. The problem is I shower and wash my hair every day so it is hard for me to use a product that can only be used 1-2 times a week. I mean, its fine doing that, I just have no idea what to use on the OTHER days of the week. I do wash every day and I don't really think I'd be able to break that habit. :/ My hair is about mid armpit level and is straight and semi-thick. I wouldn't say it is thin (I have friends who would been about 5 of their hairs to match one of mine, supppper thin hair) but it isn't that thick. I'd actually say its medium-stright, but seriously, the split ends are bugging the heck out of me. I just can't seem to find anything that will work.

What are you guys using with the oils/other products that you can't use every day?

The argon oil is in the shampoo, I think it is garnie, is that not supposed to be used daily? It says '3 day sleek' on it, but idk. I will admit it has made my hair SO much softer from using suave which I will never ever use again. Made it beyond dry.
---
~He knows when you're happy
~He knows when you're comfortable
~And he always knows when you have carrots.
Also, I've never tried Redken before. I'll look into that one.
---
~He knows when you're happy
~He knows when you're comfortable
~And he always knows when you have carrots.
It's a Ten can be used daily, Beau159 referred to the hair mask (which I also love!) that should only be used once a week because it will over condition your hair.
OP, because you shampoo your hair everyday, you are stripping all the oils from your scalp that naturally lubricate and moisturize the hair shafts. I HIGHLY recommend the hair mask once a week for you to use because you shampoo so often.
But why do you shampoo so often? Is it because you are sweating often? Do you swim?
If you're hair is getting literally dirty from exposure to the elements, for instance, swimming in a chlorine pool, you would need to wash your hair with a clarifying shampoo (any salon grade one will work). Then follow up with a moisturizing shampoo such as the ones I listed earlier or:
http://talkingmakeup.com/redken_extreme.jpg
Also, I would stay away from generic brands who advertise their version of "Aargon oil" because it is generally not the same thing. at. all.
I highly recommend ANYTHING for you that says keratin on it (that is salon grade) such as this:
http://www.cdn.fashionandbeautystore...th-keratin.jpg
My hair is fine, curly, thick and down to past my collar bone and has now become less fine (hard to believe) But I can feel it when I make a pony tail (much thicker). The Keratin formula sort of coats the hair shaft like a shield.
My hair WAS frizzy, dull, and a mess. I swear by the products I listed!
I guess it is just habit of getting clean/washing. I shower daily, so I should do my hair daily. If I let it sit to long, as I have every once in awhile (such as a latttte night out and I'm way to tired to shower and won't get to it until the next day) it gets greasy and ugly pretty quick. I do sweat alot under my helmet when I ride. Sometimes, if it is a hot day (we get like no winter here, we have been in the low 80s for the past two weeks) it gets pretty bad. Perhaps the sweat is why i'm getting such bad dandrff? I was at a horse show competeing yesterday and today my dandruff may just be worse than ever. :/ I got pretty hot in my show clothes + helmet. The shampoo bottle says it is moroccan argon oil which was what some of the other ladies suggested I try. I don't think it is hurting me, it seems to make my hair shiny and smooth/soft, but it is still breaking and i have bad dandruff. Two things I'm desperate to fix. I want longer hair.......I will try redkin or its a ten next I think.
---
~He knows when you're happy
~He knows when you're comfortable
~And he always knows when you have carrots.
In addition, I forgot to mention the "Sexy Hair" line. I have only used the "healthy sexy Hair" oil (moroccan oil)
http://cdn-x.stockngo.com/media/cata...4.2ounce-1.jpg
and the strait sexy hair (thermal protectant)
http://www.beautydepot.com/images/pr...6630005222.jpg
but I love both products so I would be bet their shampoos and leave in would also be a safe choice. I think they may even be less expensive than Redken.
I JUST REMEMBERED -- do NOT purchase any of these products as WALMART, COSTCO or another non-salon store. They typically are not the same.
Unfortunately, when it comes to hair products, you have to spend money. there are NO short cuts. a
YOU need to buy either of the products me or Beau has recommended to you!

I believe your scalp is just way out of balanced (Ph), symptoms of which are ITCHING! The more you scratch the more hair will fall out and over time you might begin to thin in those areas!

Also, when you shampoo your hair, you MUST Lather, rinse REPEAT! The first shampoo basically just bunches all the grime in the suds but when you rinse it a lot of it is still resting under the cuticle (outer layer of 'scales' that protectt the cortex of your hair). The second rinse completely removes all the bad stuff.

please ask for more questions if you need help! Many people do not understand how to properly care for their hair!

As a side note, I'm so serious about this stuff I even use redken on my mare lol
Haha think it would help a suppppeerrr dandruff-y Arab? I can't seem to get her mane and tail not flakey. It really kind of grosses me out.........

I never knew the PH was the problem with my head. Never even crossed my mind one time....wow. Tonight I spent a long time massaging the shampoo into my scalp. It is still wet right now so we will see in the morning how much it helped the dandruff. I also lathered in the conditioner for quite awhile and let it sit on my hair for 5 min before rinsing. Like I said it is still really wet, but it feels sooooooo smooth right now, which i take as a good sign.

What are your thoughts on tea tree oil? I used a lavander tea tree once and loved it. It made my hair the softest it's ever been. Its just so pricey I haven't gotten it again.
---
~He knows when you're happy
~He knows when you're comfortable
~And he always knows when you have carrots.
Quote:

What are you guys using with the oils/other products that you can't use every day?

I use Redken Color Extend shampoo and conditioner, when I wash my hair. Except once a week, I substitute the Redken conditioner, for the It's a 10 hair
mask
. It's a 10 also makes their own shampoo and conditioner, which you could certainly use. I just like Redken because I color my hair and this shampoo/conditioner keeps the color around longer and has UV protection.
I still shower everyday, but I'll clip/pin my hair up and keep it out of the water, on the days I don't wash it. Often, it'll go into a pony tail or some sort of "up-do" on the days I don't wash it.
It might be a little damp just from the moisture in the air after a shower, so I will lightly put a couple spritzes of the It's a 10 leave in miracle product into my hands, and then run my fingers through my hair, and then blow dry for a couple seconds. I do have straight bangs, so those get "heat set" with my blow dryer to get them straight.
Normally, if I wash my hair and I want to wear it straight and shiny (like normal), here's what I use:
First I lightly spray with It's a 10 miracle leave in product.
Then I use one tiny pump of Paul Mitchell Super Skinny smoothing serum. I have long hair, but a little bit goes a long way!
Then I spray with Purology Anti-Fade Volume complex.
And
then
, if I feel like it, I will use Big Sexy Hair Root Booster, if I want some body up there.
And then I blow dry it straight, followed by smoothing with my ceramic straightener.
Yes, this IS a process I go through. But it works for my hair. My friends often will ask me what I use, because my hair is shiny and healthy; even though I color and blow dry. And yes, a lot of these products are expensive, but they last a long time. For example: The PM super skinny bottle will last me close to 2 years.
And I agree: Quality products are expensive, but they work.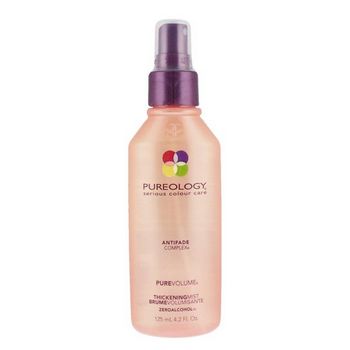 ---
∞•*˚ Βгįťţαňγ ˚*•∞
It is not enough to know how to ride; one must know how to fall.