Need a name for a JRT pup!
---
First off, big thank you to Tiffany (FehrGroundRanch) for making my dog ownership dreams come true.
This is my brand new little girl, pictured at a few hours old: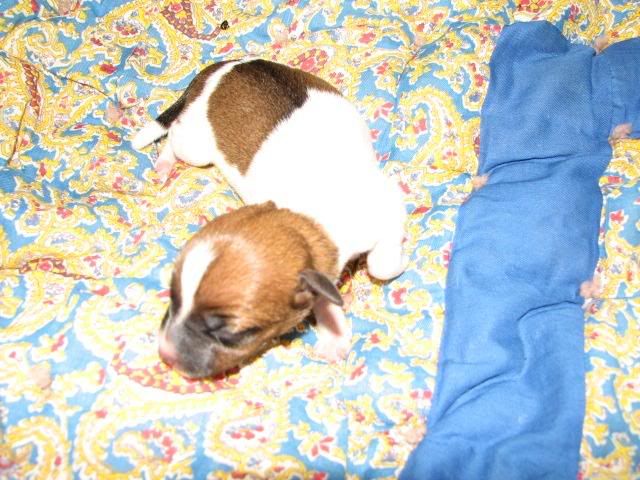 I would love help with choosing a name!
---
The lovely images above provided by CVLC Photography cvlphotography.com
Aww! What a darling!!!! Give her lots of kisses - ARGH...I just wanna give smoochies galore!

I love puppy breath!

Names - how about

Kismit?
---
I am a JR person, most of mine have had people names, do you like people names or would you rather a non people name? So cute!!!
well, I don't have name suggestions, but I have a rough coated JRT who absolutely is like my child. She sleeps in the bed under the covers with me and the hubby and goes everywhere that we go. She has been to Lowes, tons of horse shows, the Farmers Market, and who knows where else. I hope that you love yours as much as I love mine!
Aw, so cute! I don't have any JRT, but I do have 2 toy poodles, and I just love them. How about Missy, Penny, or Molly as name suggestions?
---
Why so serious?


Thanks all!
Kismet is nice, but my childhood friend's 3 legged dog.
QHChik - thank you!
I really do like people names for animals, but could go either way on that one. The name sticking out in my head right now is "Jessie" but that might be too common.
Thank you for the name suggestions, I don't want anything too common :)
---
The lovely images above provided by CVLC Photography cvlphotography.com
Hey she's VERY cute! What a bout a not so common name, like Poko? (fairly random, but kind cute.)
Loki - that is the Norse God Of Mischief.

Cricket or Kricket - I've always thought that to be a cute name
---
I don't know why but Jacks just seem to need a human type name.

My Jack names have been: Baby Ruth, called her Ruthie, her mom's name was Snickers, her first litter was one pup and her baby's name was Tootsie Roll, (Tootsie) I sold her and they named her Hannah.

Second litter, Keith, Mick, Sting, Angie and Roxanne, ( rock music theme, this was back in the 80s)

third litter Pele, (the soccer star he looked like a soccer ball)
oh geez can't recall the other two. (they were sold)

My first male was Patrick, my second Ziggy and my current female is Angelina (not after Jolie lol)

Some suggestions for your girl

Chloe
Olivia
Amelia
Jenna
Molly
Reilly
To quote The Jerk "You shouldn't name that dog life saver, you should name it sh!thead!", sorry, just made me think of that. I love my JRT, and in my experience it is better to let someone else name them, otherwise I would have never gotten Guido for a dogs name, and it's perfect. What about Petunia? Just popped into my head. Hazel? I don't know, not the best at dog names, obviously, thats why I leave it up to someone, sometimes anyone else. hehe. Congrats Btw i know of a JRT named Chloe, and she's bad IMO, so I would stay away from that name.
---
Troubled TB ~"A thorn by any other name will prick just as deep." @-'--,---