Need wedding help!
---
Okay, so I'm getting married in NINE DAYS!! AHHHHHHHHHH!!!!!!!
I have my dress and shoes (actually, I'm wearing boots, as we're getting married outside). I even have my jewelry. However, I don't have a veil yet.
This is my second marriage. I did the whole big veil with my first wedding (it was waist-length, but double-tiered). It worked with the dress I wore. This time, however, I'm not really feeling the big veil. Our wedding is a little more casual (even though my dress is gorgeous), we're both a little older (I'll be 33 the day we get married and he's 46), plus I have short hair now and it won't support a big veil.
So, I'm looking at birdcage-type veils. I can't find any locally that aren't on a comb and a comb won't work with my hair. So, I'm looking to DIY one. I would really like it to be lace. My dress doesn't actually have any lace on it, but because of the beading, it feels like it does. Plus, our "theme" is kind of burlap and lace.
This is the lace I have picked out (in the beige...my dress is ivory):
Chantilly Lace | Jo-Ann
And this is the headband:
David Tutera'"Ę Applique Embellished Side Headband, Cream Color | Jo-Ann
Any ideas on how I could DIY a birdcage-type veil out of that?
Oh, and this is my dress:
Romantic Pick-up A-line Taffeta Gown With Embroidered Neckline - Adoring Dress
Also, our colors are mint green and different shades of pink, with cream and antique gold accents.
---
Do not tell me I can't...because I will
show
you that I can.
I am so not a fashion guru so can't help you there. Just wanted to say:

Congrats on your upcoming nuptials!
---
R.I.P. JC 5/19/85 - 12/9/14. You made my life better.
If your not feeling the veil is there any need for one? Do you want it over your face or just clipped at the back?

For my wedding I had the tiara set back on my head with an upstyle. The veil was set in behind it but I never wore it over my face because I didn't want the hassle of it yet was trying to appease my inlaws by wearing one.
---
Stop for a minute, open your mind, learn. You may not agree with what I say, I may not agree with what you say but we will both learn something new.
I'm just not feeling the BIG veil. lol I like the look of birdcage veils, though, and I think it'd be cute, especially in pictures.
My hair is very short and thin, so updos aren't going to be an option. My first wedding, I did the tiara with an updo and my veil was on a comb that tucked into the top of the updo (was basically a half French twist with a mass of curls fountaining out of the top of the twist...you know, back when I actually had hair).
This is the look I'm kind of going for, just with lace instead of tulle:
So it would kind of be a combination of the first pic (with the headband) and this:
---
Do not tell me I can't...because I will
show
you that I can.
Thank you! I suck at Googling. lol
Since the bottom edge of the lace is finished, but the sides won't be once I cut it, I was thinking of basically attaching the lace to the headband all the way from side to side. IDK if that makes sense. Basically, make it so that none of the unfinished edges show.
---
Do not tell me I can't...because I will
show
you that I can.
Would you believe that veils were the fashion with ladie's hats. They feel like a fly has landed on your nose.
Here is some help you can use...run!!! ;)

Seriously, congrats.

W/o looking at what you wrote...I thought the combo of the pics you posted would look really nice. So, I agree - the combo would look really pretty!
---
There is just as much horse sense as ever, but the horses have most of it.
Congratulations!!!!
I LOVE, LOVE, LOVE your dress and fabric for your veil! Youngest DD used to work at JoAnne's and we are familiar with the David Tutera line of fabrics, etc.
Why don't you just bobby pin it in. Here is my Middle DD with her dress (April, 2011) and her veil was pinned in by the faux white flowers: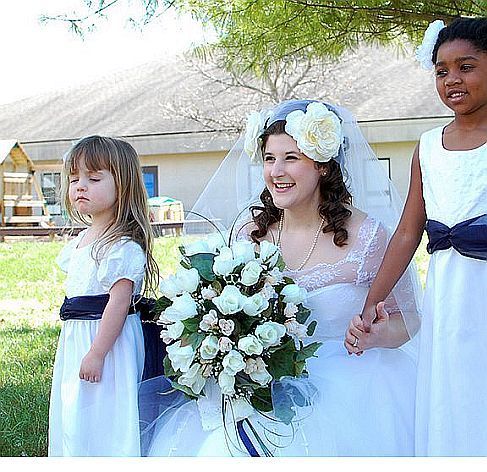 She had this things about "Ozma", thus the flowers, etc.
You definitely could roll the edge and carefully handstitch it to the headband. I might take you about one hour, and use a single thread with a knot, instead of doubling it with the knot. Match the thread to the headband. =D