New Addition, What Do You Think?
---
Over x-mas I was up and my other half's mum's and we went to his cousin's and she had this little dog outside that was just skinny skinny that wouldn't sit down cause e was too cold, kept holding up his paws and shaking. So while they were putting some presents away I opened the car door and let him put his head in and loved him up a bit. He tried to climb right in with me poor buddy. I had heard Dayton (my boy) make comments to his cousin that if a humane society ever saw the dog they'd take it away. Anyways i told my Dad just in conversation about the dog, didn't say that I WANTED IT TO COME HOME WITH ME lol. He told mom about the dog and She called Dayton and Dayton called his cousin, then he called me, in which I called mom and then called him back. Mom had asked him to try to see if he coulkd get his cousin to give up the dog. She agreed cause she couldn't take care of him and we went up and get him. He's been getting along great with the other animals, we now have 4 dogs... Here's the puppy well dog, he's 2 yrs old. He's Chou chou x Lab. Very very very sweet, not a mean bone in his little body. I guess he also has Rickets?? Funny bones from a lack of calcium. Pictures from the 1st day are the bath and the pictures of mom holding him. The other's are from his 3rd day home with my folks. Trained him to sit yesterday not all you have to do is grab a dog food pebble and he sits, you don't have to say anything lol.
1st Day:
3rd Day: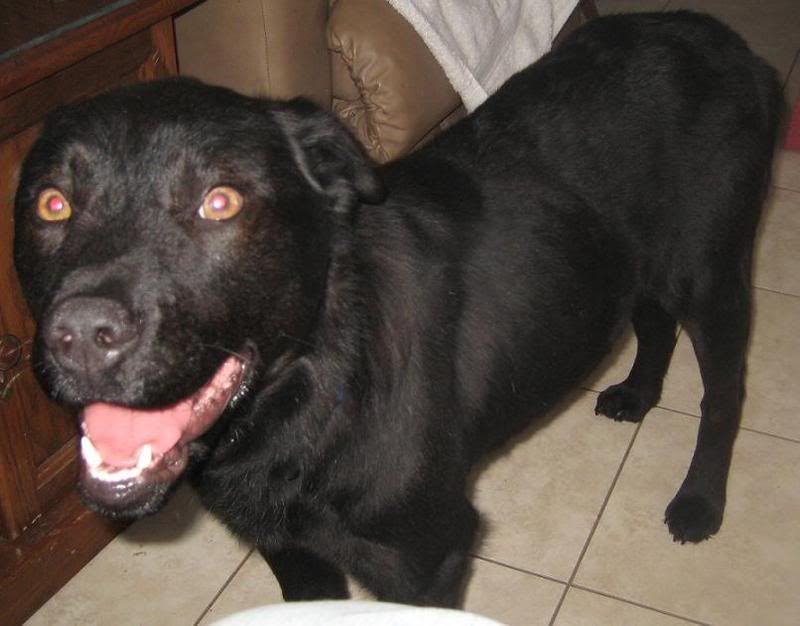 What a happy boy!!!! I'm sure glad you guys rescued him. Poor baby. Have you had him to the vet yet? Are his eyes okay? In a couple of the pics it looks like he has cloudy eyes (no, I'm not talking about the red eye shots lol).
---
he is a lucky dog... Good luck with everything!!!
---

It's not the will to win, but the will to prepare to win that makes the difference.
- Paul "Bear" Bryant (Former college football coach)
His eyes get really dark around the pupil so it looks kinda hazy but he does have a scar across one of his Iris's from a stick I think. It's whitish there. Haven't talken him to the vet yet, I have to wait till next pay day, bought too many x-mas presents, then got the dog by accident lol. He's going to need shots, "fixing", and possible more deworming, Although I dewormed him for Roundworms and hookworms so far. He's on a strict little by little food diet. Cause otherwise he'll just eat and eat and eat. After he finishs eating he wanders around the house looking for more food...poor buddy.
He's adorable!!! Those big brown eyes and that block head!!!! OH MY!

Congrats and good luck with him! He seems VERY happy!
Aww, good for you for taking him in. Like Dumas said, he looks happy!
---
Stella - sweet, timid, elegant, lovely, lively, amazing
Luna - large, unattractive, naughty, adored

Aww good to hear that the dog found a good home
---
"On hyviä vuosia, kauniita muistoja, mutta kuitenkaan, en saata unohtaa,
Että koskaan en ole yksin, varjo seuraa onneain.
Vaikka myrsky hetkeksi tyyntyykin, varjo seuraa onneain.
Ja pian taas uusin hönkäyksin, varjo seuraa onneain.
Hei tuu mun luo, pieneksi hetkeksi. Puhutaan, varjoni, valkoiseksi enkeliksi."
Pelle Miljoona - Varjo seuraa onneain

awww! doesnt he look happy. :)
---
Similar Threads
Thread
Thread Starter
Forum
Replies
Last Post
New addition

my2geldings

Horse Pictures

35

07-02-2008

10:35 AM

Soy-Bean addition

doczahi

Horse Health

2

05-02-2008

05:21 AM