The New Puppy!
---
We got a new dog yesterday. She's old, nine years old, breeder didn't want her anymore, so we ended up with her.
Her name is Mona, she's a purebred Pomerian, CKC Reg'd. HUGE suck!!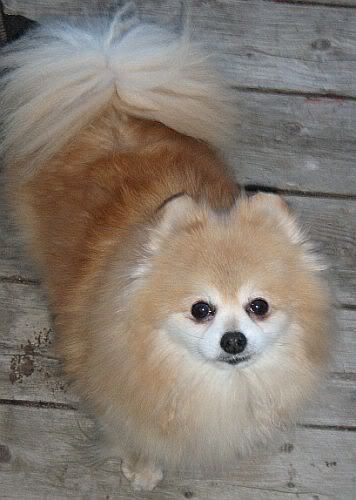 :( That puppy reminds me so much of my old puppy Ralph who we had to take to the RSPCA. Congrats on getting a pomeranian, they are the best!
Such a cutie. I love pom tails, they remind me of teased '80s fountail ponytails! lol
---
Ω Horses are a projection of peoples dreams Ω
Cute
.
---
"On hyviä vuosia, kauniita muistoja, mutta kuitenkaan, en saata unohtaa,
Että koskaan en ole yksin, varjo seuraa onneain.
Vaikka myrsky hetkeksi tyyntyykin, varjo seuraa onneain.
Ja pian taas uusin hönkäyksin, varjo seuraa onneain.
Hei tuu mun luo, pieneksi hetkeksi. Puhutaan, varjoni, valkoiseksi enkeliksi."
Pelle Miljoona - Varjo seuraa onneain

Awwww! Wook at dat widdle faceee!!
---
RIP Minnie, 1981-January 15, 2010
RIP Maggie Mae I miss you
Adorable! Congrats on the new little girl
Similar Threads
Thread
Thread Starter
Forum
Replies
Last Post
New Puppy!

StormyBlues

Other Pets

24

01-10-2010

03:40 PM

New puppy! 8D

twogeldings

General Off Topic Discussion

16

06-19-2009

01:09 PM

New puppy!

Flyinghigh12

Other Pets

3

03-28-2009

01:37 AM

New Puppy

NyHorseGal

Other Pets

14

03-14-2009

08:08 PM

to buy or not to buy puppy

giget

General Off Topic Discussion

10

08-05-2007

07:50 AM