Nine years ago today..........
---
Not the best picture, my good snaps are all on the computer at home....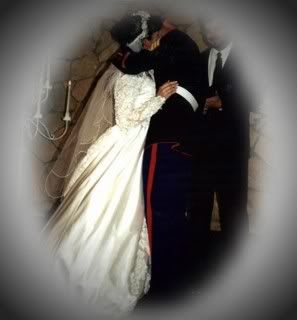 It went from being Katy and I
to a table for three.......
Katy tried to steal a smooch of her own: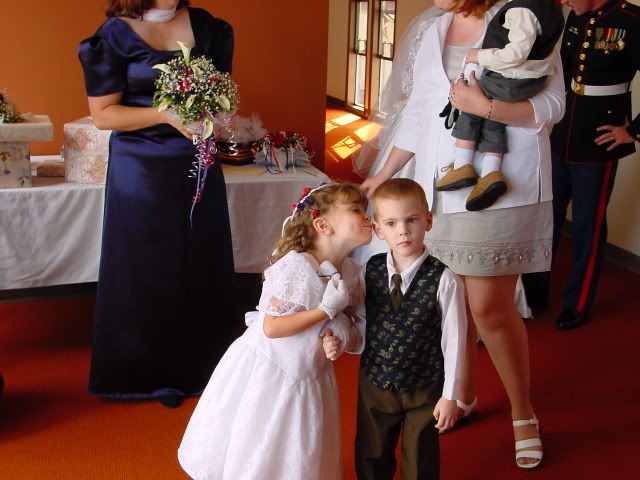 Got the sweetest message from my husband this morning (he's stationed away from us at the moment) and, knock on wood, we will actually get to celebrate next year's together for a change!
Awww, happy anniversary! It's a shame you and your husband can't be together to celebrate. :( That photo of your daughter with the little boy is adorable!
---
Stella - sweet, timid, elegant, lovely, lively, amazing
Luna - large, unattractive, naughty, adored

happ anniversary
Congratulations! My hubby and I will celebrate our 31st come November. I hope you have as much happiness as we have had!
---
Plain Old Dee, horses Dancer and Rain
I believe in dragons, unicorns, good men and other mythical creatures!
Congratulations Themacpack! Just image next year! Many happy years to you both.
Happy anniversary!
---
"On hyviä vuosia, kauniita muistoja, mutta kuitenkaan, en saata unohtaa,
Että koskaan en ole yksin, varjo seuraa onneain.
Vaikka myrsky hetkeksi tyyntyykin, varjo seuraa onneain.
Ja pian taas uusin hönkäyksin, varjo seuraa onneain.
Hei tuu mun luo, pieneksi hetkeksi. Puhutaan, varjoni, valkoiseksi enkeliksi."
Pelle Miljoona - Varjo seuraa onneain

Happy anniversary!!!!!!

It's nice to hear about couples staying together.

(Jody and I have our 40th coming up in 2 weeks.)
---
I'm not arguing with you, I'm just explaining why I'm right.

Nothing sucks more than that moment during an argument when you realize you're wrong.

It's not always what you say but what they hear.

Happy anniversary!!!!!!
---

It's not the will to win, but the will to prepare to win that makes the difference.
- Paul "Bear" Bryant (Former college football coach)