I have:

2 horses (Frosty and Mercedes)
1 dog (Chloe, a pomeranian)
and an annoying parakeet that loooves to attack your feet when you walk by his mirror...haha :roll:
I have had tons of animals in the past. Mostly rabbits because I showed them. :) Anyhow, besides Blu, I have two dogs and one kitten.
Kerra - white female Boxer
Theo(Gir) - black Golden/Rott male - and Kerra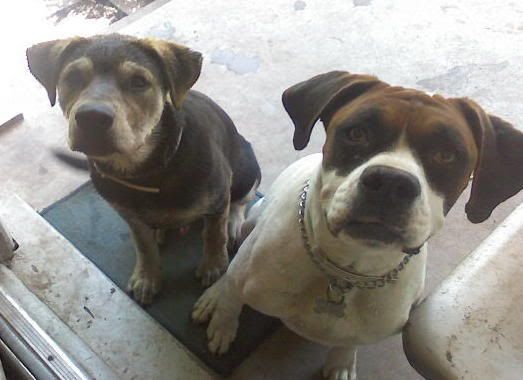 The Pups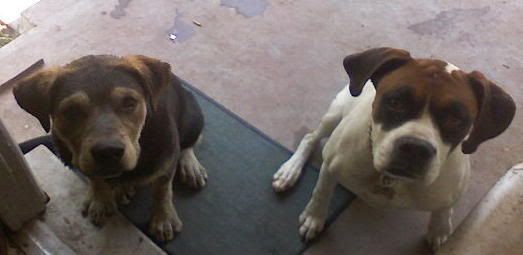 These are my most recent photos. Theo has grown tremendously now at 70lbs. And Kerra at 60lbs. Theo will be turning a year old on May 7th. Yay!
Sorry no pics of Sissa. She is a tabby kitten with white markings.
---
WHATS REALITY?
I have 2 dogs:
Abbey, a pug. And Siara, a husky/lab. I dont have any pics of here on this comp tho..
Here is abbey.
I have 3 dogs,
airedale, duchess.
poodle, tazz.
pitbull, fenway.
cat, tinkerbell.
cat, snickers.
---
"Doing what you like is freedom, liking what you do is happiness."
Personally(these are just mine, not all on the farm) I have: a female, tri sheltie(Ari); a female, black pug(Lily); and a male, black lab mix(Basil, pronounced ba-zil).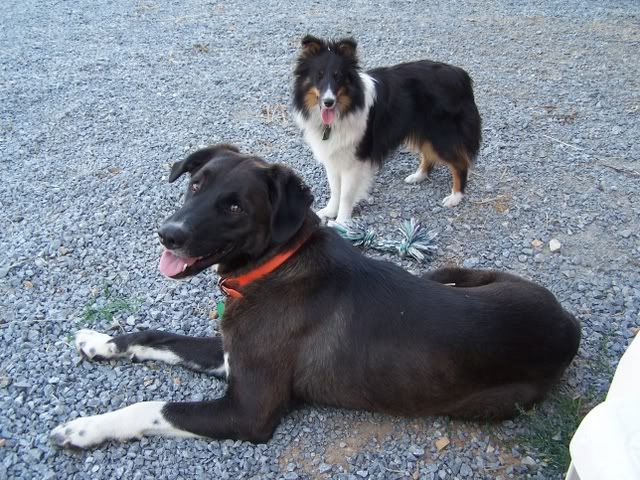 Also, I'm sure if you read my post in the greeting section, I am a happy owner of four Tiger Hisser Cockroaches. I LOVE them. They are such neat little creatures. Even my mother likes them. She likes them much more than the mice I used to have(and miss terribly).
They are really wonderful little creatures.
I had a cat called Miisu. But then she caught some problems and my mother gave her away... :(. Now I haven't any pets.
Miisu
---
"On hyviä vuosia, kauniita muistoja, mutta kuitenkaan, en saata unohtaa,
Että koskaan en ole yksin, varjo seuraa onneain.
Vaikka myrsky hetkeksi tyyntyykin, varjo seuraa onneain.
Ja pian taas uusin hönkäyksin, varjo seuraa onneain.
Hei tuu mun luo, pieneksi hetkeksi. Puhutaan, varjoni, valkoiseksi enkeliksi."
Pelle Miljoona - Varjo seuraa onneain

Other than my horses, here is my little pest. Meet Rocky
Besides my one horse Lexi, I have:
1 hamster (used to have two, but 1 died of Wet Tail ugh)
4 Betta fish
1 dog, a purebred Rottweiler, about 6yrs old.
2 Hermit crabs
& that's about it! My lil zoo.
---
Ride more, worry less.
I have 4 barn cats: Skip, Brother, Fluffy, and Tank
One house cat: Debbie (aka Devil Cat...lol)
3 Chickens - Marge, Blanch and Blanch (we can't tell two of the apart lol)
1 Goat - Wedgie (he's a pain the butt)
5 Dogs: Boo - German Shorthair
Mak - Pit Bull
Sincere - Pit Bull
Tough - Blue Heeler
Buck - Blue Heeler
Tough and Buck are mine. They go everywhere with me. If I go to town they're in the bed of my truck...if I walk over to the barn...they follow me...if I ride they're right beside me. I love them.
I have one pic of Buck...he's still a puppy. 6months now, but this pic is about 2 months ago.