Picture of my cat
---
Hi.Here is a picture of my new kitten whiskers.I got him about 2weeks ago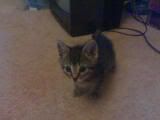 aww how cute!!!
Aw your cat is very pretty! :)
---
3 barrels , 2 hearts & 1 passion
aawwww, i'd say can i have it but my husband would kill me......we already have 6 cats and 3 4 month old kittens.
S/he is so cute. I love kittens :).
---
"On hyviä vuosia, kauniita muistoja, mutta kuitenkaan, en saata unohtaa,
Että koskaan en ole yksin, varjo seuraa onneain.
Vaikka myrsky hetkeksi tyyntyykin, varjo seuraa onneain.
Ja pian taas uusin hönkäyksin, varjo seuraa onneain.
Hei tuu mun luo, pieneksi hetkeksi. Puhutaan, varjoni, valkoiseksi enkeliksi."
Pelle Miljoona - Varjo seuraa onneain

how innocent does that kitty look ! It´s too cute !!