Quote:
WOW! Your wife has a giraffe? I have always wanted a giraffe!!
Haha...you wouldn't want one - they eat too much...
Yearling
Join Date: Apr 2013
Location: Minnesota, USA, Planet Earth
Posts: 1,257
• Horses:
1
faceman, that was very funny!!!! I want a giraffe!!!
---
Pshh....I don't procrastinate, I just do unimportant things VERY productively!
Be a frootloop in a cheerio world!
Quote:
WOW! Your wife has a giraffe? I have always wanted a giraffe!!
As long as his wife ISN'T the giraffe!!! Sorry, Face....I couldn't resist!
Quote:
As long as his wife ISN'T the giraffe!!! Sorry, Face....I couldn't resist!
Well, she is 5'11" - almost a giraffe...
Here's my prom picture last year as a freshman, because I'm dating a senior
Attachment 257090
and here is me and my favorite guy on earth
Attachment 257106
then a one of just me
image.jpg
I hope the pictures will pull up, but yeah
Showing
Join Date: Jun 2011
Location: Cariboo, British Columbia
Posts: 11,940
• Horses:
3
Me & Daddy-O on vacation in Cancun
325667_2409825198745_1806957042_o.jpg
335000_2384212878453_1924402102_o.jpg
Riding my horse at the Provincial Championships
---
I am not here to promote anythingNo, that's not true, I am here to promote everything equestrian and everyone enjoying horses!
I always have a picture in my head based on their screen name and how or what they post about so it's fun to see what you guys really look like!

The first pic is was taken of me after my first day of work at one of my mentors..very excited!
Second is obviously one of our wedding pics. (with my grandpas shotgun that is my favorite.) We thought it would make for a great photo.
Third, a goofy pic, typical windy spring day-so we tied my braids over the top of my hat for "built in stampede strings"
Fourth, last spring gathering yearlings out in California. Clean up ride towards the end so husband snapped a quick pic.
---
I DON'T LEAD 'EM AND FEED 'EM, I RIDE 'EM AND SLIDE 'EM.
---
Last edited by COWCHICK77; 12-06-2013 at

12:51 AM

.
Started
Join Date: Nov 2010
Location: Lethbridge, Alberta, Canada
Posts: 1,634
• Horses:
2
My two best friends and I. I'm in the middle, ignore our duck faces. We decided to be stupid on the Ferris wheel in Disneyland.
Guess who's doing the thumbs up in the first row, yep me again!
In the front
My friend needed to test her camera
Okay, there you go. Me and all myself.
Really enjoying everyone's photos!
How I spent my vacation in Snowmass, CO with youngest daughter (she's a polo groom, too)
Pushing cows off feed ground during our last drought.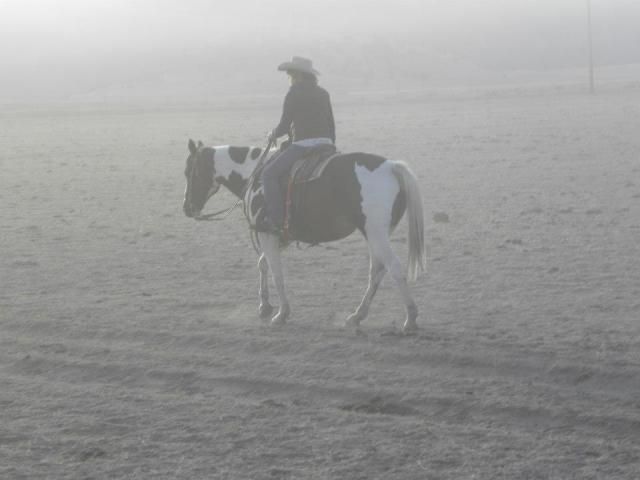 Rescued my favorite hat out of a stock pond. Thank goodness for tall boots and Chap Wax.
Daughter and I schooling at the field.
Schooling a mare. She became a decent horse.
I'll play!
This is me at the beach all covered up because it was chilly out!