Good luck with the tattoo. I think that pain depends on it where you do take it. I have just one smaller on my biceps and it didn't hurt that bad. But the area you describe sounds more painful - tho, I don't know since as I said, I've just one tattoo.

My tip would be that choose your tattoo parlour with good sense. Something well-known and having good reputation. I think that they should hand you also some instructions for aftercare so follow that.
---
"On hyviä vuosia, kauniita muistoja, mutta kuitenkaan, en saata unohtaa,
Että koskaan en ole yksin, varjo seuraa onneain.
Vaikka myrsky hetkeksi tyyntyykin, varjo seuraa onneain.
Ja pian taas uusin hönkäyksin, varjo seuraa onneain.
Hei tuu mun luo, pieneksi hetkeksi. Puhutaan, varjoni, valkoiseksi enkeliksi."
Pelle Miljoona - Varjo seuraa onneain

I have 3 tattoos. One on my lower right back about where my pelvis is. That area probably hurt the most, just because the skin is softer and not up against bone there. I have one in the center of my back which didn't hurt much until he was filling in the outline. Now THAT was irritating. That's when your skin starts getting raw if there's an area with a lot of ink. My last is wrapped around my right ankle. My guy told me, "Kick me and you're outta here!" You don't kick because it hurts, though. You're running across a bunch of nerves on that thin skin really close to bone. My thigh would uncontrollably twitch, but I luckily kept the twitching in my thigh and didn't move my lower leg. Talk about funny feeling!
I've always had someone with me whenever I go. My guy also always has a movie going on his tv to keep people distracted. Between talking to my friends and the artist and watching the movie, you don't really notice the needle much. I love the noise of it, though. I had the noisy gun the first time then my artist switched to a quiet gun for my second one. When I went in for my third, he had switched back over to the noisy one because he didn't like the quiet one. I was glad cause I think it sounds awesome.
---
There on the tips of fair fresh flowers feedeth he; How joyous his neigh,
there in the midst of sacred pollen hidden, all hidden he; how joyous his neigh
Sounds for thrilling! Haha
I'm so excited!
I'll give you a sneak peek of what the main part will be....the first is a simple doodle of an outline
The second is what the colors will be and you will be able to piece parts of it together!
This is a fun thread and I am very pleased I decided to start it!
You guys should post photos of your tattoos!

I'll have to do in another post...hold on
---
http://www.horseforum.com/member-jou...aining-497281/
This is my first, the pawtagram. Obviously a heartagram inside a paw print. I got it on my 20th birthday. It symbolizes opposites, love and hate, light and dark, you get the idea, and is the symbol for a band my husband and I bonded together when I was 15. It is inside a paw print because I also wanted something to memorialize the other thing in y life that got me through dark times. My dog. The whole thing fits perfectly inside a business card.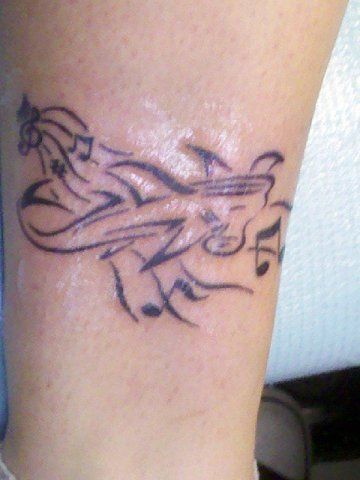 That one I call Swimming in a Sea of Music. It represents my time in the coast guard and while I always considered myself a lone shark, I found myself more like a hammerhead. Turns out even I need friends and got this with my best bud in the coast guard.
Treble Snake! I designed all my tattoos (the second was a combination of art I had permission to use but the combo was my idea and things were altered. The others I drew.) And this one is part of a pair. My husband is the guarded, defensive one, and obviously male, so his is a bass clef turtle. I am fast on thedraw with a poison tongue and female, so I have the treble snake. Plus some of my favorite pets have been snakes.
That's all mine! For now.
Posted via Mobile Device