RIP Skipper
---
Skipper, my dear epileptic bunny is unfortunately in her last stages of life. Sometime this morning she experienced a series of massive seizures that have left her mentally confused and unable to eat, drink, or move. She's capable of breathing but responds to light stimulus (i.e, petting) with mild fear. I'm afraid she's just not 'there' anymore. She has no chance of recovery at this point.
She's nestled into a warm box at the moment. She was a rescue bunny, her seizures most likely caused by a head trauma. I made the decision to let her live her life as naturally as possible, and when the time came, she would be quietly put to sleep. As much as I hate it, the time has come. I dearly hoped that she would have another few months or years to enjoy.
I hope you rest in peace my loving Skipper, you are a wonderful bunny. I hope your last few months where your happiest.
Skipper (the little light brown one) with Hops, her best bud (the orange), and the Dutches.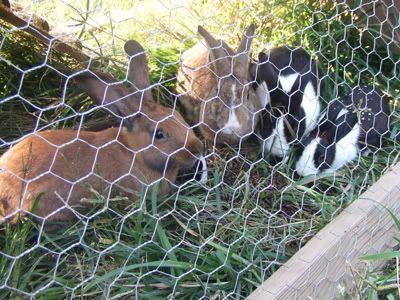 Skipper, Buttons, and Darling
---
Wait! I'll fix it....
RIP, sweet bunbuns.
Twogeldings, my deepest condolences.
Poor girl. *hugs* you are doing what is best.
She's officially gone, she'll be buried in a very pretty spot out in the woods today. It's on another property though, so I'll have to wait until my dad gets off work to take her there :/

She'll be remember as a very sweet, but very serious looking bun. She was a fiend for cold melon rinds, her and the Dutch girls always stole them from each other no matter how much I gave them to munch on :)
---
Wait! I'll fix it....
I'm so sorry! It sounds like you've given her a wonderful life that she wouldn't have otherwise had.

She was an adorable little girl. Rest in peace <3
Ohh... I'm sorry
.
---
"On hyviä vuosia, kauniita muistoja, mutta kuitenkaan, en saata unohtaa,
Että koskaan en ole yksin, varjo seuraa onneain.
Vaikka myrsky hetkeksi tyyntyykin, varjo seuraa onneain.
Ja pian taas uusin hönkäyksin, varjo seuraa onneain.
Hei tuu mun luo, pieneksi hetkeksi. Puhutaan, varjoni, valkoiseksi enkeliksi."
Pelle Miljoona - Varjo seuraa onneain

In brighter news, my Dutch doe is most definitely pregnant and I'm honestly surprised she hasn't popped yet she's getting so darned huge. She's not due to kindle for another five days yet, but dang. Thankfully, she's not a maiden doe :)

Skipper always kind of reminded me of another rabbit I had kept several months back named Ms. Gandolf. She was a chinchilla colored rabbit with the thickest coat I have ever seen. When I brought her inside she started shedding it out in fistfuls. She was a tough old girl (she was at least 5-6 years old) but extremely underweight, worse than Skipper (Skip was so bad because of her epilepsy). She would come up and lick your feet and ankles if you where barefoot. Just hop over and go '-licklick- Hey, hold me. Now.'
Just a cuddly, shedding, ball of gray fluff. She trekked on for about three months after the initial rescue before passing in her sleep one night.

The Checkered Giant I took in along with her made a full recovery and went on to live with a very happy owner. If I remember correctly she did show rabbits, he was quite the looker. Left at a proper weight and very sassy, he had bad sores on his feet but those healed fast with proper care.
---
Wait! I'll fix it....
Started
Join Date: Jan 2009
Location: USDF Region 1, USEA Area 2, USEF Zone 3 - Maryland
Posts: 1,903
• Horses:
3
I'm sorry you lost Skipper - but at least she had a good life the past few months! I'm sure she's very thankful for that!

I lost my rabbit, Hershey, this past spring... it's tough, for sure. Hang in there and stay busy with the soon-to-be-born babies :)
---
-Melanie
Mom to 3 bays: Beau, Daisy & Cavalina
Similar Threads
Thread
Thread Starter
Forum
Replies
Last Post
Skipper Ws?

Just Another Barn Bum

Horse Breeds

4

05-08-2008

10:37 PM