Show off your Christmas trees!
---
Lets show off our Christmas trees, shall we?
I won't have mine up til after Dec 10th, since I don't like having it up longer than 2 weeks, but here's a photo of last year's tree, which was smaller than I'd ever had, since my sons are nearly grown and don't care so much about this kind of stuff.
the last photo is of the year before's tree.
dump 056.jpg
IMG_3408.jpg
IMG_2503.jpg
Very nice! I suppose I should at least
think
about putting up my tree. Seems like so much work, but of course everyone enjoys it. When I get mine up, I'll post.
---
Be the kind of woman that when your feet hit the floor each morning the devil says, "Oh crap, she's up!".

You scared me Tiny! A pet peeve of mine is when people get the tree out too early... mind you now that advent started, it is technically acceptable in my books to start thinking of getting one,
but my personal ideal is 2 weeks before Christmas.
My neighbor's have had their fake tree out (decorated and all) for the last week and a half,
which I don't get but if it makes them happy I suppose.
I don't know, I find that once Christmas finally comes around, the tree has already been there for so long it kills the mood...
But because they are pretty to look at, here's last years tree!
---
A ride a day keeps the worries away!
I used to go to the swamp and cut down a 4' Charley Brown tree. The beautiful ones were left to become more beautiful.
Ah, MAAAAAAN, what a drag, putting up the tree.
Actually, I went to Rural King for supplies the saturday before Thanksgiving and bought the 1st tree, since they had JUST put out theirs one hour before. =b
It was sensibly cut in Canada last August, and, though soaking up water and preservative daily, is shedding nicely, THANK YOU VERY MUCH!!!
It's gonna burn REAL GOOD on the 26th.
Don't have on yet, but wanted to give a heads up. If you have a Costco near by they have a great deal. They are all on price, like 27 bucks. All good size, they say over 6 foot. Last year I got one I know was close to 9 feet. As much as I dislike and dog them, I have to give credit where it due.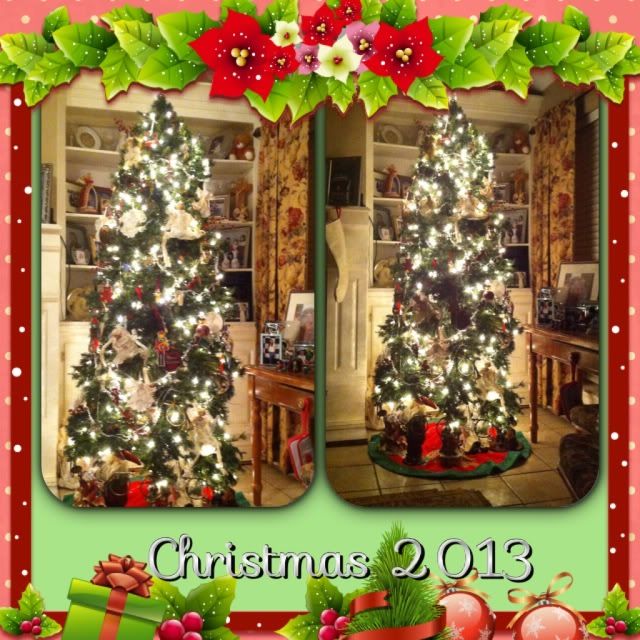 Five years ago this week I lost my father and step father in one week- each year this week we put our tree up in honor of them. It will remain until my Daddy's birthday on January 5.
The children decorate it. I will add powdered paper snow tomorrow.
Posted via Mobile Device
Okay, no tree up yet, but does a barn wreath count?
IMG_3414.jpg
---
Be the kind of woman that when your feet hit the floor each morning the devil says, "Oh crap, she's up!".

Ooh now I need a barn wreath.
Posted via Mobile Device
I didn't mean to scare anyone. I don't do the tree til after the 10th at the earliest.

I love the barn wreath; simple yet elegant.