Show your tattoos!
---
I'm planning on getting a tattoo soon, maybe, I think LOL. For the longest time, I've just wanted some type of horse shoe with "dreamstar" near/in it or something like that, but I decided I might take a while to really figure out how I want it to be so it's perfect. In the meantime, I was thinking of a star bracelet tattoo, stars around my wrist. I don't know, I've got time to think about it anyway!
So, I wanna see your tattoos! Show em!
---
passion is when you put more energy into something than is required to do it. it is more than just enthusiasm or excitement, passion is ambition that is materialized into action to put as much heart, mind, body and soul into something as is possible. // <3 starlite - dream - lady - georgia
That would be my ugly old ankle, but I have a bracelet, which is why I am sharing it. Not horsey related, it is the Navy SEAL insignia, the 7 is the team number, and the charm you can hardly see toward the top of my foot is a charm with initials. In honor of my daughters' fiance, who was a very special person.
It is nice and small, easily coverable, if need be. But, you have to have a really good artist to do one this detailed and small....and tattoo people like that are few and far between. The one who did mine is in MD.
Good luck-
---
Signature undergoing edits. Please standby.......
Wow, I figured there would be more of us out there with tats.
Here are mine:
Celtic braid, left ankle:
Fire breathing dragon, right shoulderblade:
My Zodiac sign (Aries), lower right abdomen just inside hip bone:
Kanji symbol for "friend" on other side just inside left hip bone. Me and a bunch of friends got this one together:
And this one is the biggest and most intensive one. I had it drawn custom for me so I know for a fact that nobody in the world has the same one. It is my family coat of arms with some Latin writing around it. Across the top, it says "Virtutis Gloria Merces" (family motto) which translates to "Glory is the reward of valor". And down the sides are a couple of words who's meaning is between me and my Dad.
Aw, everyone's elses tattoo's look so much nicer than mine. :(

(Pardon the cat scratch!)
I'm thinking of getting another tattoo on my other wrist in the shape of a heart with some memorial for my mother. I have this obsession with hearts and heartagrams, so...
On my calf. There is a shamrock for every person I have lost.
Shamrocks.jpg
My celtic cross. Reads "my darling, Regina" my momma
cross.jpg
My claudagh...the exact copy of my ring my grandmother gave me when I turned 16.
tramp1.jpg
Great tattoos, guys! I'm hoping to get a few when I'm older.
this is my tattoo......it'#s cupcakes because my daughter has been nicknamed cupcake since she was born and i wanted a tattoo for her that was a bit different to just getting her name!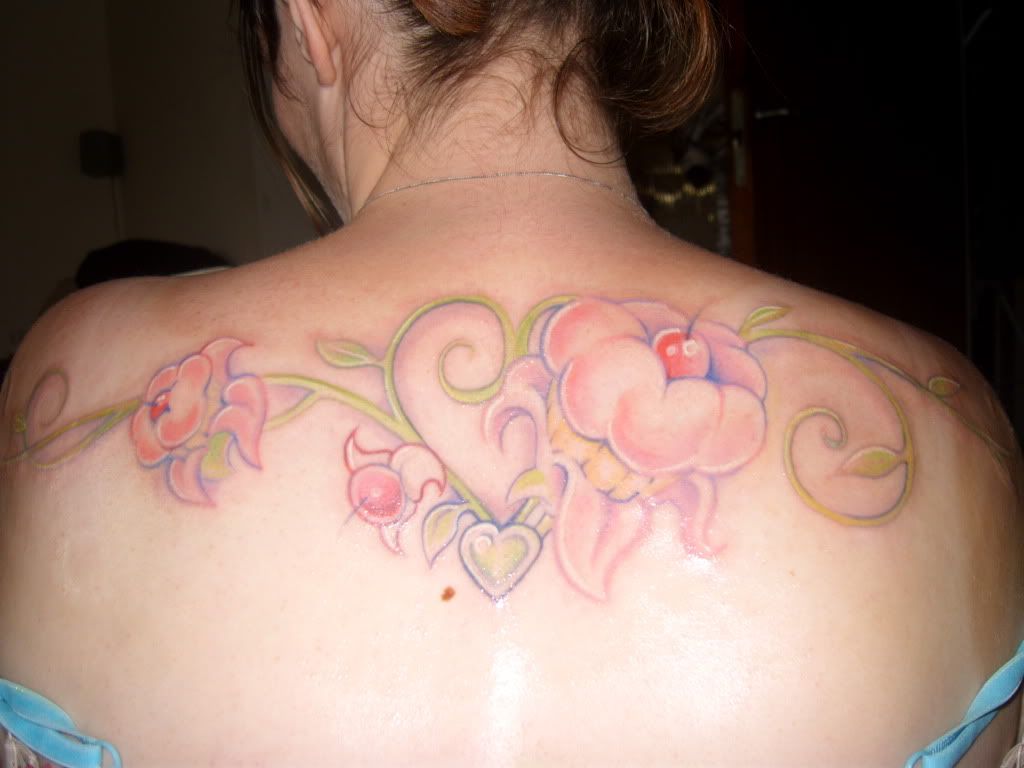 ---
Merlin * Righ * Troy
Great tattoos everyone!!
Quote:
stars around my wrist
Without meaning to put a negative on your idea, I too wanted to get a tattoo on my wrist. I don't know how old you are or if this comment is relevant or not, but a friend of mine has a tattoo on her forearm and she got turned down by a number of employers purely because it was constantly on show. This kinda put me off the idea, plus she said it hurt quite a bit! Just thought I would mention it, lots of things to consider when getting a tattoo.
I love my tattoo I just got it the end of june as a graduation present from my mom(she asked what I wanted and a tattoo was it lol) But it symbolizes my love of horses....everyone does hearts to show love....sooooo....I did a rose because a rose shows love and passion I'm passionate about and love horses and riding hense the horse shoe...It didn't hurt one bit I actually fell asleep halfway through it and woke up when my mom and artist laughed at me lol. He asked if he was boring me lol
---
~ Hope is never light years away ~
These are mine. I only have 2 at the moment (or 3 depending on how you count the knuckles) but have plans for a lot more. The first one is on my left wrist. The knuckle ones are done in white ink. That picture was right after they got done. They still look terrible, unfortunately, but I knew the risk of them turning out badly before I got them. I am planning on getting them fixed up one day.
Similar Threads
Thread
Thread Starter
Forum
Replies
Last Post
Tattoos?

JumperStride

Horse Talk

30

09-15-2010

11:14 PM

Tattoos

TwisterRush

Horse Talk

9

11-06-2009

09:53 PM

Tattoos!!

NicoleS11

General Off Topic Discussion

50

03-05-2009

02:49 AM

yes tattoos again ;)

my2geldings

General Off Topic Discussion

7

05-11-2008

07:10 PM