Signs of spring
---
Like many others we have had the weirdest winter so far, very little snow, and surprisingly, scarily warm. I think Fancy has been fooled by it, we have at least two months where we could have really cold weather, but here is my first sign of spring, Fancy after I was stroking her last night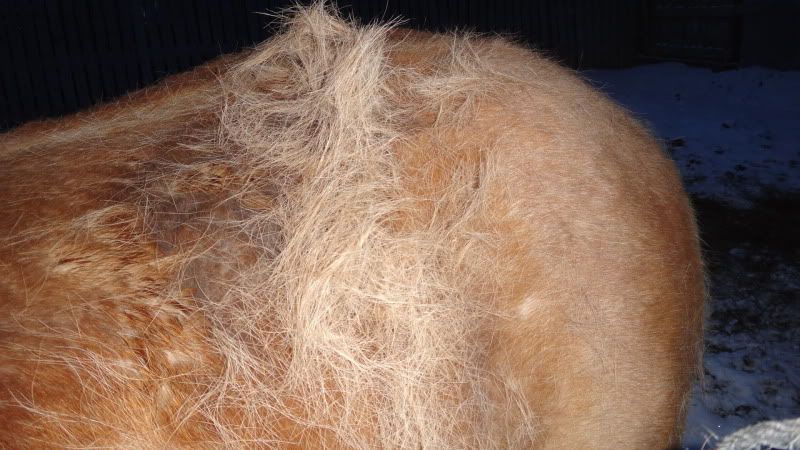 uh oh i hope my boys dont start shedding yet :)
Trained
Join Date: Sep 2011
Location: Hour and a Half from Town!
Posts: 6,324
• Horses:
2
Oh man! I'm in Arkansas and mine haven't started yet. They are miserable. I've even thought about clipping them. Every time I get close it goes from 70 to 20 degrees in the same day. It's 70 and raining right now, going to snow this weekend. Things are getting crazy, I have daffidiols getting ready to bloom.
---
You can get a lot further with a ladder than you can with crutches!!
What do you mean what do I mean?
I'll have to try grooming her and see what she sheds out...

Come on share your signs of spring as the year rolls around
i took about 4 lbs of hair off a mare yesterday. she is blowing her winter coat. I sure hope winter is truly over bc all my inside horses are blowing coats. The outside ones still are holding them.
Quote:
Things are getting crazy, I have daffidiols getting ready to bloom.
You obviously don't garden, LOL!! Bulbs will be fooled by warm periods and waste their energy, then a freeze will kill the foliage. Gardeners just cover them with soil or mulch, if they care about them. They won't DIE, they just won't flower THIS spring--next year they'll probably flower on time. =D
I wouldn't worry about the shedding horse in Saskatchewan, either. I've taken horses to 11,000 ft. in CO to camp in July and they grow a good coat in about 3 days. That, and a blanket (for the OP) and they'll be fine, too.
MY horses aren't shedding. I STILL think we'll see some normal winter weather in February. Alaska is having a record or near-record cold winter. The southerly systems are losing their punch bc the Gulf waters are cooling--ask the Gulf vacationers about swimming in the ocean, now. Even in the last week these high temperatures and the accompanying winds resulting in a trough between warm and cold fronts are NOT producing tornadoes, and THAT is signifigant.
I'm gardening, now, VERY early. I've got 2 potatoes that have sprouted 3 5" tops--I stuck their roots in an existing indoor pot--and they'll be planted INDOORS tomorrow in some pots I've saved from buying fruit trees. I'll let you know if I'm successful cross pollinating!! =b
I had the shedding blade after both mine this morning. Not as much as that but several handfuls for sure.
Not worried by her shedding, once the coat goes she has a layer of fat that could usefully be burned off keeping warm.

What is funny is that 2 out of 3 horses in the lower pen have started to shed, but no one in the top pens. I know that daylight length has a lot to do with it, but temperature must as well. My lower pen always feels a lot warmer, it is surrounded by trees, and just feels a lot more pleasant in the worst of the weather.

I still feel the 'a little unpleasant' weather we have had so far doesn't qualify as winter, we have only had two weeks of arctic outfall, most of the time we have been warmer than -10*C very strange
I've got a couple shedding a little already but not like that. Poor confused critters. Such an odd winter it has been, hope that doesn't mean a brutal summer.
Posted via Mobile Device
Eek! I hope my guy and the TBs dont start shedding out anytime soon! Is Feb supposed to be warm?