Looks like not much traveling today for parts of ND: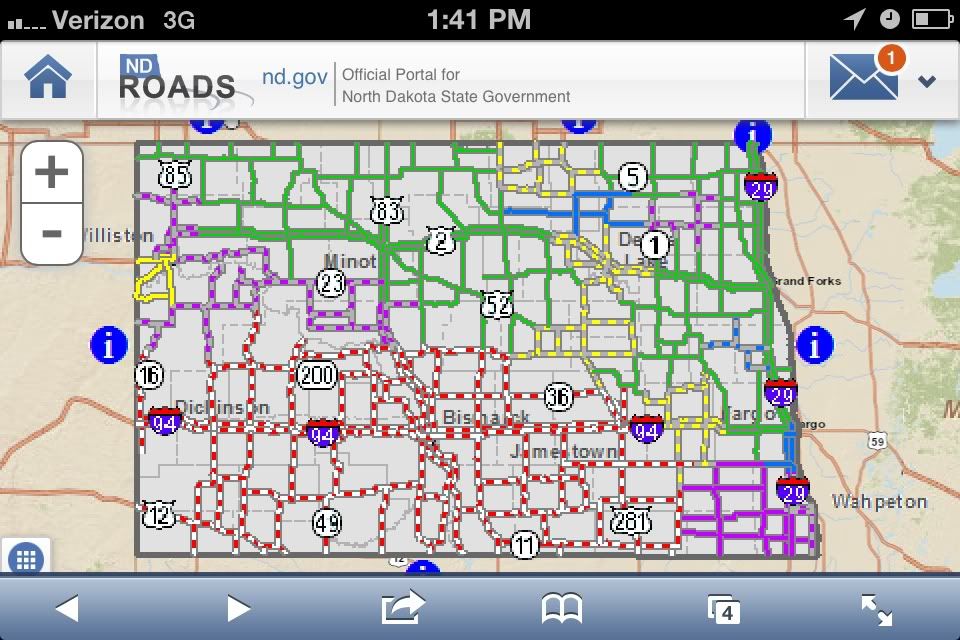 Posted via Mobile Device
They need to change the no travel advised to just CLOSED. To many stupid people. Oh 94 is now officially closed from Bismarck to the Montana border.
It's been storm after storm here,you wouldn't know that it's supposed to be spring.Winter just goes on and on.. This last storm dropped another 1/2 foot or more of heavy wet snow,with lots of drifting from the strong winds,plus freezing rain. The baby livestock are really getting hit,we lost a number of lambs last night,and I heard of some farms to the northeast of us that have lost so many calves they've given up counting.It's awful..
---
Last edited by countryryder; 04-14-2013 at

03:59 PM

.
Looks like it is pretty there. Except for the snow!
Posted via Mobile Device
I94 is closed across the whole state now. Ick.
---
Last edited by NdAppy; 08-24-2013 at

10:30 PM

.
I'm waiting for I29 south of Fargo to get closed until tomorrow. Then I won't have to work tomorrow!
Posted via Mobile Device
Lol I have to work no matter what. Oh the joy of working from home!
I only live 3 miles from work. If the people that live in Fargo can't make it, we are closed. The majority of people I work with are from there.

In a way it would be nice to work from home but then there's the drawback of always being able to make it to work. At least you're never late getting there!
Posted via Mobile Device
Your weather system has reached us in NE Ontario, announcing it's arrival with wet snow. It started about 6am. It's supposed to be just a one day event for us. Thankfully it's not -20, rather it's hanging around the freezing point.