.

OMG Bill, how did I miss this?

Prayers for Pat for less pain and a fast recovery.


Mike, great idea on the flowers, donation on the way
How scary. I hope she recovers quickly!
Showing
Join Date: Jun 2011
Location: Cariboo, British Columbia
Posts: 11,940
• Horses:
3
That was cool, all set up with paypal.
I got a surprise call from Pat last night saying that she received a bouquet of flowers from the Horse Forum. She was blown away and gives her thanks to everyone for not only the flowers but the well wishes too.
This is an excerpt from an email I got this morning from Jim (her DH)
Quote:
Went by to see Pat tonight and she was sitting up in a chair ( lazy boy type ) She looked the best I have seen her in a couple of days.Still very sore but at least she was up. Stayed out of bed for about one hour. got up and went to the bathroom ( with a LOT of help.) and then back to bed. Asked the nurse for pain pill and was told she could not have one for about 1.5 hours BUT she could have morphine. She was trying to cut back on the morphine. Tonight with out hesitation she said YES!!!! She is very sore allover but does seem to be better.

She has her laptop and has Internet condition but can only type with her left hand, when she try's to use her right hand the IV stops running and this god awful alarm goes off. she also has to use the mouse with her left hand.(that is fun to watch). they came and put a new IV line in but by this time she was real tired and the morphine had kicked in
photo (2).jpg
---
I'm not arguing with you, I'm just explaining why I'm right.

Nothing sucks more than that moment during an argument when you realize you're wrong.

It's not always what you say but what they hear.

The flowers are pretty, I like the lillies that will open and keep making it prettier. Good job Mike!

Thanks for the update Bill. Glad to hear she is getting up a bit despite the pain. My prayers are with her.
Posted via Mobile Device
Beautiful! Best wishes to her, her husband, friends and family. Sending prayers. :)
I hope everythings okay. I'll be praying for Pat and her family.
She is now on my prayer list. Praying for a full recovery.
Thanks for the update, Bill! That looks nothing at all like the arrangement I ordered for Pat on the community's behalf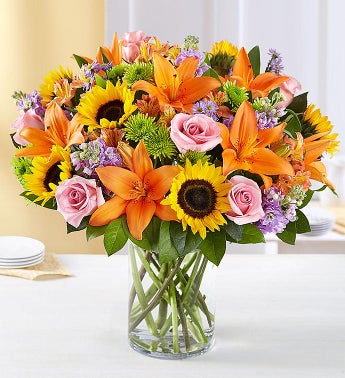 but I'm glad she liked it, regardless!
Thank you again to everyone who made a contribution toward Pat's flowers, and of course to everyone who would have were their circumstances different! The combined contributions totalled $131.60. I've removed the links to contribute to ensure that in the end I am not out-contributed of being able to make a contribution myself. I wasn't sure if I was overestimating the generosity and close-knitedness of our community yesterday when I opted to get Pat the nicest Get Well arrangement I found and hoped others would be interested in pitching in toward its cost. Clearly, I was not, and as far as I'm concerned, the outpouring of contributions and prayers for Pat is just further evidence that we've all built something special here. But I digress.
I'm glad to hear that Pat is starting to get up and around, and even able to get online. Pat, if you're reading this, I hope your recovery only accelerates from here!
Similar Threads
Thread
Thread Starter
Forum
Replies
Last Post
Say a prayer for Conner*RIP*

Vidaloco

General Off Topic Discussion

34

12-13-2009

05:34 PM

Joe's Prayer

xxBarry Godden

Horse Stories and Poems

4

10-07-2009

02:28 PM