Stewie the Moose had a relative come visit today
---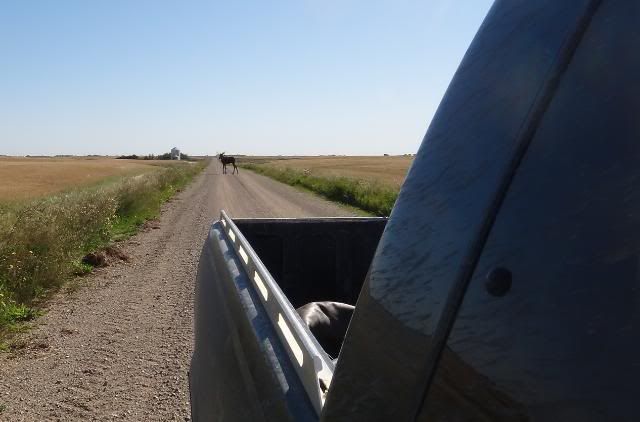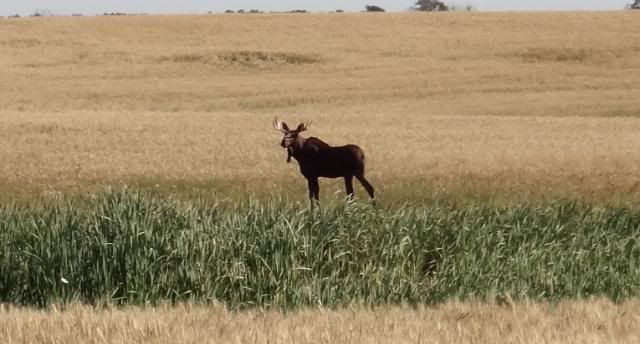 I'm still awed at the privilege of seeing one of these guys walking around on our land, it's neat.
Beautiful!!!!
Did Stewie recognize his cousin?
---
Life is like a camera. Focus on what's important, Capture the good times, Develop from the negatives and if things don't work out, Take another shot.
How awesome is that?! I saw a moose once in Idaho when I was spending the summer with my cousins. A cow moose came wandering through their backyard. It was pretty cool.
---
Do not tell me I can't...because I will
show
you that I can.
That's interesting
. I've never seen an alive moose in my life. Would be a neat experience... Oh wait, I once saw some on roadside while driving. Luckily them didn't come to the road.
---
"On hyviä vuosia, kauniita muistoja, mutta kuitenkaan, en saata unohtaa,
Että koskaan en ole yksin, varjo seuraa onneain.
Vaikka myrsky hetkeksi tyyntyykin, varjo seuraa onneain.
Ja pian taas uusin hönkäyksin, varjo seuraa onneain.
Hei tuu mun luo, pieneksi hetkeksi. Puhutaan, varjoni, valkoiseksi enkeliksi."
Pelle Miljoona - Varjo seuraa onneain

LOL! Not what I was expecting.
They are pretty big when you get close, the closest I've ever been was when we missed one by a couple of feet in the twilight when driving in the States, it looked like the side of a mountain.
I actually laughed out loud on this one. Moose are pretty dangerous around here. It's pretty typical to see these cross the highway on your drive home, or get in the way. Them and deer are absolutely horrible. Great post tho, made me giggle.
Love it!!!
Posted via Mobile Device