Super Chicken!
---
So as many of you know, I work at Coastal Farm and Ranch (feed/farm store). Well we do lots of fun activities including a "dress up your pet costume contest". My co-worker and I were trying to think of something really cool that would win and we came up with dressing up one of her chickens. At first we had trouble coming up with an idea.. a sweater and bonnet was too boring, KFC box has been done too much.. and then it hit us. Turn our chicken into superman!
Without further ado, I present to you.. SUPER CHICKEN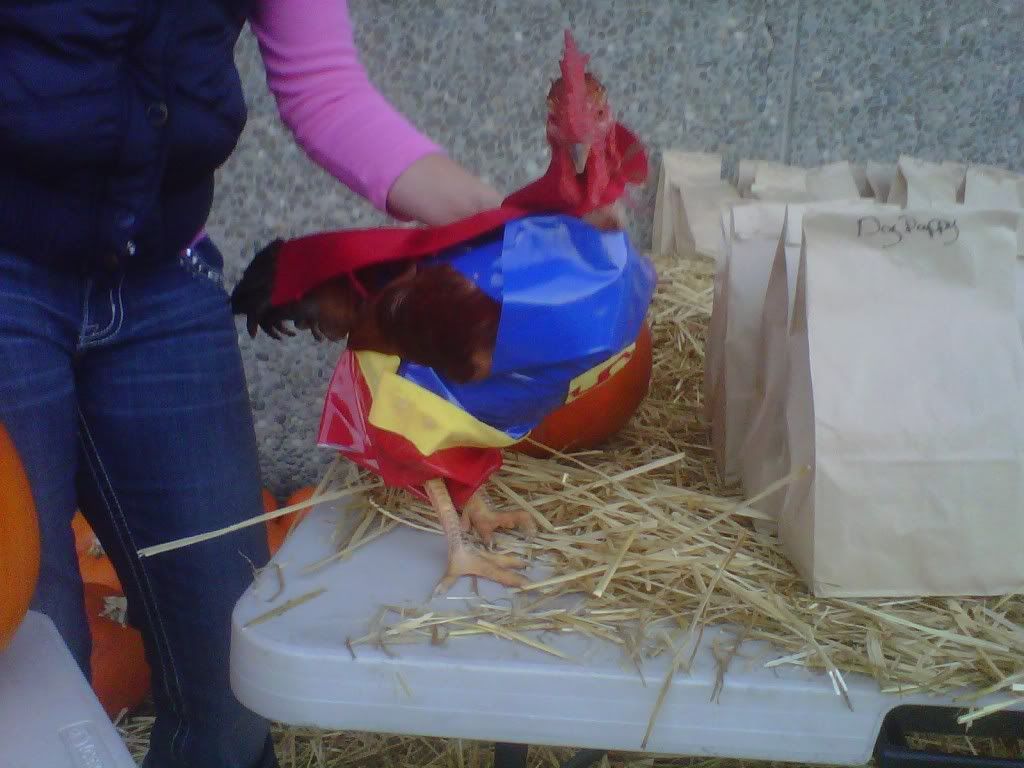 Omg, this made me laugh so hard. That is AWESOME.
HAHAHAHAHAHAHA!!! That's hilarious! Made my day!
Posted via Mobile Device
Yearling
Join Date: Jun 2010
Location: On my horse's back! Obviously!
Posts: 925
• Horses:
2
Thanks! He was surprisingly calm during the whole thing
Teen Forum Moderator
Join Date: Dec 2010
Location: South East Texas
Posts: 7,157
• Horses:
2
XD I love it! he's just sitting there like 'welll....its better than being dressed for dinner I suppose...'
---
Everyone in your life is meant to
be in your journey, but not all of
them are meant to stay till the end.
AWESOME!

I love chickens..I had one named Turbo
Quote:
Thanks! He was surprisingly calm during the whole thing
I was about to ask how he took that.
Mild mannered George McCluck is a quiet chicken on the farm. Little does anyone suspect he is really...Super Chicken!!!!! fantastic
Haha
. Have to admit, that's a neat one. Especially the 2nd pic looks kind of cool at least to me
.
---
"On hyviä vuosia, kauniita muistoja, mutta kuitenkaan, en saata unohtaa,
Että koskaan en ole yksin, varjo seuraa onneain.
Vaikka myrsky hetkeksi tyyntyykin, varjo seuraa onneain.
Ja pian taas uusin hönkäyksin, varjo seuraa onneain.
Hei tuu mun luo, pieneksi hetkeksi. Puhutaan, varjoni, valkoiseksi enkeliksi."
Pelle Miljoona - Varjo seuraa onneain

LMAO! That's cool!
---
"Life isn't about waiting for the storm to pass: it's about learning to dance in the rain..."

"When we are no longer able to change a situation - we are challenged to change ourselves."

"How people treat you is their karma; how you react is yours."