Ugh, hit by an ice/snowstorm (pics!)
---
UGH.
I had dinner plans... which have been cancelled since the roads became skating rinks:
and traffic hasn't let up, at 7:40 pm the roads are still blocked up like it's rush hour: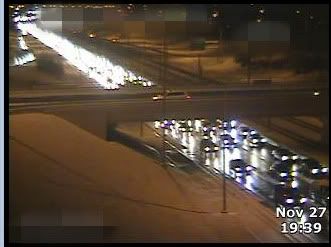 Rich called me, he got 5 minutes from home and got stuck in traffic, a bus had turned sideways and cars hit it. An hour later (I just called him) and he's still stuck in traffic... a 5 min drive from home.
---
The lovely images above provided by CVLC Photography cvlphotography.com
---
Last edited by JustDressageIt; 11-27-2009 at

09:56 PM

.
Oh! I hope he gets home soon!
Green Broke
Join Date: Jun 2009
Location: Brokenheartsville, just north of Styxtown :)
Posts: 2,577
• Horses:
1
Where'd you get those photos?
---
Most people are like Slinkies; they serve no real purpose, but they bring a smile to your face when you push them down the stairs.
When you come to the end of your rope, tie a knot and hang on for dear life.
From cameras posted on my city's website :) I just blurred out the intersections and city.
---
The lovely images above provided by CVLC Photography cvlphotography.com
we just got hit by one of those too!! i have a feeeling its the same place ;) i heard botu the bus too. haha i almost couldnt go to see a movie tongiht!!!! haha but i did get too eventually
---
If there are no horses in heaven... im not going.
Omg! Luckily you both are okay. Icy roads can be really dangerous.

Hope that the passengers in the bus are okay too.
---
"On hyviä vuosia, kauniita muistoja, mutta kuitenkaan, en saata unohtaa,
Että koskaan en ole yksin, varjo seuraa onneain.
Vaikka myrsky hetkeksi tyyntyykin, varjo seuraa onneain.
Ja pian taas uusin hönkäyksin, varjo seuraa onneain.
Hei tuu mun luo, pieneksi hetkeksi. Puhutaan, varjoni, valkoiseksi enkeliksi."
Pelle Miljoona - Varjo seuraa onneain

No no no! I'm sorry about you getting the weather but I refuse to think someplace is getting ice and snow. I'm hoping that if I don't think about it, winter will not come
It was near 70 here yesterday, so far it seems to be working.
Hope Rich made it home OK
---

"Until one has loved an animal, part of one's soul remains unawakened..."
- Anatole France