What happens when Endiku has some spare time.
---
well I've had some spare time the past few days since I'm pretty much banned from going anywhere but school (and I'm really not even supposed to do that but college waits for no one! LOL) due to having pneumonia...and I hate not being busy so I've been completing a few projects this week! hehe. Its never fun to be sick but I've sort of enjoyed my down time this week before gearing up for finals. Not going out to the barn daily has also given me about 2 1/2 - 3 extra hours to my day and I needed things to do to keep my mind off of having to sell my two mares ...so here is what I've been up to!
Project one - paint nails. I'm sort of known for my nails and the odd designs that I do. I've done breast cancer awareness ribbons, rainbows, blossoms, candy corn...all kinds of stuff. This week is candy canes and Christmas-ish colors. I couldn't decide which order to do it in but I ended up liking the white-red-white better than red-white-red.
(dang my fingers are crooked!)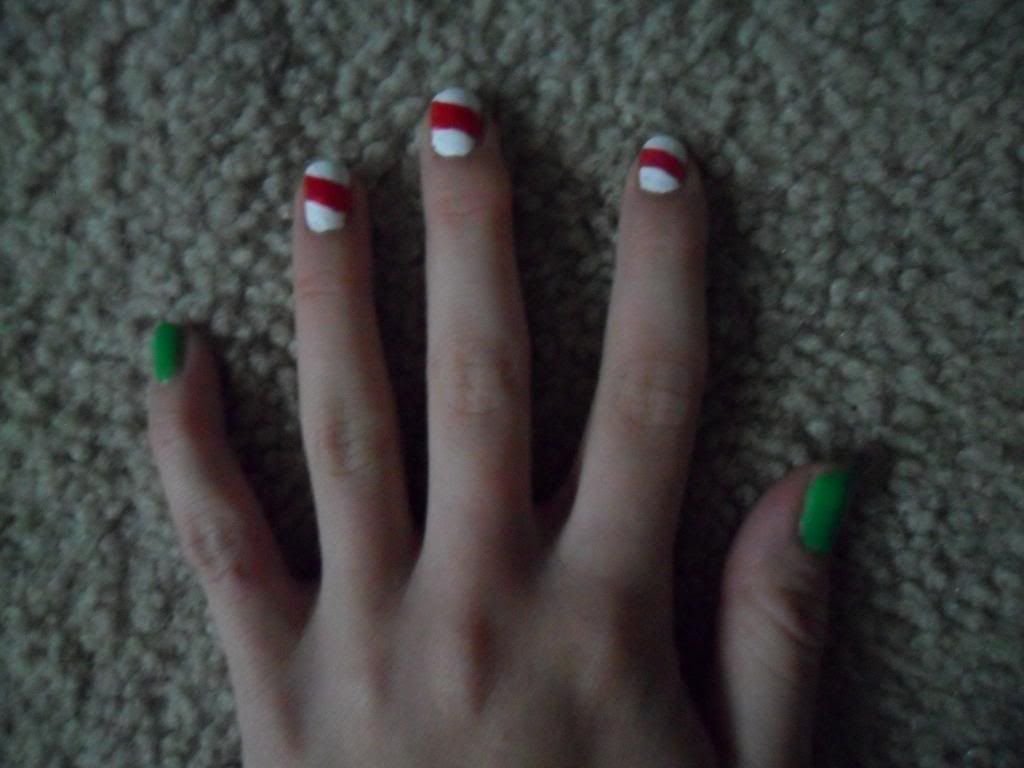 Project two - get and put up a Christmas tree. My parents aren't very big until decorations but I think its fun...so I do it myself! LOL. I bought a real tree this year and let my siblings help me decorate it. We had fun. I also put up our Christmas lights outside...and used pink and purple lights. Dad wasn't impressed but hey- if I'm the one that has to put them up and take them down I should get to pick them! >
no pictures of those though. Its too cold outside ._.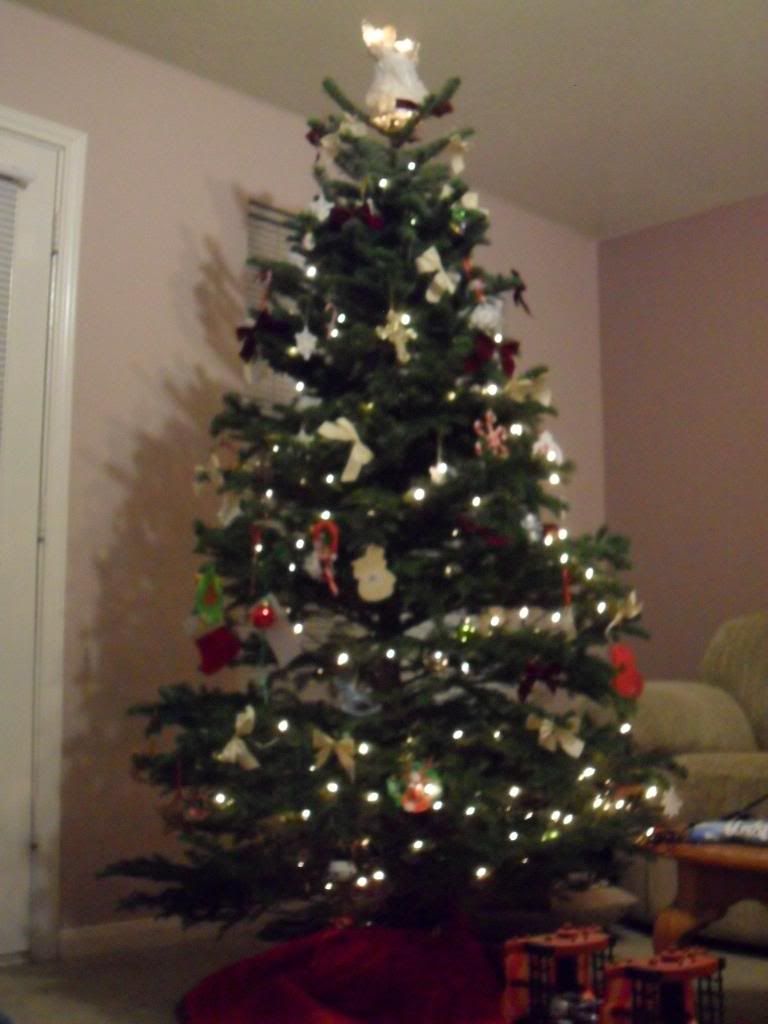 Project three- improvise a blanket for our poor weenie dog x Chihuahua mix who is old and has practically no fur. Its not very pretty because I haven't ever had a sewing class in my life and just used left over scraps for some horse polos I made...but whatever ;D it works right? I was going to just buy her one but her odd shape makes the store bought ones not fit.
she 'helped' me. So did our cat- Thundar the Barbarian.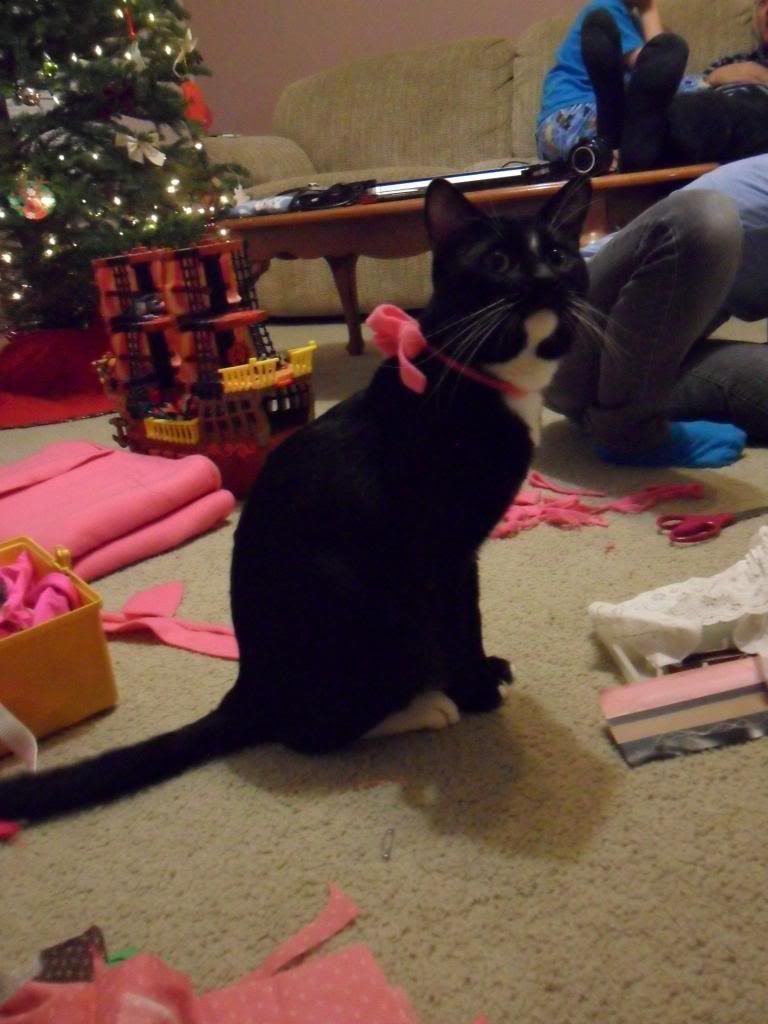 I'm considering taking off the front flap.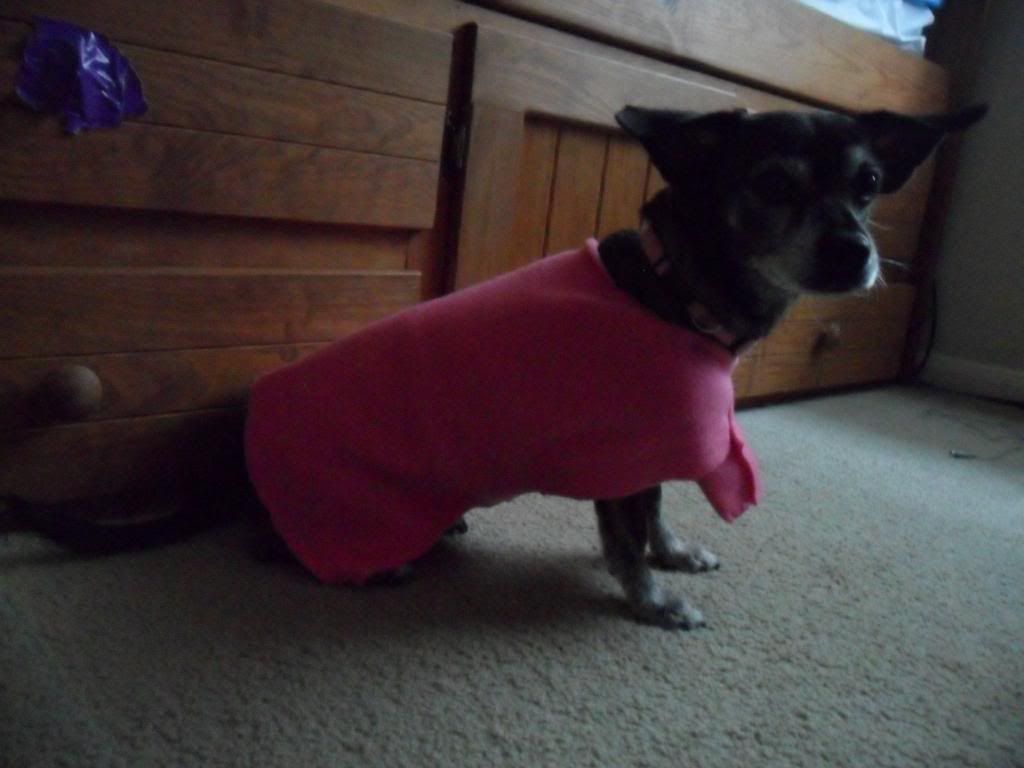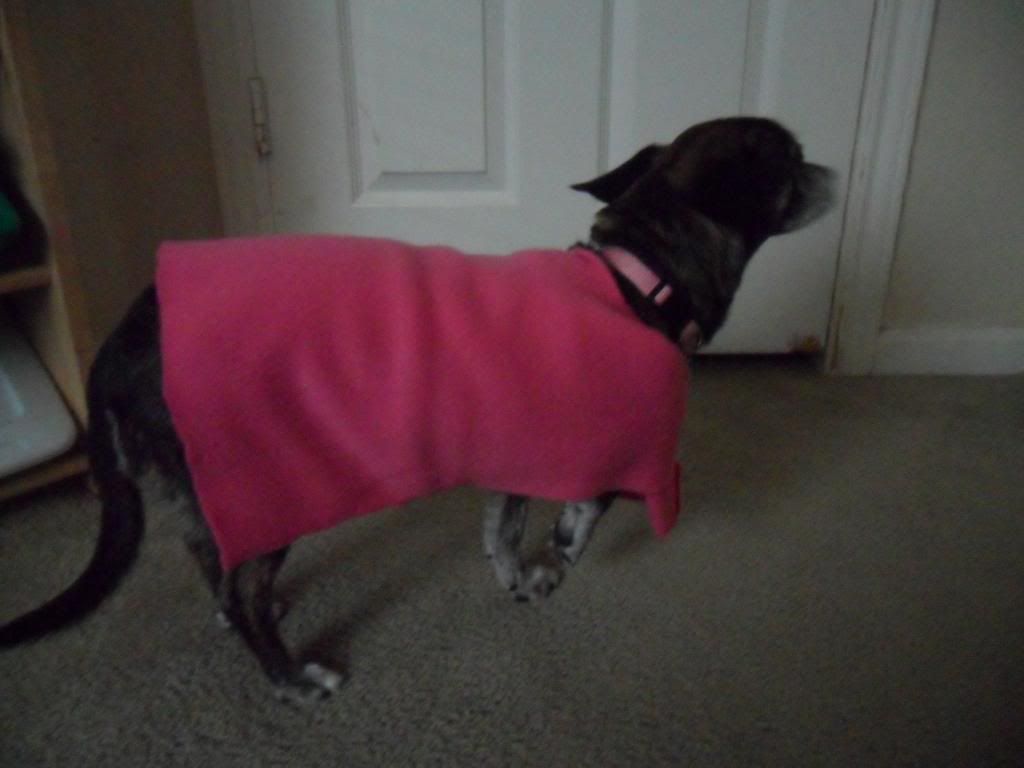 Project four - I decided to do some horse artwork which I haven't done in forever. They aren't great but its my first attempt and tribal-type horse work so I guess they'll have to do! Most of these were done in the hall waiting for classes to start so they're just ballpoint pen and gel ink or highlighter...LOL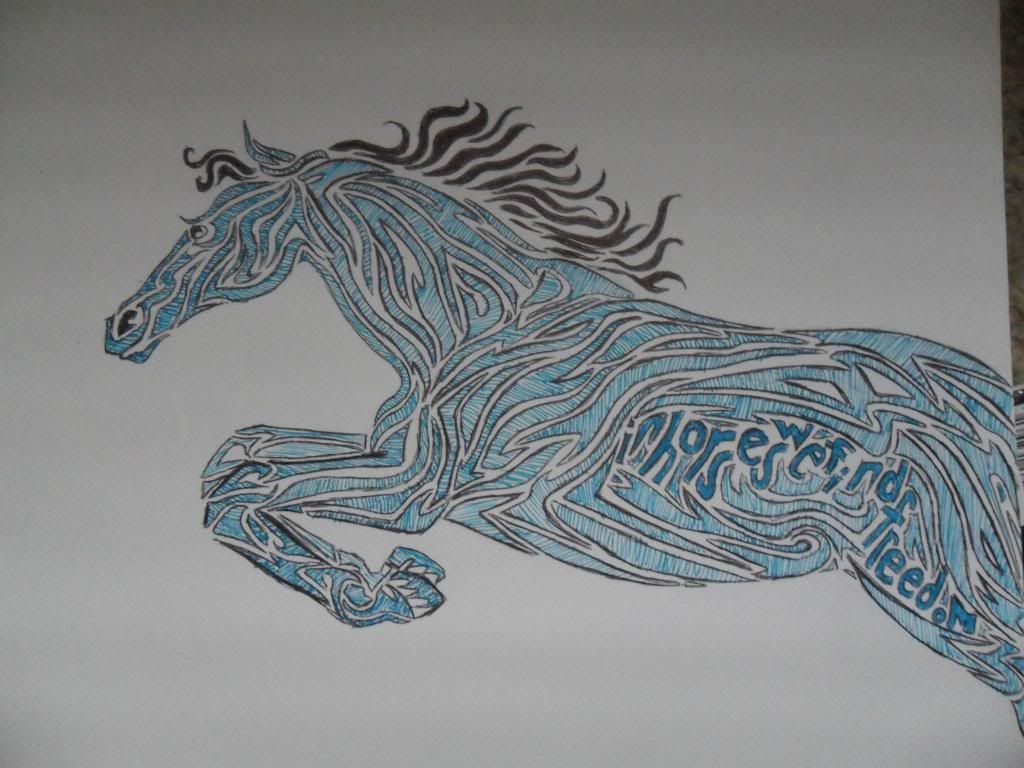 this one isn't done but I really don't like the knight. Can't erase it though!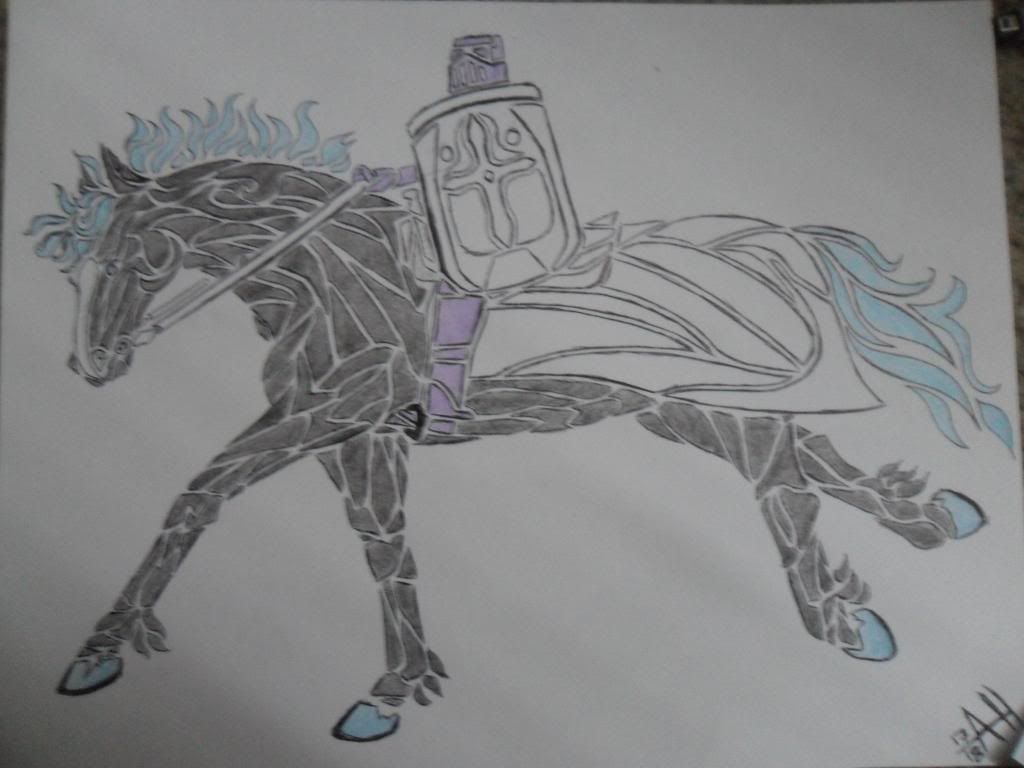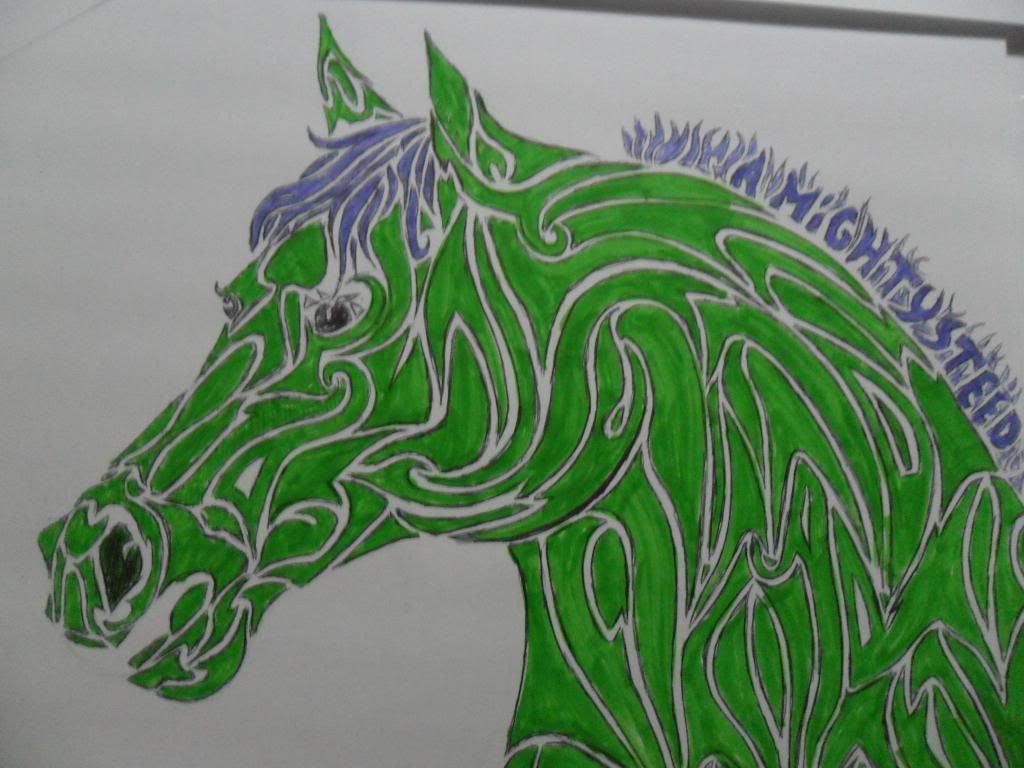 Oh, and some pictures of the pumpkins I carved for my siblings during Halloween just because ;) don't ask about my hunch-back posture...I have no idea! LOL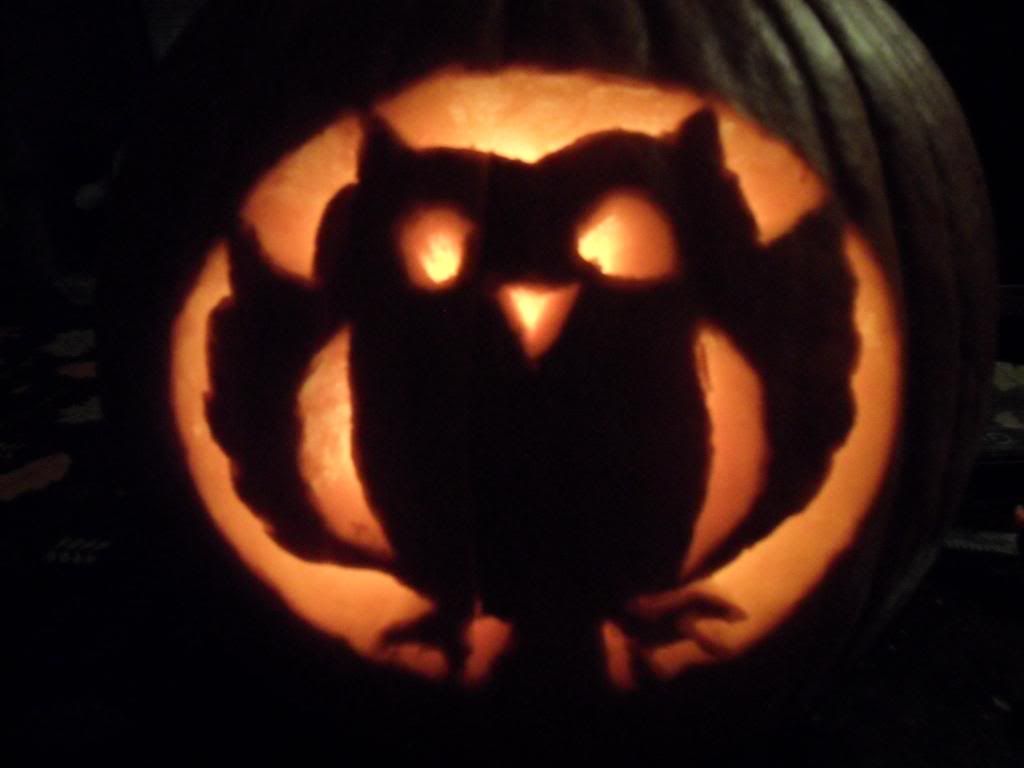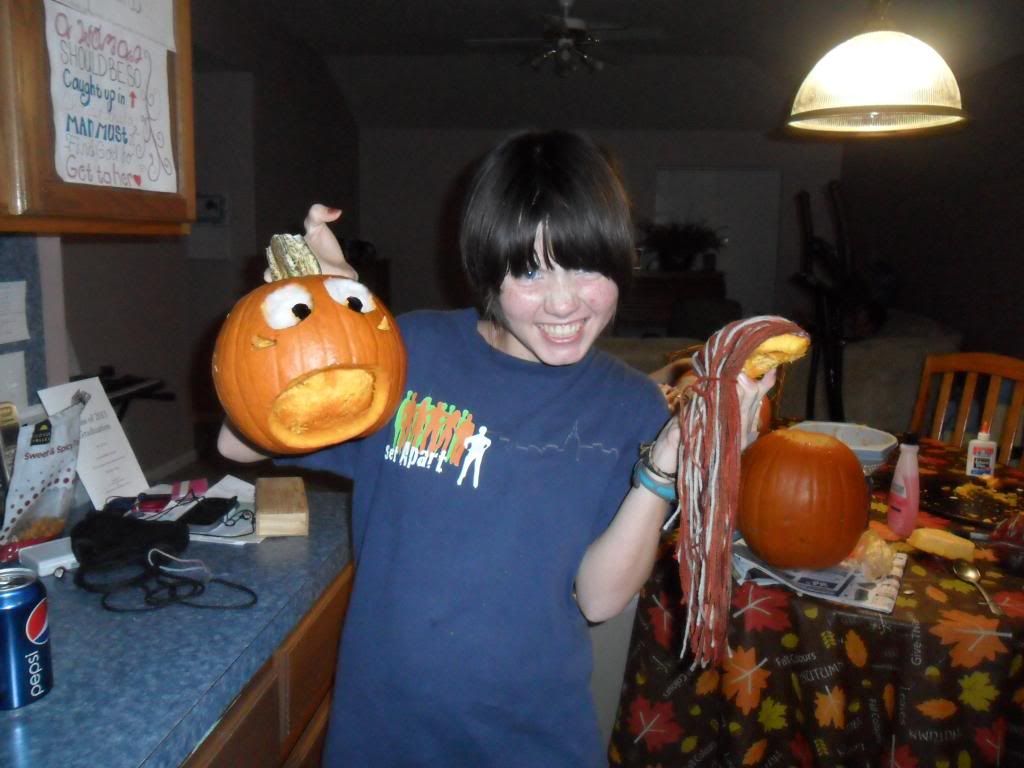 ---
Everyone in your life is meant to
be in your journey, but not all of
them are meant to stay till the end.
Very nice. You're obviously creative and talented.
Showing
Join Date: Jun 2011
Location: Cariboo, British Columbia
Posts: 11,954
• Horses:
3
Looks good, sure could use you around here, I love decorations but hate, hate putting them up and hate taking them down even worse! Great pictures, doggie coat, nails and kitty bow too!
---
I am not here to promote anythingNo, that's not true, I am here to promote everything equestrian and everyone enjoying horses!
wow! you can come and decorate MY house@!
I don't particularly like taking it down but I have way too much fun putting things up. On years when I'm not so busy, I also cut snowflakes and make a wreath, but don't have time for that this year! haha.

Thanks everyone!
---
Everyone in your life is meant to
be in your journey, but not all of
them are meant to stay till the end.
Wow, love the horse pics!
The dog coat is cute, and if you think it needs improving, it's probably just a bit too much overlap at the front, and you could round ff the back corners if you wanted. But it's a great job and who else will see it anyway?
Your tree is way better than mine ever is! I haven't even thought about puttin one up yet LOL
I love love your drawings. They're very good!!

Isn't it nice having spare time once? When I got my tonsils out last year, besides being in pain and not enjoying eggnog at christmas time, I really enjoyed my time off. Last christmas kind of failed. I got my tonsils out on Dec 13. I couldn't eat ANYTHING milk related or it tasted disgusting including chocolate. I love tapioca. I ate tons of it. I was actually able to eat christmas dinner but I had to work that day so I wasn't hungry when I got home. I was really excited to eat dinner for breakfast on boxing day. Except I got the flu.
So just make sure you enjoy every minute you can, while you can. I've seen your other posts, you're a hard worker!
Thanks for the tips Vickirose! I like the idea of rounding off the edges, and I did decide to fix the front. I made the flap shorter. The problem I'm having right now though is that the neck opening has stretched (fleece) and Bailey keeps getting her foot through it. No bueno, but not sure how to fix it!

Thanks tempest!!! They were fun. That's such a bummer about last Christmas for you o.o I have some serious digestive issues too and can't eat any dairy, so I at least can feel you there. I'm not a fan of tapioca though xD I'm hoping to be better by Monday but its been 2 weeks so far and I'm still coughing like crazy. Finals are all next week though so hopefully the cough at least subdues some. I don't want to be THAT person hacking in the backround in all of my classes...especially the one where I have a 20 minute discussion panel presentation due! LOL "I have found through my research *COUGHHACKGAGCOUGH" dyslexia affects *COUGHGURGLE*...." yeah no.
---
Everyone in your life is meant to
be in your journey, but not all of
them are meant to stay till the end.
Wow! The drawings are great!
---
I may seem small, but if you mess with my horse, I will break out a level of crazy that will make your nightmares seem like a happy place.
Your dog and cat are so adorable! :)
---
R.I.P Duke <3
No hour of life is wasted that is spent in the saddle.~Winston Churchill