where do you live?
---
Hello,
My question is: where do you live?
I mean in which country?
I'm curious
Hello Saskiayankee, I live in the US, the state of Maine to be more precise. We get four beautiful seasons, five if you count MUD season!
I live in the USA in Kansas. Its right in the middle of the US. They grow lots of wheat, sunflowers and there are more cows than people in my state. The largest city is Wichita. Boeing, Cessna, Learjet and Beechcraft airplanes are made there.
---

"Until one has loved an animal, part of one's soul remains unawakened..."
- Anatole France
I live in the USA in FL, specifically in Mims/Geneva. We don't have much out here, nice general store....LOL We live in a gated community we all have about 7+ acres and our own lake access, dirt roads to ride our horses on. We get flooded pretty badly come rainy season.
Part of our front acreage. We have 2 ponds.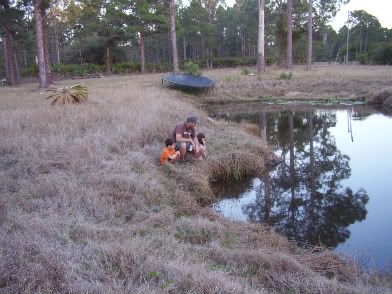 ---
Freelance Graphic / Print / Photo / Web Designer -
Designalist
Stop by and say hey :)
---
Last edited by Heybird; 04-29-2009 at

10:17 AM

. Reason: added pic
frickin all over, and it gets old :)

Primarily

USA

Rowlett TX
Waco TX
South Austin TX
---
Whatever course you decide upon, there is always someone to tell you that you are wrong. There are always difficulties arising which tempt you to believe that your critics are right. To map out a course of action and follow it to an end requires courage.
Funland... oops I mean Finland (Norther Europe, between Sweden and Russia).

Conan O'Brien made our country little more famed because he claims that our president (female) looks like him. We also had two bad school shootings in Finland recently.
---
"On hyviä vuosia, kauniita muistoja, mutta kuitenkaan, en saata unohtaa,
Että koskaan en ole yksin, varjo seuraa onneain.
Vaikka myrsky hetkeksi tyyntyykin, varjo seuraa onneain.
Ja pian taas uusin hönkäyksin, varjo seuraa onneain.
Hei tuu mun luo, pieneksi hetkeksi. Puhutaan, varjoni, valkoiseksi enkeliksi."
Pelle Miljoona - Varjo seuraa onneain

---
Last edited by TaMMa89; 04-29-2009 at

02:17 PM

.
I'm in the USA. But I move around a bit. I'm also a citizen of New Zealand.
I'm originally from NJ, but am currently in Montana.
Thank you for the comments.
You all live far away!
Many people lives in Americas
Canada!