Winter's here.
---
---
The lovely images above provided by CVLC Photography cvlphotography.com
Wow! That's chilly. I do love the snow though. It's snowing here as well, yeah! Only it's about 19*F here...a tad bit warmer.
---
TM Tardy's Chick "Hunter" - 13 yo Paint
Remmy - 18 yo Morgan/QH cross
Gunner 3/31/11, Heidi 7/2009 Miniature Sicilian donkey

Yea, it seems that you've finally caught winter.
---
"On hyviä vuosia, kauniita muistoja, mutta kuitenkaan, en saata unohtaa,
Että koskaan en ole yksin, varjo seuraa onneain.
Vaikka myrsky hetkeksi tyyntyykin, varjo seuraa onneain.
Ja pian taas uusin hönkäyksin, varjo seuraa onneain.
Hei tuu mun luo, pieneksi hetkeksi. Puhutaan, varjoni, valkoiseksi enkeliksi."
Pelle Miljoona - Varjo seuraa onneain

wow.. now I now where all of Iceland's frost went
The high for us yesterday was 11°C! In December!
Bleck. I hate snow. I hate winter. I hate cold. Winter is cold, dark, wet, windy, dreary, and depressing. Hate it, hate it, hate it!
We have between 1 and 2 feet almost everywhere here finally. Almost all of it came in the last 3ish days. It's still coming down though. I'm very excited. :) Here is a picture from last winter. I'm waiting for it to be like this now...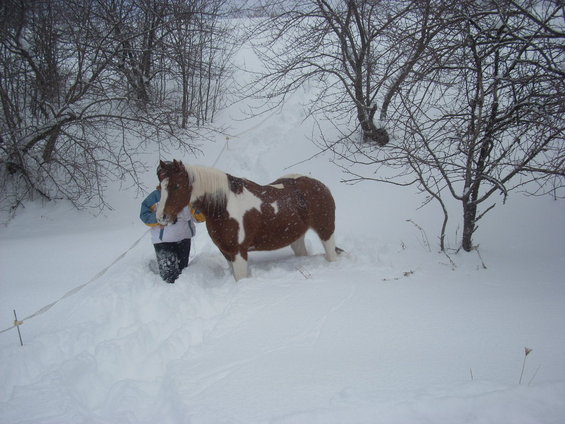 ---
TM Tardy's Chick "Hunter" - 13 yo Paint
Remmy - 18 yo Morgan/QH cross
Gunner 3/31/11, Heidi 7/2009 Miniature Sicilian donkey

Similar Threads
Thread
Thread Starter
Forum
Replies
Last Post
Winter's Siggy Shop [OPEN]

Winter Filly

Horse Artwork

119

11-04-2009

01:14 AM