witch martial art style should I pick???
---
witch martial art style is my style? too meny pick from and I need some help.
any tips? thank you.
What is your reason behind wanting to do martial arts? Exercise, self defense, competition, etc?

If it's either of the first 2, then pretty much any style will suit your needs. If you want to compete, then you'd have to look around to find the competitions near you and see what style they were...I think most common competitions are karate.

I did some Go Ju Ru (Okinawan Karate) when I was younger and I thought it was great. Part of my instruction was the standing group instruction like you see on TV, but the other part was practical application and grappling (ground fighting). That way, when it came time to really have to fight, I knew more than just the basics.
---
Always remember that feeling of looking at a big, open country over the ears of a good horse, seeing a new trail unwind ahead of you, and that ever-spectacular view from the top of the ridge!!! Follow my training blog:
http://robertsontraining.blogspot.com/
My son has been in ATA for many years, and was a World Champion for a couple of years back in the 90's. He likes it, and there are lots of ATA schools and competitions around. He is career military, and it keeps him in good shape. The picture below was taken a couple of months ago and he is 42 years old, so stays in good shape.
I can't make a recommendation as I am not into martial arts, but am just passing on some information...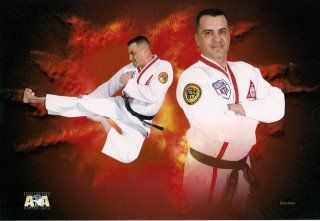 I did tae kwon do for while, but never loved it. Many females in class were very nasty and violated rules all the time so it was pure dangerous to pair with them (most males were really good to work with though). I also took self-defense classes (with the guy with black belt in karate) and those were awesome. Indeed taught a lot and lots of fun.
---
"Life isn't about waiting for the storm to pass: it's about learning to dance in the rain..."

"When we are no longer able to change a situation - we are challenged to change ourselves."

"How people treat you is their karma; how you react is yours."

If you are looking purely for self defense check out Krav Maga.
There are no competions or levels due to the extreme violence and danger to combatants.
It is the only form of martial arts not a form of excersise.
It is taught in Israel to special forces and the military. Shalom
Oh, oh, oh! Ju Jitsu! Very physically demanding and is an excellent form of exercise. Not only will you know how to effectively defend yourself, you will become physically fit and feel incredible.

One word of advice: Only demonstrate on someone of equal or greater skill than your own.
The only time someone should use skills learned from any form of martial arts is in defense or instruction.

Never use what you learn as a means to show off to other people. It should be used as a "weapon", not a "toy".
Posted via Mobile Device
My brother and sister loved taikwondo and it looked incredibly fun to me, as well as very good for self defence - but whatever martial arts discipline you choose, go to an instructor who teaches the whole philosophy, not just the moves.
Wing chun or also known as Wing Tsun. I have been learning Karate but I think Wing chun very direct. If your looking for self defense on a real level then Wing chun is the way to go. Even starting on basic levels its very very effective.

BTW can't use Wing chun for sports as it not that kinda of martial art too do so as it's direct and get your attack on the floor!