Does anyone Sew?
---
It's taken me a year to learn to put my sewing machine back together and for us to get the lower needle successfully threaded...*AND* for me to loose my anxiety of patterns, but I have to say, I have now become addicted to the idea of sewing!
In the past two days, I've made a pair of sweats for my husband, myself and my daughter, and the last two even came out looking pretty good! I made a nice hat with earflaps for him and some socks for rainboots for myself in black fleece and hot pink leopard.
My short term goal is to learn how to cut straight (D'OH) enough and sew a small enough seam that I can make a nice quilt....but really I'd love to make myself a ton of clothes! Why not, right?
So is there anyone else on the board that does sewing projects? Let's see what you can make...maybe we can trade tips (or you post and I learn =D)!
I'll get some pics of the socks I made earlier...they came out pretty nice!
---
Quote:
Originally Posted by Jareth, the Goblin King
I move the stars for no one.
RIP Pumpkin: 2012-8/26/13
Once I move, I'll be making curtains for my new home-I did that when I moved in here~over 30 years ago. I also hem, as I'm short, & sew on buttons, as they don't sew them on quite as good as they used to-LOL.
I have a sewing machine and a serger.

I make fleece and flannel PJ's for my girls. Made crinkly fabric squares for a friend's baby recently and a quilted Christmas wall hanging (it has horses on it... couldn't resist).

Made several rag quilts for friend's babies earlier this year. Need to get the ones for my girls finished.
I sew too!
I've made bags, coin purses/wallets, pet beds (cat, dog, small animal), pajamas, cat toys, pillow cases, doll clothing, skirts, etc. My favorite things to make are cat toys. I love how you can just sew some random stuff together and bam, it's your cat's new best friend! haha
I like simpler stuff rather than really challenging things because I hate patterns and following instructions...
Here's a picture of the most recent bag I made. It's really simple, I just needed a mid-sized bag to carry things on the train in and I had this T-shirt that I loved (unicorns, anyone? haha) that I really wanted to use on something...:
And here's a saddle pad I re-covered a few months ago (it had been brown):
---
Fabio - 13 year old Arabian/Lipizzan gelding

~
Rest peacefully, Lacey.

This was good to read. I think it's becoming a lost art. I do try and sew when I get the time. I have a sewing machine and I shortened my new curtains recently. I like doing little crafts and bits and pieces. I just made a pencil case each for my girls out of some old jeans. I also like doing cross stitch but that takes way more time. Nice pics by the way.
Yes I sew quite a bit. I've sewn up dresses for my daughters when they were younger, and horse blankets for those hard to fit yearlings and stuff for the house like curtins and throw pillows. I just sewed up some big ole comfy pants for my family for Christmas presents.
Mostly I sew historical costumes for the medieval society I'm with (the SCA).
Marcus' Tudor outfit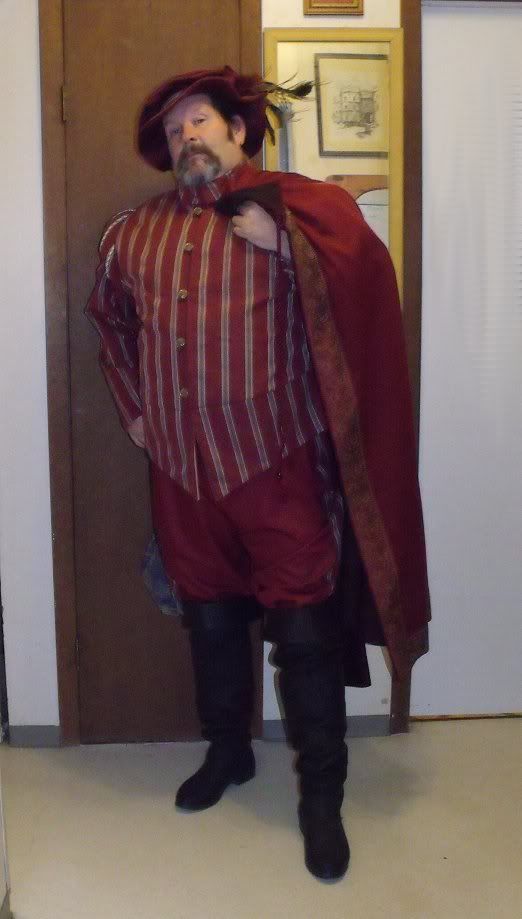 Detail of the shoulder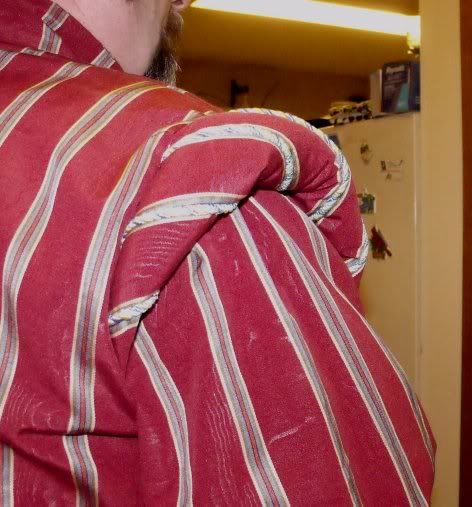 outfit for Hamish (a friend)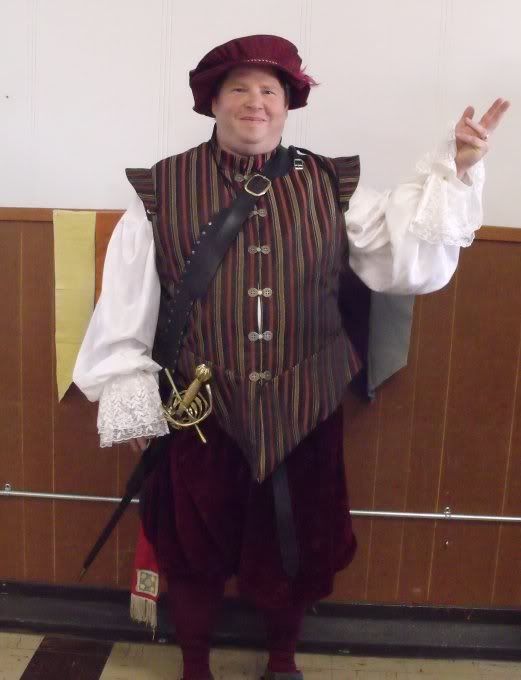 Another doublet and shirt for Marcus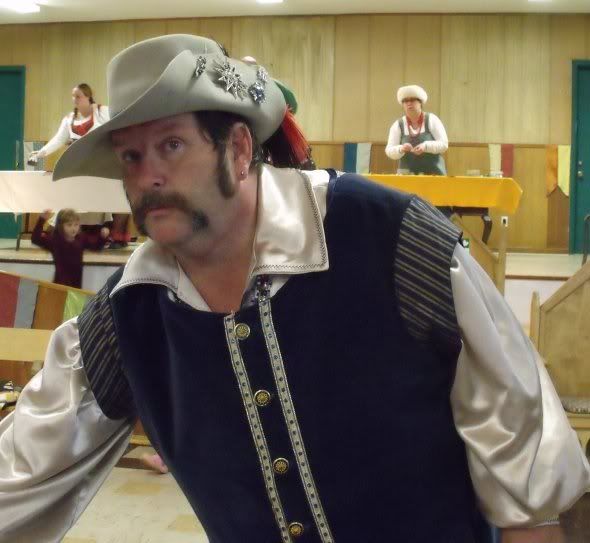 My coat of arms for the SCA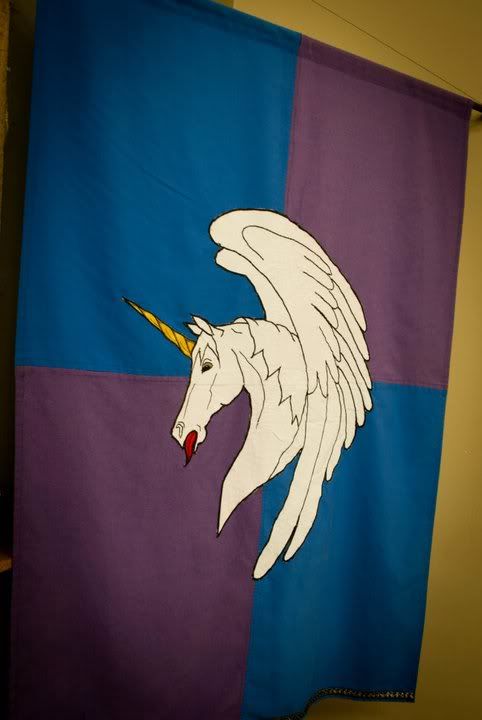 ---
Sometimes I wrestle with my demons.
Sometimes we just snuggle.
I tend to stick to "home dec" type stuff, curtains, (none of mine are ever permanent...they are mostly up with velcro...lol) duvets, dustruffles, etc.....but I have also done some saddle pads-when I rode english. I also have one of those fancy (actually 2, but whose counting....
) embroidery machines, that are SO tempermental-don't ever get one and think you can do without your good old regular machine.
Have been debating a Serger, but not too sure I would use one.....
OP-to cut nice and straight, I use an acrylic cutting guide (thanks to Joann fabrics) and a cutting wheel. Straight every time.
Am fortunate enough to have a dry unfinished basement that has been made into a huge sewing palace......complete with many many shelves for my bins of fabrics and trims......yes, I am somewhat a fabricaholic.....and a ping pong table to cut on.
So, when I am not at the barn, I am in the basement!
---
Signature undergoing edits. Please standby.......
Too funny...I don't sew but am right now standing in Keystone Sewing Machine Co looking at machines for DH. He's starting to make clothing out of used bicycle tubes. Maybe I'll learn to use it....it looks fun.
Posted via Mobile Device
I like doing home dec kind of stuff, I have made several simple Halloween costumes, some clown costumes and a couple of ren fair costumes including the corset top which I thought was going to be super hard but ended up being really easy.

I've just ordered some patterns for horse items. I have the pattern for saddle covers, boot bag, etc ... stuff for showing basically, a horse blanket pattern and I just ordered a pattern for pads because it contained a pattern for a quarter exercise sheet. I haven't made any of it yet as somehow the toddler of the house never seems to decide to give mommy time to do anything without him glued to her hip ha ha.

The pattern for a dressage coat is tempting....very tempting.... but still intimidating.
Nice pics guys! I'm glad to not be alone in this =)
I am actually dying to start pillows for the living room and then curtains to match....to be honest I'm a little intimidated by the descriptions of how to sew a zipper into the pillow. x.x
So instead I've been working with clothes! Tomorrow or the day after I will attempt my first pair of proper slacks! Zipper and all! Thankfully the pattern is supposed to be "easy"...so we'll see how it goes! I honestly have issues with shapes, so figuring it out sometimes boggles me...I have my husband show me what to sew where sometimes, but I'm working on that too!
@Red gate Farm: I LOVE YOUR WORK!!!! I'd just LOVE to put together historical outfits for myself! <3333333 I'd love a civil war period dress, as well as something more medieval. <3 The possibilities are so awesome if I'm going to learn to do it by myself! Somehow I can justify buying fabric if I'm going to "make" it, instead of investing in someone else's work LOL.
Anyway, here are the socks I made yesterday! They aren't perfect, but it's not bad for a first attempt:
I don't have a room for all my excess fabric...so I'm starting to drown in it in my dining room =x I'm going to invest in a large rubbermaid container to put it in for now, and reevaluate once it starts overflowing!
---
Quote:
Originally Posted by Jareth, the Goblin King
I move the stars for no one.
RIP Pumpkin: 2012-8/26/13