Fall wedding cake, love it!! Photo!
---
This is my favorite wedding cake I've ever made I think!! Flowers are made from sugar, cakes iced in buttercream. I love fall colors, and had a blast making all the flowers.
Thanks for looking!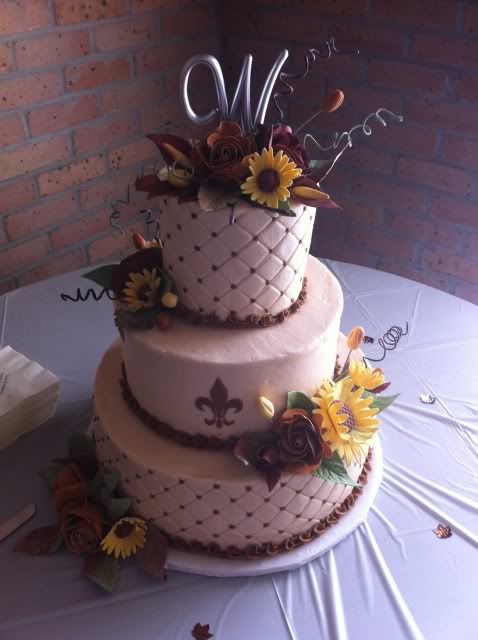 Posted via Mobile Device
Gorgeous!! Wish I could have you make my wedding cake.
Posted via Mobile Device
And I would! I have a gorgeous mold for a center that could be used in a ribbon or bow with beautiful horses. If you go the bow route let me know and I'll make some and send them to you. It's like the centers in the sunflowers, but has a mare and foal. Done in chocolate its stunning.
Posted via Mobile Device
Excellent looking cake!! I couldn't imagine eating something that looked that good.
Teen Forum Moderator
Join Date: Dec 2010
Location: South East Texas
Posts: 7,157
• Horses:
2
This is absolutely beautiful! Remind me to move to Louisiana, find myself a husband, and have a fall wedding just so I can do with the sunflower theme...I absolutely love sunflowers and this cake is breath taking!
---
Everyone in your life is meant to
be in your journey, but not all of
them are meant to stay till the end.
It's gorgeous! You've got some serious talent! Nice work :)
Beautiful cake! I wouldn't have any problem eating it-LOL!
Thanks all!! Yup, gotta eat em, it's what they are for. This one was almond with cream cheese and strawberry filling. Yummy!!
And honey girl, End...I would make you a cake and cry the whole durn time you remind me so much of my Sarah!!
Posted via Mobile Device
It is beautiful! And sounds yummy too
May I ask what tip you used for the boarders, it doesn't look like a regular star tip, looks fancier?
Posted via Mobile Device
It's a star, held at a 90 degree angle to the cake and used in a swirl motion. I'm a less tools are more girl. I have like 6 tips I use and things must be multiple taskers.
Thanks for the compliment!!
Posted via Mobile Device