An FYI Sewing Thread
---
http://www.horseforum.com/newreply.p...te=1&p=1889136
The OP is a very good seamstress. Several people on this thread are marvelling at the sewing meisters, so I thought I'd start an FYI Sewing Thread.
Just start with repairing things by hand. Learn to put your buttons back on, and fix the rips on the inside of work jackets. Then, look for a good machine, and do "sampler" projects. That's what the current blanket that I'm making is.
I bought 6 yards of fleece a few years back, that looked like a candy striped Hudson Bay Blanket. I put it away, then decided that using it as one layer wouldn't be warm enough. I divided it in 1/3's, then attached an old, twin bed sized blanket to it that wasn't ever long enough for a bed. EVERYBODY uses this blanket in the living room.
It often travels with us.
So...I made a 2nd one for my DD, except I put a middle layer of an old wool banket, again not being used, and not long enough to tuck into a bed. Here are the 3 layers I used for the 2nd blanket.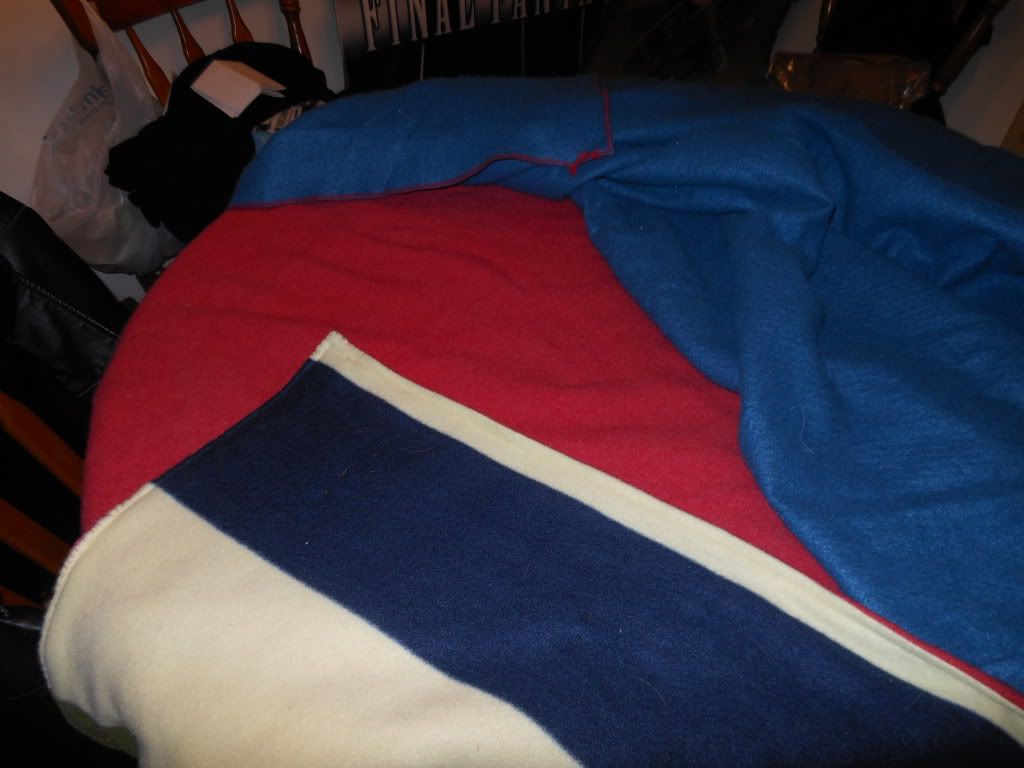 The third one has been a PITA!! I secured the wool to the old, cotton blanket, and ended up ripping out several seams. So, "I bit the bullet" and started hand basting.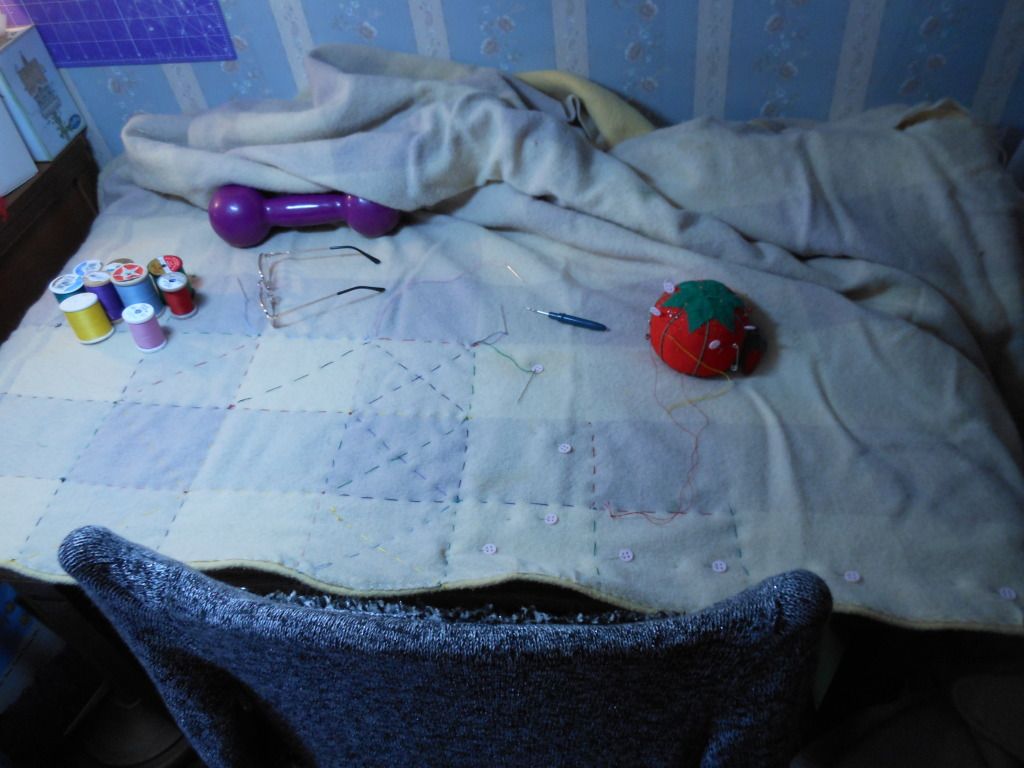 THIS very old, virgin wool blanket was sitting in the barn, gathering loads of dust with several holes---NOBODY was using or loving it. Now, it will be loved and cherished.
It's turned into a 50 hour "labor of love" bc I decided to use bright, "jewel tone" thread, that you could see on eventually, on the outside of the blanket. I'll add some more pictures as I finish this. I've used every basting, and finishing and embroidery stitch on my Singer HD machine, and really gotten to know them all with this project. I'm using white thread to machine embroider, and I'm going over ALL of the hand basted stitiches on the outside blanket.
It'll be interesting to see what others have made too!
---
If at first you don't succeed, try, try again
Wish I could figure out how to post pictures from my phone. I made a nice saddle pad for my Aussie saddle out of material that matched our pools (red/black lumberjack plaid).
Posted via Mobile Device
I was of the generation that had Home Ec-did a couple of projects there. I'm short, so had to hem a lot of things. I was a tomboy-learned to patch-which came in handy around the horses & my menfolks. Now, I get someone w/ young eyes to thread some needles for me when I can. It's a good skill to have.
I sew with reading glasses, now, even though my sight used to be better than 20-20.
DD works as an asst. mgr. at JoAnne Fabrics. She's on "loan" from our C-U, IL, to be working at the Carbondale store while she's in Law School.
We bought Ott lights on clearance for a ridiculously $low a couple of years ago, when the new versions came out. Good lighting makes a world of difference. Probably a torch light with a good reading light would work pretty well, too.
I try to give her my shopping lists bc she has an employee discount to use on top of a sales price.
Don't say anything, but she got a dress form for practically nothing recently, too.
I don't have a sewing machine anymore. But, I am a complete idiot on a maching, and I don't mean that in a sarcastic way, I mean I am a complete idiot on the machine.
However, I can hand sew pretty decently and like to do applique the best. I designed and created the blocks for this mini quilt and when all done, my M.i. l. (who is a quilter extraordinaire) assembled it for me, bless her heart.
dump 164.jpg
Caroline's quilt.jpg
What a beautiful quilt-I know a couple of quilters & love looking at their finished products.
Great work!! I love sewing and quilting... my Gran is an amazing quilter, I have so many quilts she has made for me, one being one with a pocket to put my feet in to keep warm!

My latest project right now is making a "Ribbon Blanket"... I have about 700+ Horse Show Ribbons... my friend had sent about 60 of her Ribbons to a lady in the USA to make her blanket, so I decided to make my own. So far, it is one of my most difficuilt projects!
---
~A Cowboy's Chance~
1977-2011
Rest in Peace
I made this outfit a few years ago. (that's not me, a friend borrowed it from me)
---
"Just because I don't do things your way, doesn't mean I don't have a clue
"
Anyone working on a sewing project currently? I'm trying to finish a dress to wear to a friend's wedding next weekend. Muslin/test garment went great, but putting scissors to my "good" fabric is nerve wracking!