My new project journal thread-ish thing
---
Sooooo, instead of spending $40+ on an Australian saddle pad that I don't really like, I decided to try my hand at making my own. I have an English AP pad that I use right now, but it isn't quite big enough for my Aussie saddle (3" too short on the flaps and could be a little longer from front to back for the seat).
So, I was at Walmart and found this red and black lumberjack plaid flannelish material that I just fell in love with. Our polos are red and black lumberjack plaid, so it's perfect. So, I bought a couple yards of it, plus a couple yards of pre-quilted black cotton that has thin batting attached to it already. I also bought a yard or so of black cotton material to do the trim in. Here's pics of my materials for the basic pad itself: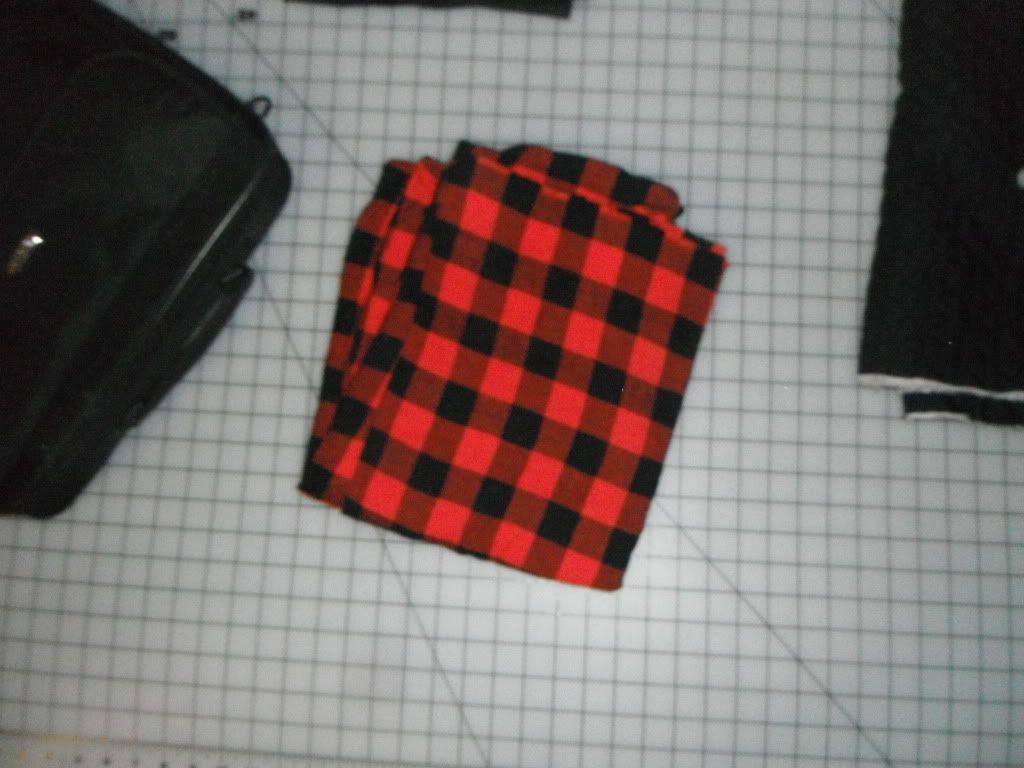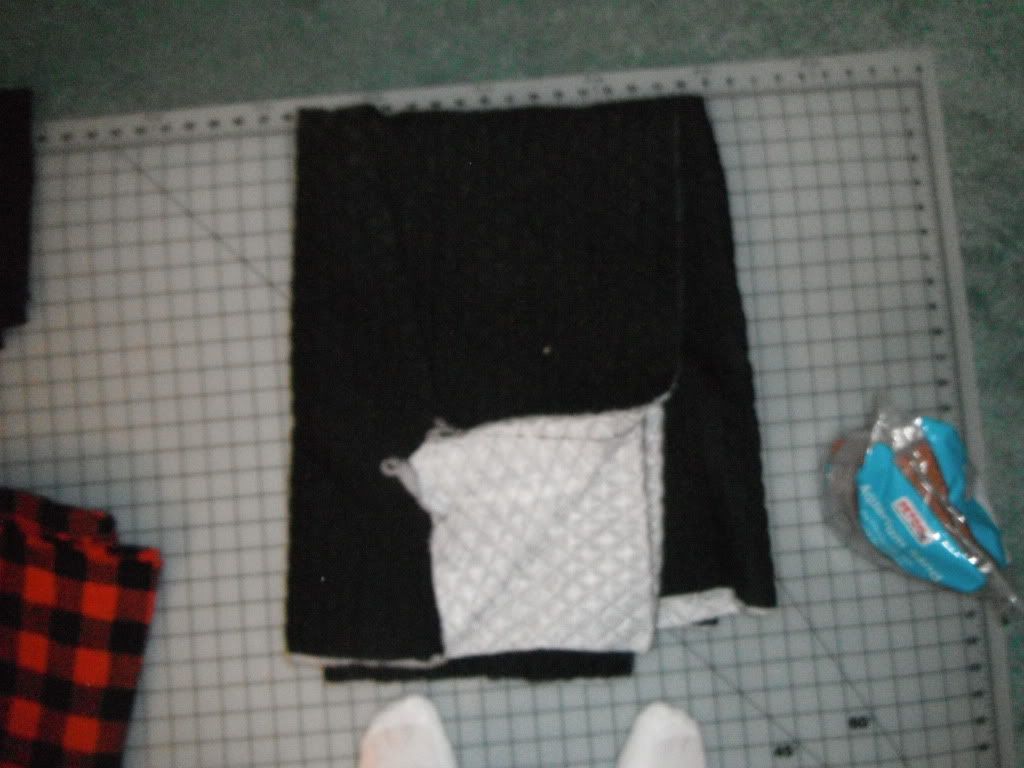 I also want to add a fun panel or pocket to each side in the rear corner. The panel/pocket (haven't decided which it will be yet
) will be black cotton (same as the trim). On the near side, it will have "Buenos Aires" embroidered in silver. On the off side, it will have "Ride the Dream" embroidered in silver. I want it to be in fun/fancy writing. I also bought some crystals (Swarovski :-D found them at Walmart, of all places!) to add to it in some fun pattern or design (not a ton of them, just enough for a little girly sparkle
).
I will be using this general guide to make my pad, but tweaking it for my needs:
*How to make your own english pad*
I'm not entirely sure I want to make the corners rounded. I'm thinking kind of squared corners would look cool (not to mention easier to do). Thoughts on this?
Also, ideas for the font/style of writing for the embroidery would be much appreciated. :-D
---
Do not tell me I can't...because I will
show
you that I can.
Subbing to watch the progress, I admire anyone who is handy, I would love to make something
OH! And meant to apologize for the seemingly random bag of aquarium sand and laptop bag. lol That particular cutting mat has been rolled up for close to a year and a half, so it's rather set on rolling back up into it's preferred form. I'm working on flattening it out and the bag o' sand and laptop bag were the heaviest, least obtrusive items I had available at the time.
GH, I'm kind handy/crafty. I whipped out a blanket for my dog to lay on so he won't ruin my new comforter last night. Took me about half an hour, start to finish. No batting or anything. Just sewed together two pieces of corduroy I had "lying around" (I have a big plastic bin full of random fabric I've bought over the years for one reason or another and happened to have two HUGE pieces of corduroy, one red and one cream, that were perfect for what I needed).
Pic of the monster being a good boy and using his blanket (not that he really has much choice since it covers more than half the bed, with extra hanging off the edge):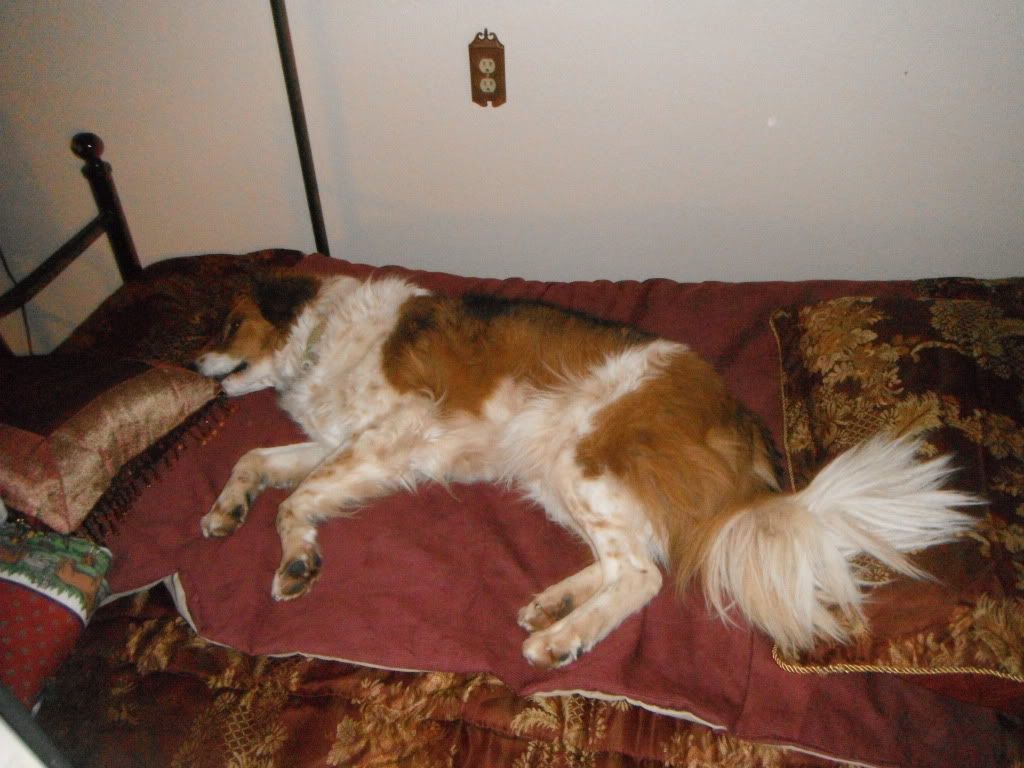 ---
Do not tell me I can't...because I will
show
you that I can.
Okay, I got more than halfway done today. I have the top and bottom cut out, the webbing piece down the center of the back sewn on, and I was ready to sew the top and bottom together when I realized that I didn't have the spine sewn in the correct place. I'm in the midst of trying to fix it without having to take off the piece I already sewed on. I'll post pics tonight, since I have to get ready for work soon and don't have time to upload the pics.
---
Do not tell me I can't...because I will
show
you that I can.
Okay, picture time!!
The top piece cut: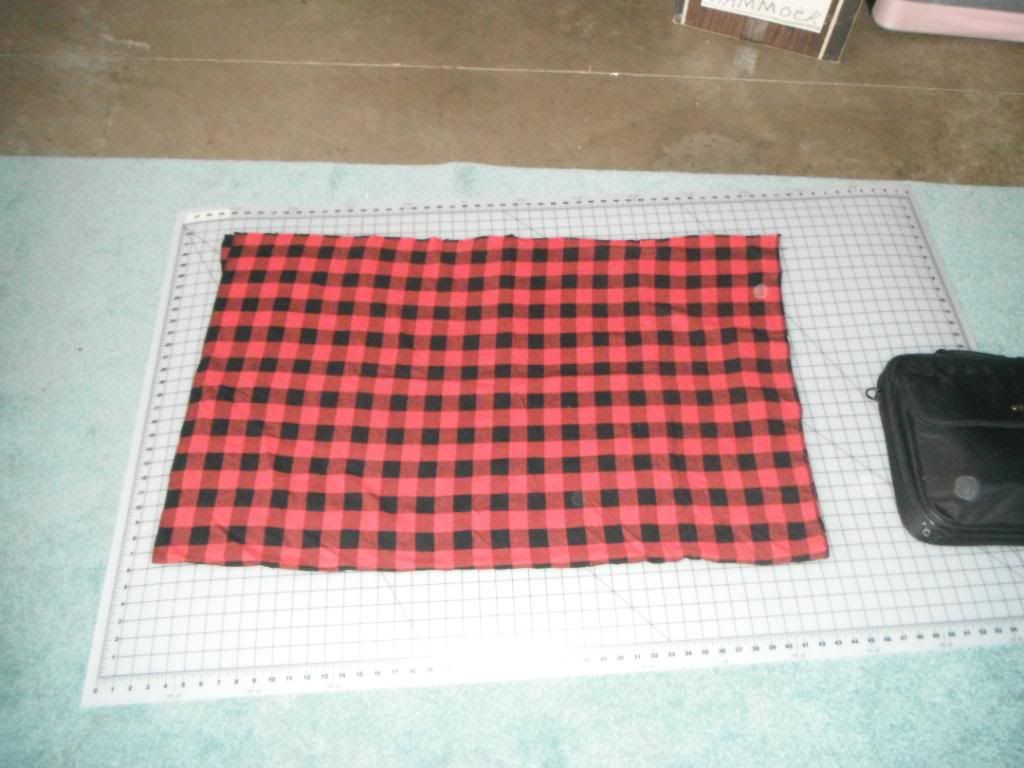 Bottom piece about to be cut...yes, I used my (decorative) fencing foil as a straight edge lol: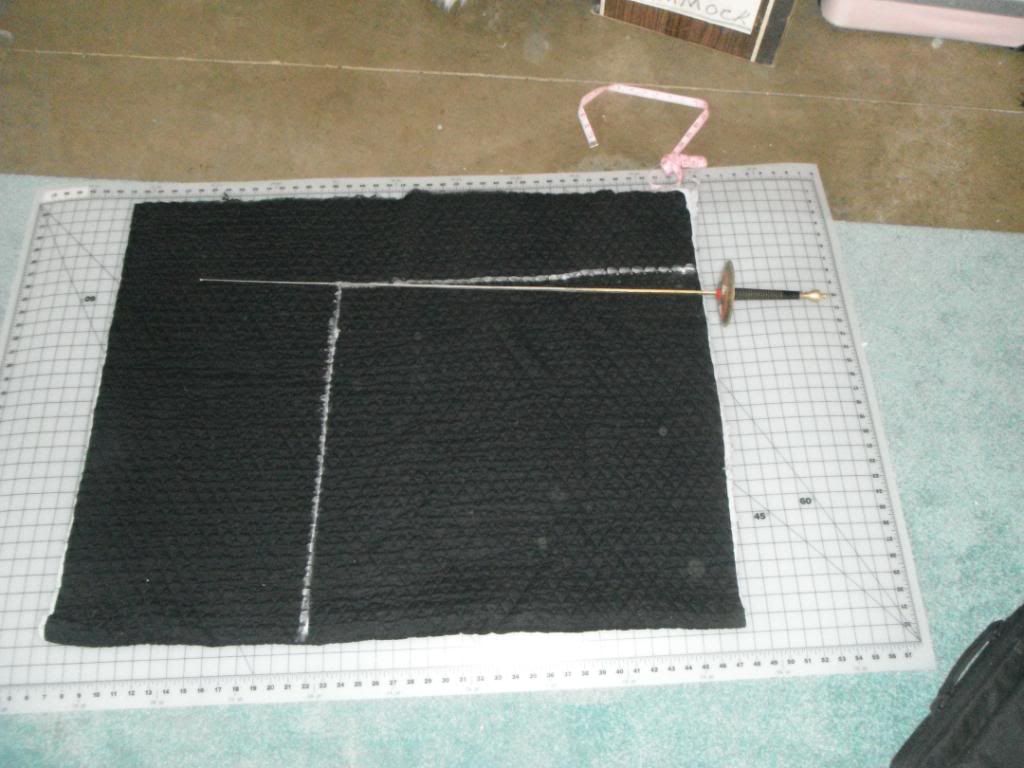 Pinning the spine on: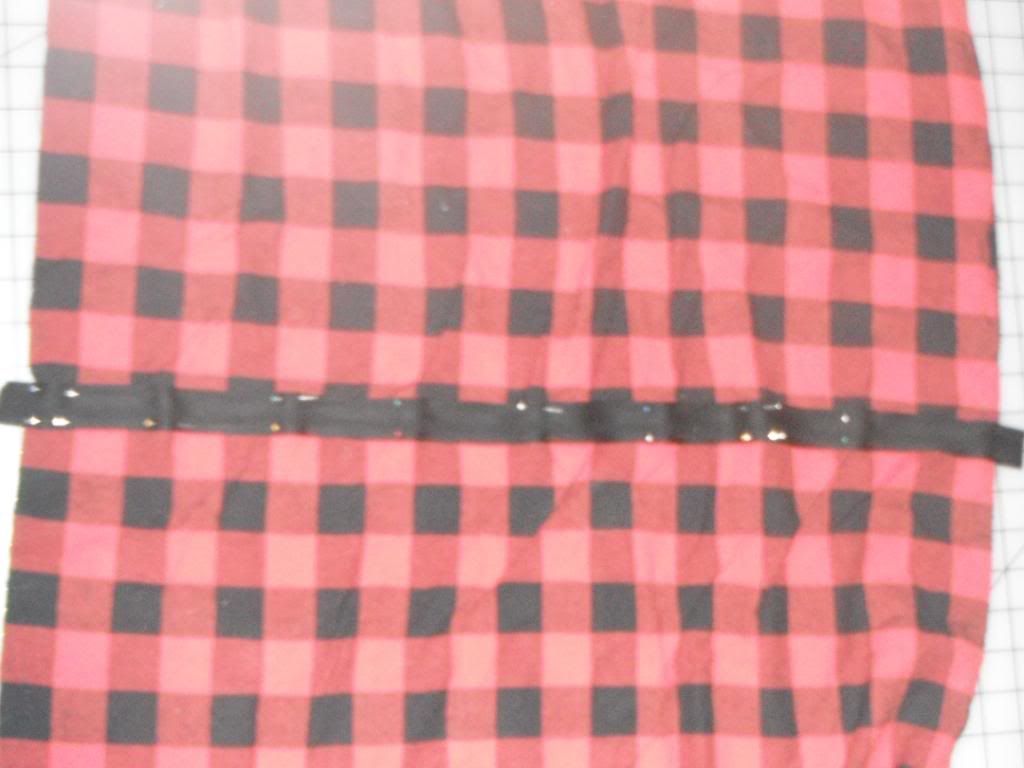 The spine all sewed on:
Aaaaaaaaaand this is the pic that made me realize that the spine was in the wrong place! Got the corners rounded, though lol
My McGuiver-esque fix-it so I don't have to tear the spine I did sew on, off. Was in the middle of sewing the second "spine" on when I ran out of thread on my bobbin...and broke my bobbin trying to wind it. That is the only thing I don't like about my sewing machine. I cannot get the bobbin to wind for the life of me, even with the instruction manual!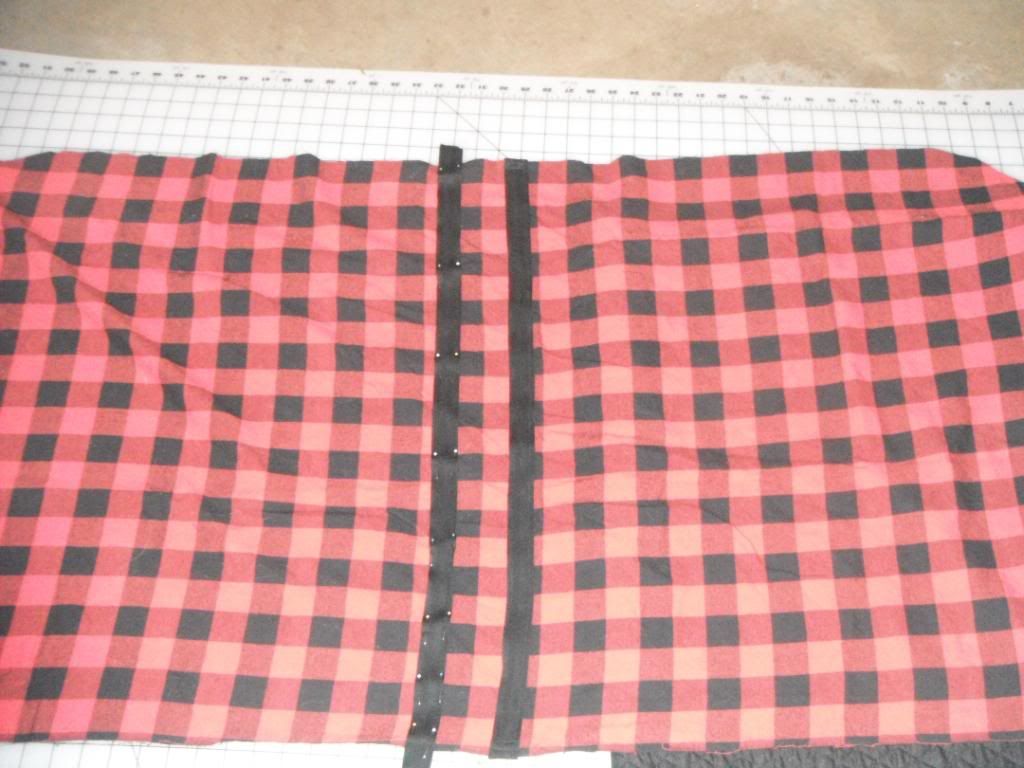 So, I bought pre-wound bobbins at Walmart tonight, so I don't have to mess with that. Just have to finish sewing on the second "spine", then pin together and zigzag the top and bottom pieces. After that it's just make and sew on the trim and I'll be done except the patches/pockets with the embroidery and crystals on them...which I still haven't figured out the kind of writing I want on them yet.
---
Do not tell me I can't...because I will
show
you that I can.
Green Broke
Join Date: Jun 2009
Location: Was in Ocala, Fl Now In West Union SC!
Posts: 3,175
• Horses:
1
I wish I had skillz like you do. :P I can't even sew with a good stich. Every thing I do looks like a kid did it lol.
---
My name is now my horses on a dor not my horse sonador
My arch-nemesis of sewing (other than my sewing machine's bobbin winder lol) is a straight line! lol
---
Do not tell me I can't...because I will
show
you that I can.
Right, so I was humming along on my saddle pad, doing great. Got the second piece of webbing attached to fix the spine, got the two sides pinned and sewn together, even added a couple of lines of stitching (almost like quilting stitching, but straight along the lines of the plaid) to keep the two pieces from shifting when washed or used...and then I went to start the trim (second to the last step!) aaaaaaaaaaaaaaaand I realized that I need my iron...which is buried somewhere in the back of my truck. Gah!
Anyway, pics of what I have done so far...
Second piece of webbing sewn on, and top and bottom pieces pinned together:
All sewn together, just lacking the trim and the pockets/patches:
---
Do not tell me I can't...because I will
show
you that I can.
Looking good sew far
Can't wait to see the finished article
Thanks, GH! :-D

I will give a warning to anyone attempting this project...DO NOT use flannel-type fabrics! lol I didn't really realize the plaid I am using was flannel until I got it home and washed it. It's SUPER soft, but is a pain to sew because it kind of "sticks" to the other fabric.
---
Do not tell me I can't...because I will
show
you that I can.