Sailing anyone?
---
Anyone besides me know how to sail a sailboat?
What kind of boat(s) do you sail? What types of water do you sail on (oceans, lakes, ponds, etc.)?
I can sail both a Laser and a Sunfish
I'm neither a keen sailor nor a brave one, but I do enjoy it :) I usually only get to sail in the summer, but we always spend two or three weeks in the Lake District and my time is spent permanently on the water, either in my kayak or our dinghy.
My dad grew up learning how to sail on the Norfolk Broads and up in the Lakes; when his family bought their first car they would pack the tent in the back and take their Mirror on a trailer. We've always had some sort of canoe; when I was little it was a three-man wooden canadian that my dad built; when I was about eleven or twelve he and I built a flat-bottomed canoe. It was a two-man that we modified to three-man, but mostly I paddled about in it on my own with a kayak paddle. Here's me in it, aged fourteen, on Loch Lomond: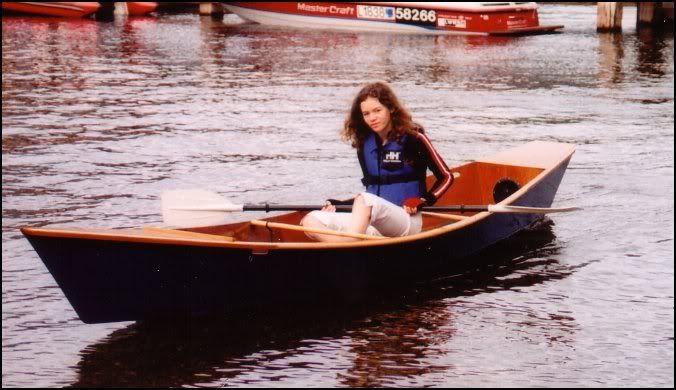 My uncle and dad together bought an Enterprise. They spent a winter refitting it - replacing rotted boards, sanding it down, new paint and varnish, new centreboard and rudder, fixing up the mast, etc. It was named April, and we had lots of fun with it for two years. The problem was that my uncle was buying a caravan (and we already had one), so no one would be able to tow it anymore, and it was too big for my dad and I to handle as it came with racing sails. Even if we sailed just with the main on, and no jib, we had to reef if the wind got higher than a gentle breeze. I don't weight much and I'm not that confident, you see.
We sold April, and we also sold the canoe. My dad and I bought a pair of wooden kayaks, and my dad repaired a few spots where water had got in and stuff and we repainted them. My dad and uncle bought a new sailing dinghy, an Escape Mango. It's a tiny yellow thing, with just a small main, and I love it because I can take it out by myself :) As I said before, I'm not a very confident sailor, but this boat is lovely. She loses so much speed going about that my dad always jibes, and I often start out with the sail slightly reefed but them put it out all the way :)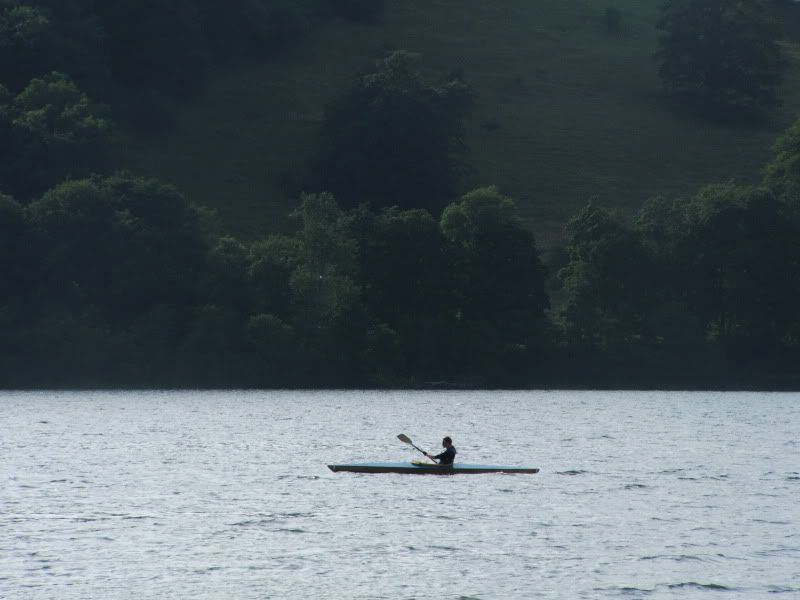 I've only sailed on the sea once; it was in a very, very sheltered bay with no waves but just enough wind to power our little Mango. I got bad sunburn, because a) I hadn't done under the shoulders of my wetsuit, so when I pulled it down I was unprotected, and b) in the wind you forget that it's sunny.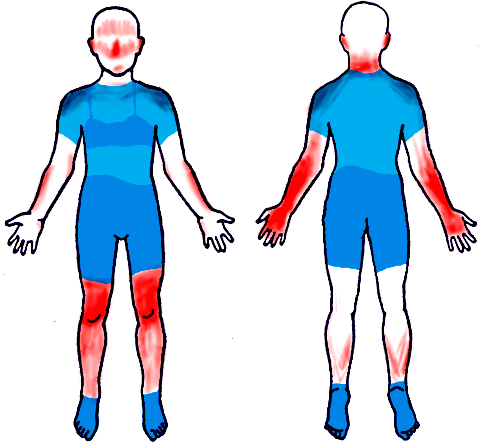 The summer just gone, I kayaked all the way down Coniston and explored the island. It was about five miles, and I soon got out of the more frequented parts of the lake: I love the feeling of being all on your own on the water, paddling steadily along, or just gliding, or sitting there ... I also like crashing into (or better yet, through) waves when it gets windy, as long as I don't take any side-on xD

Also, I can't swim
I'm fine as long as I've got a life jacket on but I can't keep my head above water without one.
---
If you believe everything you read, better not read.
Japanese Proverb

I've never gone sailing, but I would LOVE to.

My best friend sails a tall ship in the summer and a girl I know does competitive sailing.
---
Twende Haraka
"Twende?"
"Yes. Like 'Wendy'...With a T."
I would love to go sailing too. We have rowing club 10mins drive from my home and I think I'll join them in summer. I love to do adventurous sports!
Any tips would be greatful
Regards
---
2¢
-Jehanzeb-
2¢
If something's HARD to do, then its NOT worth doing!

Rowing is veeeery different to sailing ...
---
If you believe everything you read, better not read.
Japanese Proverb

well what can I do when I have only rowing club here.
haha....Atleast we have Water in common
Regards
---
2¢
-Jehanzeb-
2¢
If something's HARD to do, then its NOT worth doing!

I love sailing!

I go out in Oyster Bay Cove...on the north shore of Long Island.

I sail a 23ft Sonar, and can handle it by myself. It's been a while since I had a chance to go out.
I used to windsurf when I was younger. I don't want to brag but I got pretty good at it. I was never on the ocean but Kansas is very windy and we have good sized lakes.
I would like to get a small sunfish or maybe a little bigger. I love sailing though and would like to get back into it someday.
---

"Until one has loved an animal, part of one's soul remains unawakened..."
- Anatole France
My husband and I have a little sunfish. It is a lot of fun. We sail it in the bay or on a lake.
I have also done a sailing course in Sydney and sailed all sorts of little sailboats a bit bigger than the sunfish. Was a lot of fun!
Here is a pic of my cousin and I at Sydney International Regatta Centre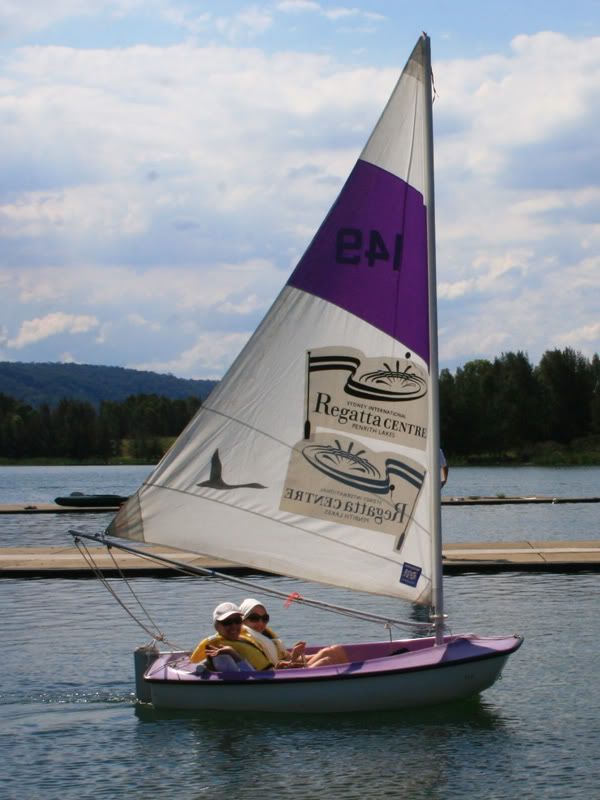 ---
Last edited by Pinto Pony; 12-05-2008 at

05:15 PM

.